Alternative Spring Breaks: Staten Island, New York
Helping residents rebuild in the aftermath of Hurricane Sandy
Last week, more than 300 students volunteered in this year's BU Community Service Center Alternative Spring Breaks program. ASB paired students with more than three dozen organizations around the country involved in environmental, public health, children's services, homelessness, disaster recovery, and animal welfare efforts. This week, we are bringing you first-person accounts of some of those trips.

Light snow hit the front window of our recently decorated van as we drove to St. Simon's Episcopal Church last Monday for our first day of Alternative Spring Breaks service. We would be working with the Episcopal Recovery Team of Staten Island to help rebuild a community still recovering from Hurricane Sandy. Because our trip was a new ASB offering, none of us had any expectation of what our service would be like, but we were all excited to see what we would be doing.
Atop a small hill, Dane Miller, one of the interns at the Episcopal Recovery Team stood waiting for us. The organization is overseen by the Episcopal Diocese of New York and the Episcopal Relief and Development's US Disaster Response Program. It was created in January 2013 to help restore Staten Island after Hurricane Sandy hit in October 2012. The hurricane claimed the lives of 26 Staten Island residents—more than from any other New York City borough—and flooded an estimated 20 percent of the island, leaving thousands temporarily homeless.
In the last year, the Episcopal Recovery Team has worked to help rebuild approximately 45 houses, with the help of over 2,000 volunteers. The program is coordinated by Darrel Hayes, a Staten Island native, and five interns who serve as team leaders.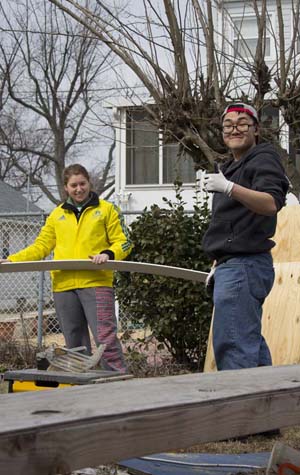 Miller had been our site contact during the five months we spent planning the trip and researching the effects of Hurricane Sandy on the community. On that first day, he directed us into St. Simon's spacious basement, where we met another group of students, from Stonehill College, who were also volunteering. After a brief and slightly awkward icebreaker, we were assigned our tasks for the week. Half of us were sent to the house of a sweet elderly woman to paint and work on installing panels on her basement windows. The other half of our group was assigned to help at a house belonging to an Indian family, where we helped finish the basement by putting up walls and plaster.
For most of us, the service became a personal commitment. Although our group was split, each of us was able to connect through our experiences. As we worked on the two houses, we were drawn to the stories behind the homes we were renovating. Both basements had been severely flooded by Hurricane Sandy and both had been living spaces. In one house, the flooding had deprived the owner's mother of her living quarters, forcing her to room with her two teenage grandchildren. In the other, the basement had been an apartment. From the outside, the homes we were working on appeared relatively undamaged, but in reality the families who lived there were still struggling to get back to their normal lives. In the 17 months since the hurricane hit, more than 2,300 buildings on Staten Island have undergone repair, and many are still only partially renovated. Like the two homes we worked on, the damage is hidden in the basements, giving the false impression that help is no longer needed.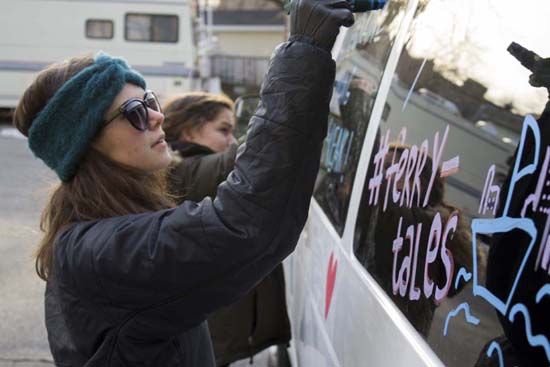 During our ASB week most of us focused on learning one skill and completing one task, but it was rewarding to see the progress we made collectively in each home. In the first three days of service, half of us painted an entire basement, learned how to install windows, and ripped up and replaced tile floors. Meanwhile, the other half had become experts at plastering walls, cutting and putting up drywall, and sanding those walls. It was intimidating, but exhilarating, to know that we were helping rebuild these homes. It was nice to think that there would soon be furniture there and pictures would adorn the walls we had put up, sealed, sanded, and painted. But the most rewarding part of each day was seeing the appreciation of the families we were helping.
While our trip helped us learn something about rebuilding homes, it also rewarded each of us with a new set of friends. Through both the service and the time we spent cooking meals, driving to sites, and simply hanging out after work, our group of 10 became a close-knit family. We were housed at Christ Church New Brighton, an Episcopal church built in 1905. We were given a spacious multipurpose room, which we turned into our temporary home. In less than a week, we went from being complete strangers to sleeping side-by-side after a night of telling ghost stories or battling with a trapped bat.
It's hard to sum up our experience into words. However, we can all say that the Alternative Spring Breaks Staten Island trip made us into a mix-and-match family and helped us to appreciate the influence 10 people can have in a community that has often been overlooked in the last year and a half.
Paula Garcia can be reached at paulagp@bu.edu.
Read about other Alternative Spring Breaks trips here.
This Series
Also in
March 21, 2014

March 20, 2014

March 19, 2014