Alternative Spring Breaks: Crossville, Tennessee
Working to extend the Cumberland Trail
Last week, more than 300 students volunteered in this year's BU Community Service center Alternative Spring Breaks program. ASB paired students with more than three dozen organizations around the country involved in environmental, public health, children's services, homelessness, disaster recovery, and animal welfare efforts. This week, we are bringing you first-person accounts of some of those trips.
Until a week ago, I'd never been on a BU Alternative Spring Breaks trip. I'd never built a hiking trail, gone spelunking, or danced the Virginia reel—but there is a first time for everything, and last week was a chance to experience those firsts.
I was part of an ASB trip to Crossville, Tenn., and our job was to work with volunteers from the Cumberland Trail Conference (CTC), an affiliate of the nonprofit Tennessee Trails Association. Founded in 1997 with the mission of finishing to build and maintaining the 300-mile Cumberland Trail, the CTC relies on volunteers for the project, which was begun in 1968 and is now more than two thirds complete. When finished, the trail will run from Cumberland Gap National Historical Park to Chickamauga-Chattanooga National Military Park. Groups of volunteers assist the CTC on a regular basis, led by senior volunteers who are regulars to the area.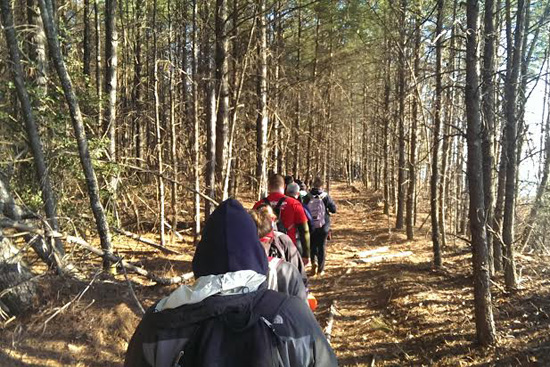 We drove through the night from Boston, arriving on Sunday at our makeshift home for the week: Dogwood Lodge, in the town of Soddy-Daisy, about 30 miles outside of Chattanooga.
The lodge, owned by First Baptist Church of Chattanooga, can accommodate up to 80 guests and is used for various functions, including retreats and conferences. During our stay, we were joined by student volunteers from three other schools—the University of Pittsburgh, Florida International University, and Macomb Community College in Michigan. We soon discovered Dogwood's warmth and comfort—especially its common room, which houses an old upright piano and shelves filled with old toys, card games, and a 1,000-piece puzzle with some pieces missing (which didn't stop us from completing as much of it as possible during our downtime). The hours before and after our service time on the trail each day were spent around the lodge's cafeteria tables and creek-side campfires with the volunteers from the other schools. It was a good thing that the accommodations were so pleasant, because the work that we were to face during the week was challenging.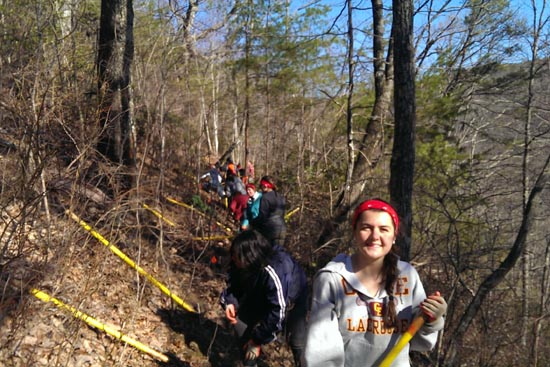 After breakfast on Monday, we drove out to the work site with a larger van-convoy of volunteers. Once parked, we hiked to the point where our work would begin. As we walked along, we passed a wood-carved sign declaring "End of Trail," where progress had previously halted. The sign had yet to be moved to where the trail had been extended.
When we arrived at the unfinished section of the trail, we donned gloves and became acquainted with a litany of tools, such as a fire rake and a mattock. Other tools, like the McLeod and the Pulaski, bore the names of their inventors—who were certainly more adept at trail-building than any of us. After a brief tutorial on how to build a trail, we began work.
The most crucial step of trail-building, we soon discovered, involves raking the hillside clear of dead leaves and decomposed material known as the "duff layer" ("Duff is not the stuff," advised one park ranger). Afterward, we continued to dig through the soil to reach a richer mineral layer that, unlike the duff layer, would not wash away in rain or collapse under foot traffic. Reaching the brightly colored mineral layer felt a bit like striking gold—especially during a day of hot, tiring work.
Lunch breaks were on the side of the trail, along the edges of boulders and felled tree trunks, and featured presentations about the surrounding area by park rangers. At the end of the day, a sense of satisfaction washed over us at the sight of all the new ground we had covered.
By Tuesday, we began to get a feel for the physicality of the work and a better sense of how to construct a good quality trail. We even began critiquing parts of the trail we had finished the day before as we walked back over it a second time with fresh eyes.
After two long days on the trail, on Wednesday we had a day to ourselves to pursue group activities. We first embarked on a spelunking adventure in the caverns of Raccoon Mountain in Chattanooga. Billed as a "wild cave expedition," it gave us a chance to explore natural, undisturbed regions of the caverns with the aid of a tour guide—and knee pads, helmets, and gloves. The outing was a unique experience that tested our teamwork and physical endurance—one that I won't soon forget. After a dinner in Chattanooga and a requisite visit to a local bowling alley (where we performed much better than any of us had anticipated), we returned to Dogwood and rested up for Thursday. (Other nights, our CTC hosts organized a variety of programs, among them a talk about Tennessee's Civil War history, a karaoke night, and a live "birds of prey" presentation by local ornithologists).
We became increasingly comfortable with the trail as the week went on. On Friday night, our CTC hosts announced that we and the other three college volunteer groups had built more than 2,000 feet of new trail. We ended the week in properly celebratory fashion—with an evening of square dancing backed by a local folk music duo. We all got into the spirit of things; it wouldn't be an understatement to say that we made the Virginia reel our own.
I had an amazing time in Tennessee. When I look back on the trip, I think about the "End of Trail" sign we'd seen our first day—true for a moment, but then proven wrong by the determination of volunteers to push the trail ahead. My work on the trail has ended—as will my time at BU shortly. But that sign was a reminder to me that it's never truly "the end" if you have the determination to pave new trails.
Kevin Flynn can be reached at ksflynn@bu.edu.
Read about other Alternative Spring Breaks trips here.
This Series
Also in
March 19, 2014

March 18, 2014

March 17, 2014