Alternative Spring Breaks: Detroit
Volunteering with homeless LGBTQ youth and at-risk girls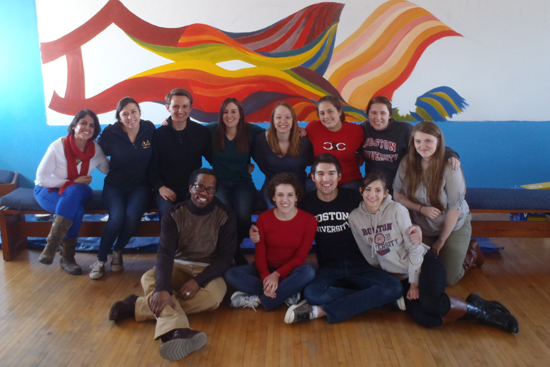 Nearly 400 students volunteered in this year's BU Community Service Center Alternative Spring Breaks program. ASB paired students with more than three dozen organizations around the country involved in environmental, affordable housing and homelessness, children's services, and animal welfare efforts. This week, we are bringing you first-person accounts of some of those trips.
We finally arrived in Detroit at 4:30 a.m. on a cold Sunday morning—two hours behind schedule and worried about having to wake up our housing contact at that hour. But our concerns were immediately put to rest when Brother Paul, who helped arrange our housing at St. Benedict's Roman Catholic Church in Highland Park, Mich., greeted us with a friendliness and hospitableness we deeply appreciated.
After sleeping in a little that morning, we had time to explore some of the city's highlights before beginning our weeklong ASB assignments. First stop was the Detroit Historical Museum and the Heidelberg Project, an open-air art installation in one of the city's poorest neighborhoods. The installation uses everyday discarded objects to transform and revitalize a two-block section of abandoned houses and trash-strewn lots into a vibrant environment.
Monday morning, we continued our exploration of the city with a trip to Hamtramck Disneyland, an interesting assembly of folk art that includes plastic cows, Christmas lights, and lawn ornaments constructed by retired auto industry employee Dmytro Szylak. These sites, which celebrate Detroit's past and ability to transform itself, served as an introduction to the city's spirit and determination—something that would be echoed in our service projects.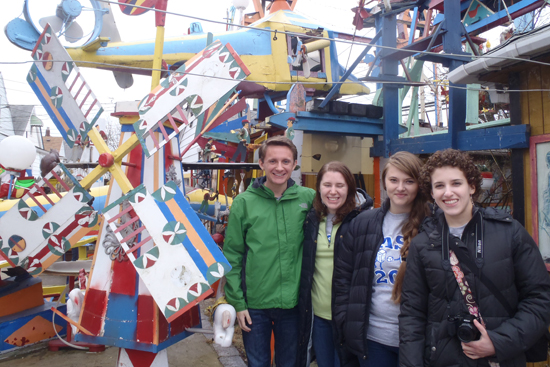 On Monday afternoon we arrived for our first day of service at the Ruth Ellis Center, the only nonprofit organization in the Midwest specifically serving the needs of homeless LGBTQ (lesbian, gay, bi-attractional, transgender, and questioning) youth. The center is named after Ruth Ellis, the nation's oldest openly lesbian and LGBTQ activist, who opened her home for those in the African American gay and lesbian community in Detroit needing a safe space. The center was created in 1999 when a group of young volunteers, inspired by the example of Ellis, who died in 2000 at age 101, decided to create a center that would continue her work.
Last year alone, the center served 5,300 LGBTQ young people. On any given day, there are an estimated 800 LGBTQ youth living on the streets of Detroit. Ruth Ellis Center provides emergency shelter, transitional housing, and a drop-in center for those ages 12 to 21 and offers services such as educational tutoring, physical and mental health care, and food and clothing.
Henry Walker, our site contact and the center's youth leadership and volunteer program coordinator, spoke with passion and conviction on the subject of providing services to these overlooked youth and motivated us to keep a positive attitude throughout our week of service.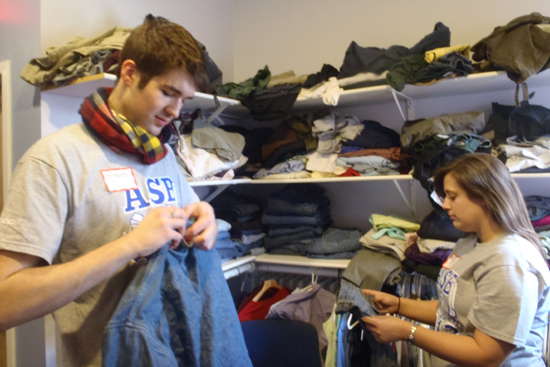 Most of our time was spent cleaning and organizing parts of the community area at the Ruth Ellis Center. We also helped serve dinner Monday night. While we were clearing away plates, a vibrant dance party began in the center's large common area, as it does Monday and Wednesday nights. Most of the young people showed off their skills by voguing, a stylized form of house dance.
The following morning, the staff at the Ruth Ellis Center led an LGBTQ 101 session, which allowed us to ask questions about specific definitions and terminology used within the space and learn about some of the various issues that the community faces. We were shown a video created by the youth at the center that described their personal experiences being bullied and verbally, emotionally, and physically assaulted because of who they are. It was painful and dismaying to watch them describe how they had been treated by family and classmates and how few safe places they had to go. Hearing about the difficulties they face made the dance party from the night before seem like a celebration of survival and resilience. As a group, we decided we wanted to get to know the young people staying at the center better, so we returned during our free time Wednesday night to learn how to vogue.
On Wednesday morning, we began our service at Alternatives for Girls (AFG), a nonprofit offering emergency shelter and transitional living for at-risk and homeless girls and young women in the Detroit area. AFG also provides several after-school and community outreach programs. It began in 1985 after a group of Detroit residents realized that increasing numbers of girls and young women were homeless and becoming involved with drugs, prostitution, and gangs. The concerned citizens opened a five-bed emergency shelter in a local church. Today, AFG is a multiservice nonprofit and can house up to 30 women and 10 of their children at a time.
After a tour of the facilities and learning more about the shelter's mission from our site contact and AFG volunteer manager Anna Weaver, we broke off into groups and planned after-school lessons for groups of middle school and elementary school students. We were fortunate to have another BU student, Korby K. (SMG'15), join us for our service at AFG and help with our lesson planning.
The rest of our week was spent going back and forth between our two service sites. We returned to the Ruth Ellis Center on Thursday morning to complete more maintenance projects. As the afternoon drew near, we said good-bye to the staff with a heavy heart, but a promise to stay in touch. We spent the rest of the day at AFG presenting our lessons. The middle school lesson focused on self-esteem and the volunteers who worked on it had an incredible time teaching the girls about powerful female role models and how they can value their own worth. The other group conducted an antismoking lesson for elementary school students. Last year, according to AFG, 100 percent of the girls and young women who took part in after-school workshops either decreased their smoking or quit altogether.
On our last day at AFG, we worked on a variety of maintenance projects, such as cleaning windows and vans and painting the kitchen used by single mothers at the shelter. AFG strives to give the girls and young women there a sense of comfort and home, and seeing the women react positively to the newly painted pink and green kitchen showed us that even little changes can have a big impact.
When we first mentioned to parents and friends that we were headed to Detroit for spring break, they reacted with shock. The city currently has the nation's highest violent crime rate, housing prices have fallen 35 percent in just three years, and the city's finances are so critical it can no longer pay its bills—factors that recently led Forbes to name Detroit "America's Most Miserable City."
We, too, were hesitant about what we'd find. But from our first meeting with Brother Paul to our site contacts to Kym Oliver and Ann Pennisi, the wonderful BU moms who hosted us at dinner, we learned firsthand about Detroit's resilient spirit. Despite the city's burnt-down homes and closed-down businesses, people choose to remain there: this is a place that has witnessed hard times before, and managed to come back.
We left Detroit on a snowy Saturday morning with hope that the city and its people will see a better tomorrow.
Alexi Warren can be reached at ajwarren@bu.edu.
Read more Alternative Spring Breaks stories.
This Series
Also in
March 21, 2014

March 20, 2014

March 19, 2014