Alternative Spring Breaks: Nashville, Tennessee
Improving the lives of those with disabilities, one ramp at a time
Last week, more than 300 students volunteered in this year's BU Community Service Center Alternative Spring Breaks program. ASB paired students with more than three dozen organizations around the country involved in environmental, public health, children's services, homelessness, disaster recovery, and animal welfare efforts. This week, we are bringing you first-person accounts of some of those trips.

With our sleeping bags pushed tight under the seats, our duffel bags stacked compactly in the trunk and seven volunteers, one chaperone, and two coordinators buckled in, we were ready to begin our 1,100-mile Alternative Spring Breaks adventure to Music City, better known as Nashville, Tenn. We would be spending the week assisting United Cerebral Palsy of Middle Tennessee, a nonprofit that works to advance the independence of people with mobility disabilities. Just a few hours into our trip, our volunteers were already making jokes and taking "selfies" together—something we'd continue to do throughout the week.
After spending Saturday night at Danielle's home in Gahanna, Ohio, we arrived in Nashville Sunday afternoon, greeted by Tim Kernell, a deacon at the Edgefield Baptist Church, where we stayed for the week. We unpacked and explored the surrounding neighborhood before heading to the week's first host dinner, at the home of Ed and Terry Rappuhn, parents of Andrew (SMG'15). They were great hosts, even helping us get tickets later in the week to the Country Music Hall of Fame. Their generosity was matched all week long by other BU parents and family friends who graciously welcomed us into their homes. Not only did they share stories about their connections to the BU community, they also told us about Nashville's rich history and listened as we talked about our travels with ASB, and most important, the work we would be doing with the UCP.
Early Monday morning, we began working with John Pickett, our UCP site contact. The great thing about this organization is that it helps individuals with disabilities by providing direct aid, such as equipment, housing assistance, home care, wheelchair ramps, family support, and a sports and recreation program.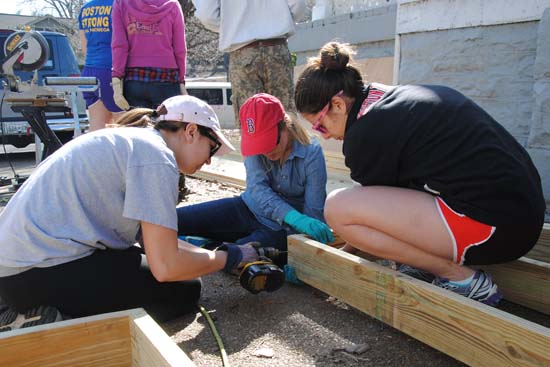 Our first morning on site, we began laying the groundwork for a ramp at the home of Sam and Joy Davis. Sam Davis has had a series of strokes and needs to use a wheelchair, and neither of the two main entrances to the house had a ramp. Some of us had used nails and hammers before, but most of us had never handled power tools or built a ramp. John divided us into teams: woodcutters, strong diggers, and a decking team. Each day we rotated teams, relying on each other to demonstrate the skills needed to perform our new jobs successfully.
The next day we headed over to help construct a ramp at the home of another couple, the Reeds. This was to be our biggest project of the week. As we sorted wood, took measurements, and got started, Jimmy Reed sat on the porch chatting with us and watching intently as we built the ramp piece by piece. As we worked, John pointed out how much our skills had improved in just two days. We were now pros, so to speak, at hammering nails, cutting wood with a five-degree taper, and using a pickax to loosen up the dirt. Day two is when our group truly became cohesive. John told us how impressed he was with our ability to build a 53-foot ramp in under five hours.
On Wednesday we met Vanderbilt University first-year grad student Andrew Ekelem, a paraplegic who had recently moved from California. Like Jimmy Reed, Andrew watched us work and made his way down the ramp as each section was completed. As college students, we felt a strong connection with Andrew, especially being able to witness how something as basic as a wheelchair ramp would help him pursue his dreams and his studies. His positive outlook on life was infectious and gave us the push to finish out the week strong.
By Thursday, we felt as if we had been working together for months. As we built a ramp for another UCP client, Ms. Margaret, our fearless leader John stepped back, offering minimal guidance as we took charge of the project, taking measurements and sawing wood, while he worked around the corner. John watched with satisfaction as we nailed the last floorboards into place.
After a long day of work, we headed over to play wheelchair basketball with some members of the UCP community. We were pushed out of our comfort zone even more as we learned how to navigate in a wheelchair and the challenges that come with it. This experience helped us realize that although these individuals might be restricted to a wheelchair, they have the same goals and aspirations as all of us.
At night, we would gather back at Edgefield Baptist Church and reflect on the day's events. Two of our volunteers had chosen this ASB trip because they had a sibling with cerebral palsy, and they shared their experiences with the group.
In addition to the families who hosted us to dinner, the church invited us to its weekly Wednesday night community dinner. During the week, we also found time to tour the Vanderbilt University campus and visit the Parthenon, a full-scale replica of the original Parthenon in Athens. Built for the 1897 Tennessee Exposition, it is one of Nashville's most popular tourist sites. We capped off the week with a trip to the Country Music Hall of Fame, followed by line dancing—something of an ASB Nashville tradition—at the Wild Horse Saloon. It was an awesome way to close out the week.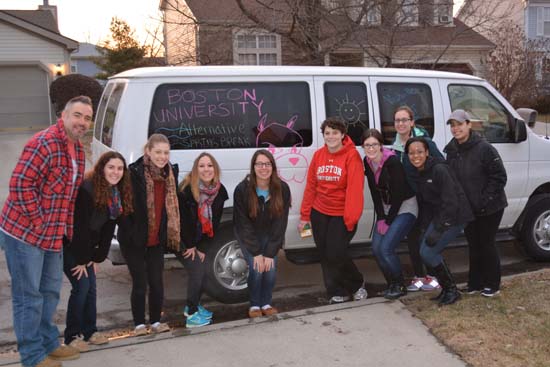 By Friday, we had come full circle, heading back to the Davis house to put the finishing touches on the ramp we had started Monday and to pour concrete for a sidewalk in front of the house. As we hung the last piece of railing, we all felt a huge sense of accomplishment: we had finally finished what we came to Nashville to do. Watching the Davises use the ramp for the first time was a proud moment for all of us. Knowing that we had been able to help improve their day-to-day lives was simply priceless.
Our week of service will extend well past the construction of a few ramps. The bigger idea behind our project revolved around the concept of planting a seed. As John explained, there is only so much his organization can do with grants and funding; it is the volunteers that are the backbone of the organization. It is up to individuals, such as us BU volunteers, to continue planting seeds in their communities and inspiring others to give back. We headed back to BU with the hope of sharing this vision across campus and carrying it with us to whatever endeavors lie ahead.
As one of our volunteers, Marysabel Mejia (SAR'14), noted about our trip, "If nine girls and two guys can bust out four wheelchair ramps in five days, then imagine what the rest of us can do if we work together to better the world."
Adrienne Cytto can be reached at acytto@bu.edu. Danielle Cavendish can be reached at cavdn@bu.edu.
Read about other Alternative Spring Breaks trips here.
This Series
Also in
March 21, 2014

March 20, 2014

March 17, 2014