Alternative Spring Breaks: Flagstaff, Arizona
Restoring life in the Grand Canyon
Last week, more than 300 students volunteered in this year's BU Community Service Alternative Spring Breaks program. ASB paired students with more than three dozen organizations around the country involved in environmental, public health, children's services, homelessness, disaster recovery, and animal welfare efforts. This week, we are bringing you first-person accounts of some of those trips.
We took our first hike hours before we landed in Arizona to begin our weeklong Alternative Spring Breaks trip working with the Grand Canyon Trust, in Flagstaff. It was 3:30 a.m. on the first Saturday of spring break. With only the Comm Ave streetlamps to guide us, we trekked from our residences in the bone-chilling cold to the Fuller parking lot, drawing strength from the promise of the warm Arizona sun awaiting us. Unsurprisingly, our 6 a.m. plane ride to Phoenix was quiet, with everyone catching up on sleep. We knew we'd need the rest, as the week ahead would be chock-full of hiking, camping, and getting down and dirty in the desert.
After arriving in Phoenix, we drove down Carefree Highway with the windows down and radio up, eager to meet our weekend host, Robin Schmidgall, mother of a BU Alternative Spring Breaks alum. Robin lived up to all the hype we'd heard from previous ASB Flagstaff groups, greeting each of us by name and graciously welcoming us into her beautiful home in Scottsdale. For that weekend, we almost forgot that we were on a service trip, feeling spoiled by her hospitality. But soon enough, 6 a.m. Monday rolled around and we departed for Flagstaff in our two rented SUVs.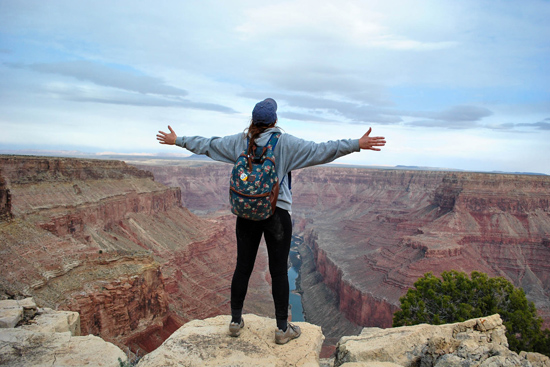 Opting for the scenic route through Sedona, we drove alongside the rising sun past vermillion cliffs and through pine-clustered mountains. In Flagstaff, we were joined by our site contacts, Rachel Esbjornson and Emily Thompson—volunteer program associates with the Grand Canyon Trust—for a brief orientation. The organization's mission is to protect and restore the Colorado Plateau, "its spectacular landscapes, flowing rivers, clean air, diversity of plants and animals, and areas of beauty and solitude," creating an environment where people and nature can coexist in harmony. Despite having done some research and reading beforehand, we were surprised to learn that the area's springs, integral to the desert ecosystem, are being overrun by invasive species. We were told that our service would focus on spring restoration at Kane Ranch by removing an invasive plant species called tamarisk. Initially introduced from Eurasia to stabilize riverbanks, today the plant has overwhelmed the ecosystem and substantially reduced biodiversity.
Kane Ranch is one of two ranches, spanning the Kaibab Plateau, Marble Platform, and Vermillion Cliffs, purchased by the Grand Canyon Trust in 2005, where the trust is focusing on science-based restoration and conservation.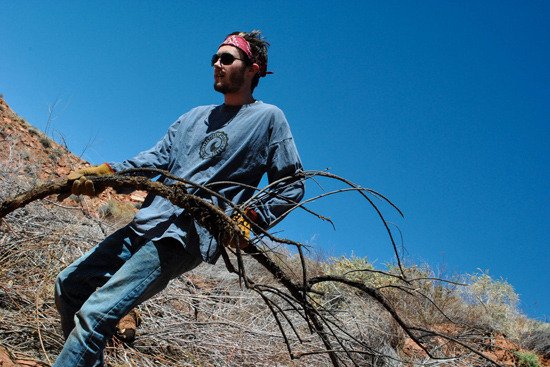 Equipped with this new knowledge, we drove down dusty dirt paths through Navajo Nation, wondering how much of an impact we would be able to make in five days. We stopped for lunch on the banks of the Colorado River, where we discussed our interests and ties to the environment. We found that although we all know how indispensable our planet is and how crucial awareness and action are, we had some doubts about whether we could make a substantial difference. After listening to each of us, Rachel and Emily told us that many of our thoughts and worries about protecting the environment were reflected in restoration work, like our project. They said that we'd have no way of seeing the immediate effects of our work or knowing how far our actions will extend, but that that's the nature of conservation.
Once at Kane Ranch, we began our week of service with a full tank of energy. We rose at 6 a.m. each day to a desert sunrise and inspirational morning readings. Our daily two-and-a-half mile hike to our work site at Emmett Springs over sinking red sand was the ultimate fitness test; we made it through by trusting the feet of the person in front of us to find stable ground. Throughout the week, our energy never faltered, despite the intense heat and labor. We quickly discovered that tamarisk is a very persistent plant, but that didn't keep us from finishing our work ahead of time. Even the apparently impossible-to-remove branches and stumps were conquered by our unwavering support and teamwork. Each day, we returned and measured our progress by the ever-growing pile of tamarisk we'd removed and the expanding amount of riverbank we had cleared. We can proudly say that we removed all the tamarisk from Emmett Springs ahead of schedule.
Each evening, we returned to Kane Ranch exhausted, but pleased with what we'd accomplished. We'd head to a small building, where we divided into cooking and cleaning crews, which made our group meals all the more satisfying. We dined on pasta, stir-fry, and chicken. One evening after dinner, we hiked up behind the ranch, another night we built a campfire and made s'mores. But for the most part, our nights ended early, and we retreated to our tents and cocooned ourselves in sleeping bags against the cold desert nights. Some of us chose an alternative sleeping situation—under the stars. Despite an intense wind and sand storm our first night, our week of desert camping, no showering, and ranch living proved to be an invaluable experience.
On our last day, Rachel and Emily led us on a hike to the North Rim of the Grand Canyon. For many of us, it was the first time witnessing what has been described as one of the world's seven natural wonders. The view exceeded every expectation. In our moments of solitary reflection, we felt humbled by the canyon's vastness and stunned by the silence. There was no better way to conclude our week of service.
Our last weekend of spring break flew by. Although we were excited about recounting our camping tales to Robin, with whom we stayed again before leaving for Boston, the idea of our Arizona departure hung over us. During our final reflection, we found it difficult to pinpoint any lows, other than having to leave Arizona so soon. The popular consensus was that our time in Flagstaff had carved its own indelible canyon into our lives.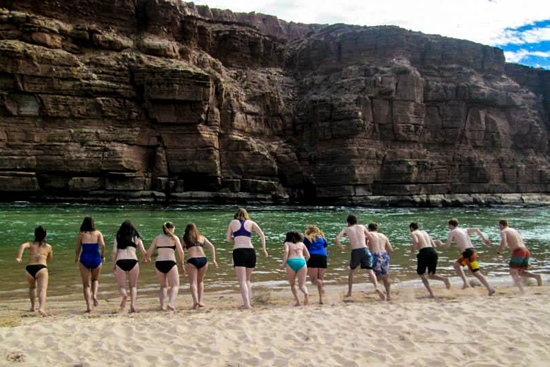 More than a chance to give back through service, our ASB trip taught us a lesson in patience and humility. When it comes to the environment, our site leader Rachel put it best: "Industrial society often forgets how dependent we are on the environment. It is the air we breathe, the food we eat, the materials we use, the water that gives us life. The metaphor of the Earth as our mother is more than appropriate. The environment gives us life."
It is with that liberating and invigorating lesson that we departed, scratches, sunburns, and all. Thank you, Arizona, for reminding us how to be.
Lucy Mui can be reached at lucylsm@bu.edu. Amy Wade can be reached at afwade@bu.edu.
Read about other Alternative Spring Breaks trips here.
This Series
Also in
March 21, 2014

March 18, 2014

March 17, 2014