Alternative Spring Breaks: Natchez, Mississippi
Volunteering at a children's home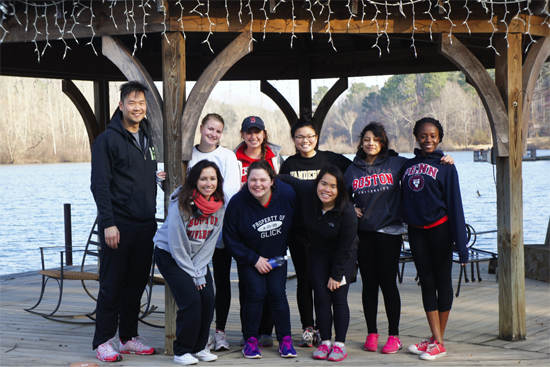 Last week, more than 300 students volunteered in this year's BU Community Service Center Alternative Spring Breaks program. ASB paired students with more than three dozen organizations around the country involved in environmental, public health, children's services, homelessness, disaster recovery, and animal welfare efforts. This week, we are bringing you first-person accounts of some of those trips.

It was 5 a.m. and we were gathered in the Fuller parking lot to begin our 25-hour drive to Natchez, Miss. Some volunteers were meeting each other for the first time, and the long drive seemed daunting. We were both new to the Alternative Spring Breaks program, and as the coordinators, were unsure what the week would bring. However, before we knew it, we were packed into a van and heading south toward our week of service, after months of planning.
After driving about 18 hours, we arrived in Dalton, Ga., where we stayed overnight at a lake house belonging to Greg and Margie Bruner, aunt and uncle of Logan Stec (SAR'16), coordinator of another ASB trip. The next morning we drove the final 514 miles to our destination, the Natchez Community Chapel Church of God, where we would be living for the next week. By this point, some of our fears had been brushed aside: the long ride afforded us the opportunity to get to know one another and comfortably be ourselves. After being greeted by the warm Mississippi climate and our friendly (and hilariously sassy) housing contact, Pastor Bo Swiley, we finally realized that our ABS week had begun.
On Monday we headed out to our first day on site at the Natchez Children's Home, which provides services to abused and neglected children and families in crisis. After a brief orientation, we learned more about the organization's child advocacy services, its restructuring of programs to accommodate children with special needs, and its not-for-profit thrift store. One thing that truly had an impact on us was the chance to learn about their progressive "child-first" services. This entails a team of professionals from different fields, including law enforcement, child protection, medical and victim advocacy, and mental health, working together to learn a child's story and then consulting to find the best approach to help improve his or her situation. This could include court protection, law enforcement, and counseling.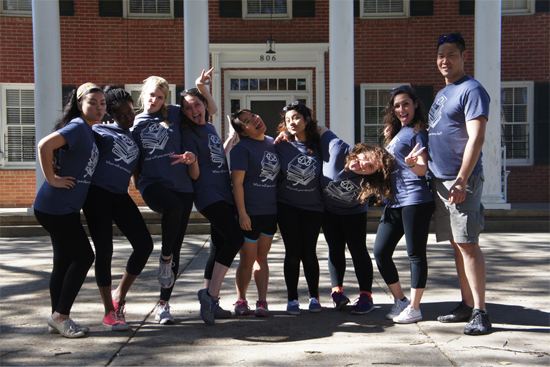 We met our site contact, Miss Nancy, that day. Throughout the week, she demonstrated the true meaning of southern hospitality by showing us around town. As a group, we spent a great deal of time working in the Thrift Shop, guided by Miss Ira and Miss Sylvia. We sorted clothes and other items in preparation for the shop's opening on Wednesday, one of the three days it's open. There is a high turnover of clothing, furniture, books, kitchenware, and toys, and inventory is replaced weekly. Proceeds from the shop, which is across the street from the main building, support programs at the Children's Home.
While it was great to see the fruits of our efforts later in the week, the chance to get to know the employees and volunteers from the community was the true reward. Miss Ira talked about growing up in Natchez and shared her optimism despite having endured several hardships. She used the word "content" often, which struck us as very powerful because contentment isn't easy to find.
Later in the week, we worked with local farmer Buddy Miller in the home's garden. We learned a lot, including how to build a garden from the ground up and how real southern pecans should taste (lightly buttered and salted is the way to go). We prepared the soil and fertilized beds for planting. In a few months, the children will be able to learn about gardening and will pick the fruits of our labor—literally.
But the week wasn't all hard work. It was also learning about each other and testing our limits by trying new things. As clichéd as it sounds, our group really clicked, and the bonding happened naturally. Games like Mafia, Mind Meld, and trivia are great ways to get people talking and laughing—ice-breakers, we discovered, really do work. As we grew closer, we realized we could encourage each other to step out of our comfort zones and try new things. Together, we overcame our hesitations about driving a 12-passenger van all the way to Mississippi, sharing one room and two showers, and planning and cooking meals for 9 people. During our week in Mississippi, we sampled alligator, crawfish, gumbo, and of course, Mississippi Mud Pie.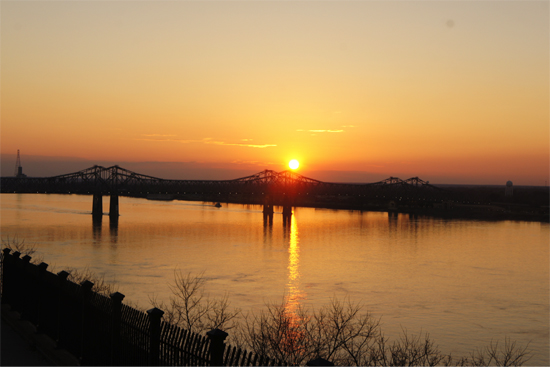 Our trip was everything we had hoped for and more, but that isn't to say there weren't surprises along the way. There is definitely a cultural difference between Boston and Mississippi. We had the opportunity to go to a theatrical reenactment of Natchez's pre–Civil War history put on by the Natchez Garden Club. It was interesting to see that it focused on the positive and skirted around the historical controversies that led to the Civil War. However, the play is a long-standing tradition in the community and a point of pride for many residents, which was evident by the audience's reaction to the show.
Southern hospitality was also a surprise during our trip. We never expected to receive so many "thank yous" for our service from people outside of the Children's Home. Strangers from around town, even at Wal-Mart, would stop us when they saw our ASB or BU shirts and engage us in conversation. At first, we were a little taken aback by this extreme friendliness. But we quickly learned to love it, and we're even looking forward to bringing some of that hospitality back with us.
Our group has become a family, we've made an impact on the Natchez community, and our eyes have been opened to different ways of life. We're not sure how things will be when we return to Boston and our daily lives or how much our experience will continue to impact us. For us, focusing on the present is what's important. Right now, the warm Mississippi sun and the powerful service we've accomplished are keeping our spirits high. We don't know how close our group will remain or how much time we'll spend together, but we still have a 25-plus-hour van ride back to Boston.
Valerie Capili can be reached at vcapili@bu.edu; Shannon Clark can be reached at sbclark@bu.edu.
Read about other Alternative Spring Breaks trips here.
This Series
Also in
March 21, 2014

March 20, 2014

March 19, 2014