Alternative Spring Breaks (ASB)
Alternative Spring Breaks (ASB) promotes community service, develops leadership skills, and creates strong bonds among its participants. Since it's founding in 1988, Boston University student and faculty/staff volunteers spend their Spring breaks participating in volunteer work throughout the country addressing issues such as environmental protection, children, affordable housing, hunger, education, HIV/AIDS awareness, and disabilities. Each of the trips is comprised of two coordinators, ten to twelve volunteers, and one faculty/staff chaperone.
There are still spots open on some awesome 2014 ASB trips! Register at asbregistration.eventbrite.com 
Interested in becoming an Alternative Spring Breaks Chaperone? 2014 applications are now up! For more information, check out the site!

Last year, ASB had over 300 volunteers, 78 coordinators, 39 chaperones, 7 committee chairs, and two program managers traveling to 39 places throughout the US and Puerto Rico. This year, ASB will be bigger than ever and travel to 40 trips all over the country in vans, planes, and buses, and stay in a variety of accommodations. Service projects ranged from working with organizations like Habitat for Humanity in Fort Smith, AR building houses for local communities, to working with children at the Target House in Memphis, TN. Overall, the program provides Boston University students with a unique and memorable week of service as an alternative to the traditional college spring break.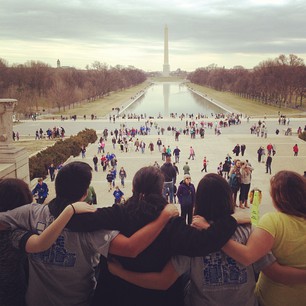 For more information on becoming involved in ASB, please contact this year's program managers, Katie Collins and Matt Sullivan at altbreak@bu.edu.