Alternative Spring Breaks: Goshen, Indiana
Rebuilding abandoned homes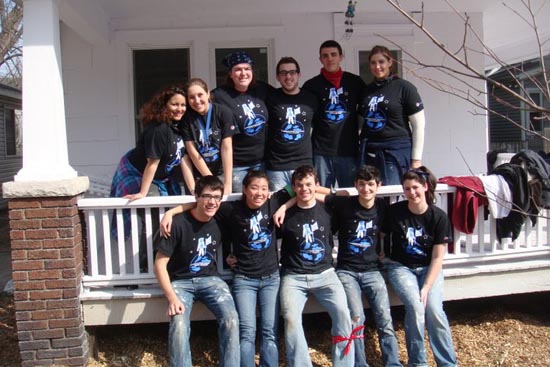 More than 300 students volunteered in this year's BU Community Service Center Alternative Spring Breaks program. Now in its 24th year, ASB pairs students with 36 organizations around the country, rebuilding homes, assisting at animal shelters, and working at food banks, among other projects. Over the next week, we are bringing you first-person accounts of some of those trips, described by both students and coordinators as unforgettable. Read more.
Getting to Goshen, Ind., by van isn't easy. As one of two coordinators on this Alternative Spring breaks trip, I had been working out all the details since November with fellow coordinator Dorothy Shi (CAS'12) and the staff of the nonprofit we were going to assist, LaCasa, Inc., of Goshen. Founded more than 40 years ago, LaCasa helps provide housing and other services to low- and moderate-income families in Goshen, a city of 30,000 people near the Michigan border.
We began the trip as 11 strangers. But the first leg of our journey, an eight-hour drive to Buffalo, N.Y., flew by as the group played Hangman on the van windows using dry-erase markers and paper towels. We discovered that we all shared a love for Rihanna song lyrics and a passion for education reform and—unsurprisingly—community service. We stopped in Buffalo at the family home of our ASB chaperone, Dan Essrow (COM'10, CAS'10), for a three-hour nap, awkwardly sharing small air mattresses and the cuddles of two friendly, fluffy golden retrievers. Refreshed, we resumed our trip, driving another 10 hours to the Great Lakes Region straddling the Indiana-Michigan border.
We pulled into the Trinity United Methodist Church in Elkhart, Ind., where we were greeted by Kate, our kindly LaCasa site contact, with whom I'd been talking for months. The church was our home base for the week we were there (more about that later).
Our mission was to help the LaCasa staff rehab an abandoned home in Goshen, about a 30 minute drive from the church. The nonprofit would then sell the home to a local low-income family.
During our first day on site, we learned from our site manager, Doug, that over 35 percent of the homes in Goshen were foreclosed between January 2009 and January 2011. The people in the area worked mainly at RV factories and in other recreational industries and many lost their jobs when the recession hit.
"As any economist will tell you," Doug said, "the first thing to go, after money, is luxury." I had heard of cities experiencing unemployment rates upwards of 8 percent in the past few years, but Goshen's unemployment rate today remains nearly 18 percent. Imagining all the families with both parents out of work, all the children in school with little hope of attending college, and all the homes that had been abandoned fueled us for the week of hard work we were about to embark on.
On Monday, we arrived at an abandoned house on South 7th Street just after the neighborhood kids were picked up by a school bus. Doug led us through the four-bedroom house, full of moldy ceilings, cracked drywall, and broken light fixtures. No one had lived in—or even touched—the house in at least eight months. On our first day we were assigned to scrub all of the walls and ceilings twice with a chemical wash in preparation for painting the next day. We arrived at 8:30 each morning and worked until 4:30 p.m.
After we cleaned up at the end of our first day, Doug led us on a tour of Goshen. I was struck by the endearing small-town feel that I used to think existed only in movies. Each person we saw stopped Doug to say hello and to ask where our group was from. Each of them told us "what a guy Doug is!" and what "great work LaCasa does" for the community. We felt especially appreciated knowing how important the organization is to the community.
Days two and three were spent painting the interior of the house white—"sea cloud" to be exact. During our last two days, we landscaped. I was so proud to be coordinator of a group that actually accomplished more than had been expected. Kate and Doug both expressed shock at the amount we did to improve the house in so little time.
At night, we returned to Trinity United Methodist Church. We slept in one large room of the church building. Without a TV, we spent the week playing the psychological game Mafia, engaging in nightly "girl talk" sessions, and just getting to know the 10 amazing individuals who were helping a community. Church members prepared dinners for us, taking care to feed us well. One night, one of the church members hosted us at his restaurant, Miles Lab, in Elkhart. Another evening, the entire church community invited us to their weekly Fellowship dinner, where nearly 300 people turned out.
I think each of us found something special in the small city we helped. Seeing the difference in the condition of the house we worked on from the beginning to the end of the week was special, but imagining the family that would soon live in that house and turn it into a home gave me a truly inexplicable feeling of accomplishment and gave meaning to the week of work.
Mike Barry can be reached at mbarry9@bu.edu.
This Series
Also in
March 19, 2014

March 18, 2014

March 17, 2014