Progress in the diagnosis and treatment of amyloidosis has depended upon clinical and laboratory research at Boston University and other amyloid centers around the world. New diagnostic methods and treatment option have given patients with amyloidosis hope for improved quality of life and extended survival.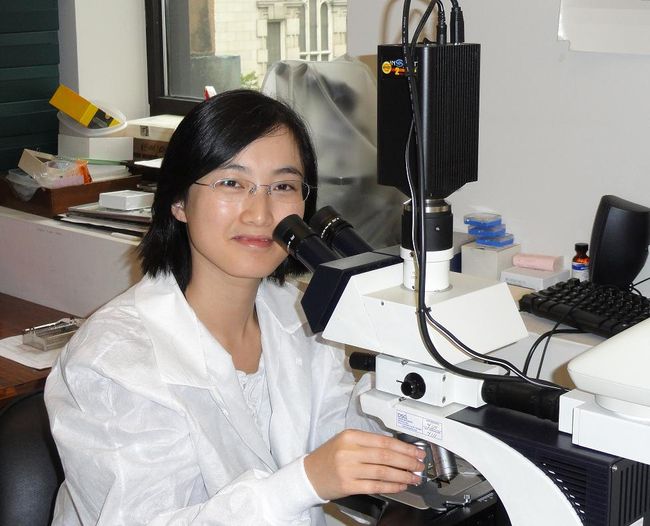 Laboratory Research
Our laboratory research programs are based in the Alan and Sandra Gerry Laboratory, with vital collaboration among affiliated laboratories at Boston University School of Medicine. Biochemists, biophysicists, cell and molecular biologists and bioinformaticians work to understand:
What genes and proteins form amyloid?
How protein aggregation occurs?
How amyloid deposition leads to cell and tissue damage?
We use high-tech instrumentation and cell and animal models to understand the molecular basis of amyloidosis – in the hopes of translating laboratory findings into better diagnostics and new treatments.
Clinical Research
Clinical research allows us to determine whether new medications are effective, a major goal of our work. Participating in a clinical trials provides access to potential new treatments and paves the way for better treatment for other patients in the future.
Amyloid Light Chain Database
ALBase is a curated database and collection of analytical and graphical tools designed to facilitate the analysis of amyloidogenic immunoglobulin (Ig) light chains (LC) occurring in patients with AL amyloidosis. ALBase was developed with the support of an NHLBI P01 award, HL68705.
ALBase is designed to compile and analyze Ig LC sequences from patients with AL amyloidosis, to compare their predicted protein sequence and structure to non-amyloidogenic LC sequences from patients with multiple myeloma or health controls. The hypothesis underlying this is that the primary sequence of the LC is likely to be a major determinant of secondary structure and of propensity to unfold, oligomerize, and form fibrils.
Funding
Our research is supported by the National Institutes of Health, the Food and Drug Administration, the Health Research Services Administration, the American Heart Association, the Amyloidosis Foundation, the Wildflower Foundation, Inc., the Fred J. Brotherton Charitable Foundation, Martin Gruss, and by generous patients, families and friends. Donations can be made through our website or by mail.