A conversation with Dr. Ibram X. Kendi & Andrea L. Taylor (COM'68)
Join us as we welcome Dr. Kendi on his first day at BU. We are pleased to have the opportunity to introduce him to our alumni community, and to hear his vision for the new Center for Antiracist Research, which will bring together researchers and practitioners from across the University and the region to engage around issues of racism and racial justice.
This program is hosted by the Black Alumni Leadership Council and the Boston University Alumni Association.
Audio trouble? Click the five gray bar icon in the bottom right corner of video window to turn up the volume manually.
About the speakers:
Dr. Ibram X. Kendi is a #1 New York Times bestselling author, professor of history, and the founding Director of the Boston University Center for Antiracist Research. He is an Ideas Columnist at The Atlantic, and a correspondent with CBS News. He is the author of five books including Stamped from the Beginning: The Definitive History of Racist Ideas in America, which won the National Book Award for Nonfiction; How to Be an Antiracist; STAMPED: Racism, Antiracism, and You, co-authored with Jason Reynolds; and Antiracist Baby, illustrated by Ashley Lukashevsky. Dr. Kendi invites you to visit him online at IbramXKendi.com. [Photo credit: Stephen Voss]
Andrea L. Taylor (COM '68) is a proud BU alumna, trustee of Boston University and Inaugural Chair of the Black Alumni Leadership Council. She started her journalism career by working as a reporter for The Boston Globe followed by producing and working as an on-air host for WGBH-TV. Andrea was the founding director of the Media Fund at the Ford Foundation, director of North America community affairs for Microsoft Corporation, and former President and CEO of the Birmingham Civil Rights Institute. She has also been a delegate to four United Nations global summits. [Photo credit: Caleb Chancey]
Welcome and introduction: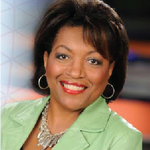 Karen Holmes Ward (COM'77, Hon.'19) is the director of Public Affairs and Community Services as well as host and executive producer of CityLine, WCVB-TV's award-winning weekly magazine program which addresses the accomplishments, concerns, and issues facing people of color living in Boston and its suburbs. Holmes Ward also serves as chair of the Boston University Black Alumni Leadership Council.