On Saturday, April 7, Boston University hosted "Worlds of The Brothers Karamazov," the second in an annual series of one-day  departmental symposia on "Big Fat Books" run by the Department of World Languages & Literatures. The symposium marked the culmination of months of intense discussion on campus of Dostoevsky's final novel and masterpiece, both in Prof. Corrigan's spring semester XL 230 course devoted to The Brothers Karamazov and among the faculty of the department of World Languages and Literatures, who met regularly throughout the year to discuss the novel and to explore its significance across disciplines and literary traditions.
The keynote speakers – Robin Feuer Miller (Brandeis University) and Gary Saul Morson (Northwestern University) – addressed a packed audience of about 80 people on the top floor of the BU Hillel. In her lecture, "Dostoevsky Writ Small," Prof. Miller emphasized the novel's apparently marginal events, images, and characters as portals into Dostoevsky's broader philosophical concerns. Prof. Morson presented "Six Theses on Karamazov," which included insights into Dostoevsky's use of paradox in the novel, his treatment of scientific rationalism, and his emphasis on the moral importance of human emotions. These addresses were followed by two panels composed of BU faculty. The first, "Comparative Karamazov: West," included papers by Peter Schwartz ("Dialogues with the Devil"), Ines Garcia de la Puente ("Ivan Karamazov: Author and Translator"), and Yuri Corrigan ("Elena Ferrante's Dostoevsky"). In the afternoon panel, "Comparative Karamazov: East," paper topics ranged from Natsume Soseki's complex relationship with Dostoevsky's writing (Keith Vincent) and the significance of Notes from Underground for modern Korean literature (Yoon Sun Yang) to Haruki Murakami's career-long preoccupation with The Brothers Karamazov (Anna Elliott), a new Japanese television adaptation of the novel (Sarah Frederick), and Dostoevsky's significance for modern Chinese literature (Catherine Yeh). Both panels addressed such problems as Dostoevsky's syntheses of the secular with the theological and of the psychological with the allegorical, while the second specifically addressed ways in which Dostoevsky's meditations upon the modern condition have functioned as a template for confrontations with modernity in multiple East Asian literary traditions. The final event of the day was a student panel in which eight students from Prof. Corrigan's course on The Brothers Karamazov presented close readings of passages from the novel; this panel, like the others, was followed by lively discussion. Michael Katz (Middlebury College), William Mills Todd III (Harvard University), and Evgenia Cherkasova (Suffolk University Boston) served as chairs for the three panels. The day ended with a reception at the School of Theology and with a dinner for participants at the Szechuan Garden restaurant in Brookline.
Check out some photos from the event:
Keynote Speaker, Gary Saul Morson (Northwestern University)
Keynote Speaker, Robin Feuer Miller (Brandeis University)
Professor Yuri Corrigan hosted the symposium on April 7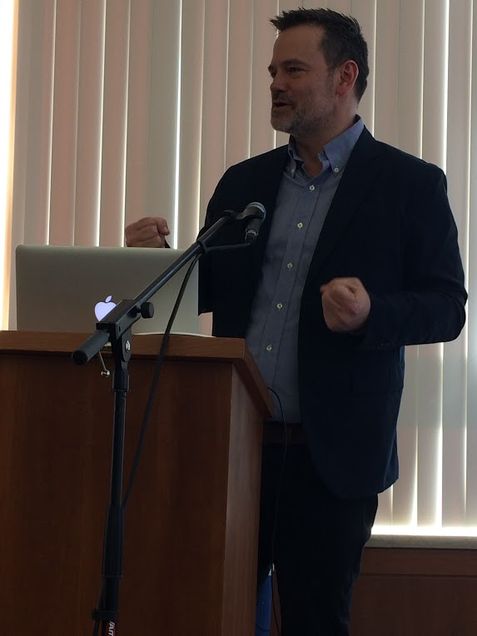 Professor Keith Vincent discusses Dostoevsky and Soseki in Japanese literature.
Professor Catherine Yeh gives a talk covering Dostoevsky in China
Karamazov in East Asia Panel
The Brothers Karamazov Student Panel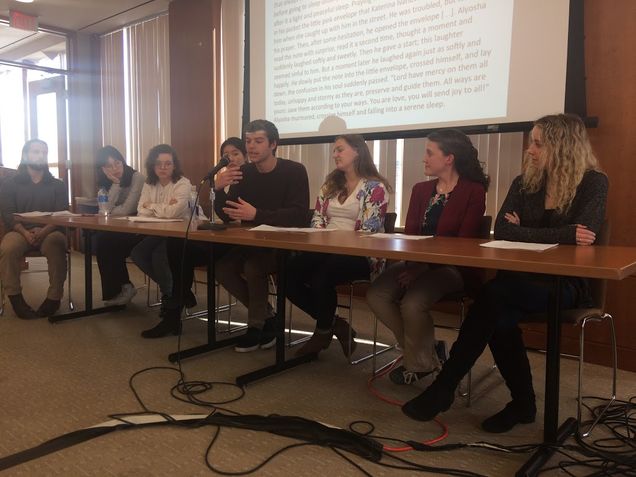 The Brothers Karamazov student panel leading a discussion on close readings from the novel
Symposium Schedule