Cate Albright
CAS '23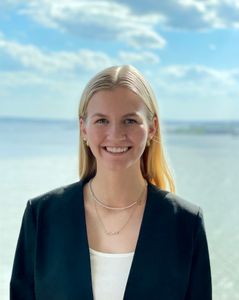 Major / Minor: Pure and Applied Mathematics / Public Health
Area of Research: Biostatistics
Name of Mentor: Laura White
How did you get involved in research?
I got involved in research through the UROP opportunities page. I saw a project listed that combined my interests in mathematics and public health and reached out to my mentor.
How did you meet your mentor?
I met my mentor after reaching out to get involved in research.
What has your UROP experience taught you?
I have learned so much through my UROP experience. I conducted a research project from start to finish on cross-immunity and what conditions favor the formation of distinct SARS-CoV-2 serotypes. First, I developed a code in python with my mentor to simulate competing virus strains. We then analyzed the simulation and created models we would use in the research paper. After the analysis, I worked on writing a research paper that will soon be published. My mentor took on multiple UROP students, so I learned not only from my project but also from interacting with the other students involved in similar projects. It was a great experience to work alongside master's and Ph.D. students and to gain insight into higher-level research.
How has this experience helped you with non-research related things at BU?
I have gained skills I will take with me in my career upon graduation. My UROP group had weekly meetings where students presented progress. I learned how to communicate complicated topics efficiently. Working on this project also expanded my knowledge of computer science and taught me new analytical skills.
What does a day in your research life look like?
I spent a few hours coding, working on presentations, or writing for the final paper each week. I had individual meetings with my mentor to discuss progress and review code. In addition, I had one weekly meeting for all of the UROP students working under my professor, where we presented progress, asked questions, and discussed goals.
What advice would you give to someone interested in UROP?
Look for a project that aligns with your interests, and be open to challenges. For example, I found my project because it combined my passions for math and public health. The biggest challenge of my project was creating a simulation in Python, as it was a coding language I did not have experience with. My interests drove me to push through the challenges of learning a new coding language. My UROP experience deepened my knowledge of Mathematics and Public Health. I learned about the research process from start to finish and gained skills I will take with me in my career upon graduation.