From Our Research Collection: Dr. Edwin P. Booth & A Modest Proposal
For our next "From Our Research Collection," we want to revisit a letter previously shared on social media, from Dr. Edwin Prince Booth, STH Faculty member, to the President of Boston College in 1958, suggesting that Boston College consider changing the name of their university, to avoid any name confusion with older Boston University. Due to the longstanding hockey rivalry between these two institutions on opposite sides of Commonwealth Avenue (STH relocated to its current address in 1948), we definitely find this letter a bit humorous!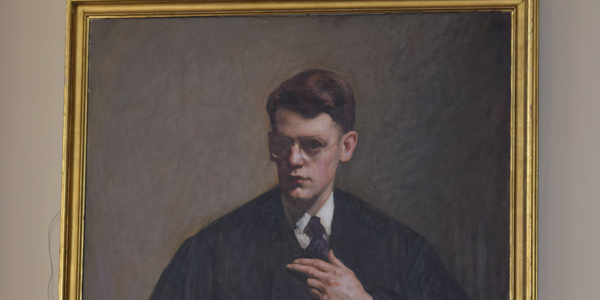 If Dr. Edwin Prince Booth's name doesn't ring a bell, perhaps his likeness does- a portrait of young Dr. Booth overlooks our library' reading room. Dr. Booth served as a faculty member at Boston University from 1925-1963. Several of his original works (e.g. speeches, work with local media) were on display in Fall 2017 with our Transcending Conflict, Finding Peace: Transformative Responses to World War II exhibit in our reading. Search our Archives for Dr. Booth's personal papers (http://sth-archon.bu.edu/?p=collections/findingaid&id=422&q=), or search our catalog for books written by Dr. Booth (https://buprimo.hosted.exlibrisgroup.com/primo-explore/search?query=creator,exact,%20Booth,%20Edwin%20Prince&tab=default_tab&search_scope=default_scope&sortby=date&vid=BU&lang=en_US&mode=Basic&offset=0).