Curriculum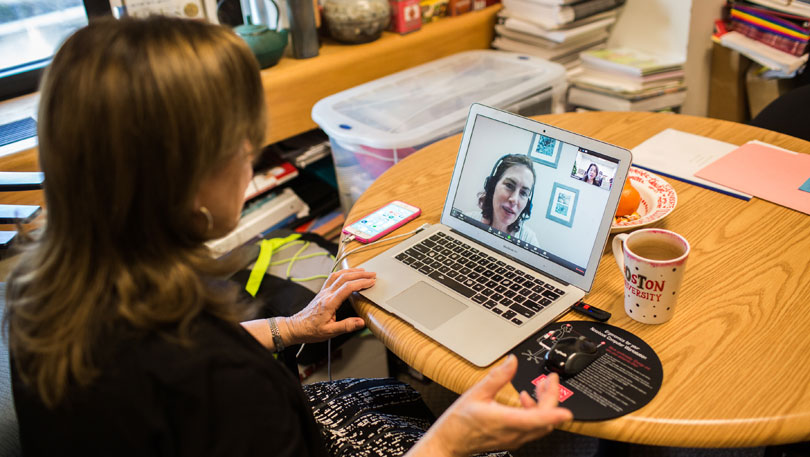 Boston University's post-professional OTD program (PP-OTD) is open to graduates from any ACOTE-accredited entry-level occupational therapy program, or (for international applicants) graduates of a WFOT-approved program or who can provide a National Government Recognition documentation of their program in occupational therapy.
Typically, students will complete two courses and their doctoral project per semester. Students may begin the on-line PP-OTD program in September, January, or May.
The program consists of 33-37 credits, depending on the semester that the student matriculates. If no foundation courses are required, the student takes ten courses. Students may be required to complete six foundation courses, depending on their past educational experiences, prior to their doctorate study. The foundation course curriculum is described below and will require additional semesters in the program, but these foundation courses are integrated into the overall schedule of courses.
Students will take two courses per semester, each lasting seven weeks. Students with MA, MS, MSOT, and MOT degrees may be able to complete the program in ~18 months. Students can begin the program at one of three entry points within the year: January, May, or September. Concurrently, you will work on your doctoral project each semester. You can review a list of recent doctoral projects completed by PP-OTD graduates.
Sample Schedules
Foundation Courses
Students with a Bachelor's degree in occupational therapy will need to take foundation courses. There are six foundation courses that are integrated into the core course curriculum. Students may waive these courses based on evidence that the required content and competencies have been met through previous graduate studies. Students with MA, MS, MSOT, and MOT degrees may not be required to take foundation courses after the review of their transcript. Only graduates of the Boston University online post-professional Master of Science in Occupational Therapy program will be able to waive all six foundation courses. Applicants should contact Program Director Karen Jacobs about this process.
SAR HP561: Evidence Based Practice I
SAR HP650: Health Care Management
SAR OT617: Contemporary Trends in Occupational Therapy
SAR OT618: Directed Study in Evidence Based Practice
SAR OT900: Scholarly Project I
SAR OT901: Scholarly Project II
Core Courses
Review a sample PP-OTD Core Curriculum here.
SAR HP720: Educational Theory and Practice
SAR OT610: Health Promotion and Wellness
SAR OT910: Social Policy and Disability
SAR OT911: Practicum in Social Policy and Disability
SAR OT915: Evaluating Clinical Theory and Research
SAR OT916: Practicum in Theory Analysis
SAR OT920: Outcomes Measurement and Monitoring I: Program Evaluation
SAR OT921: Outcomes Measurement and Monitoring II: Individual Client Monitoring
SAR OT925: Capstone
SAR OT930: Doctoral Project
Curriculum, courses, and program requirements are subject to change.