The Educators
Alumni who went on to found or lead colleges and universities across the country and around the world.
LAW150
The Educators
Alumni who went on to found or lead colleges and universities across the country and around the world.
Since its founding in 1872, Boston University School of Law has taken considerable pride in its faculty, staff, students, and alumni. It was with our community in mind that we set out to create 150/150, a commemorative book featuring 150 profiles of people, places, and events that have shaped the school and the world.
Throughout the school's anniversary year, The Record is publishing a selection of the profiles that appear in the book. We present here alumni who went on to found or lead colleges and universities across the country and around the world. They are the instructors, the mentors, the role models who seized new opportunities to lay the foundation for future generations of scholars.
Learn more about 150/150: People, Places, precedents
---
Takeo Kikuchi
In 1875, Takeo Kikuchi (1877) was awarded a rare opportunity. Emperor Meiji of Japan selected the 21-year-old son of a samurai — along with a few hundred other young men and women — to study abroad. Their collective task: experience Western languages, science, and systems of government, then return home and apply their newfound knowledge to usher Japan into the modern era.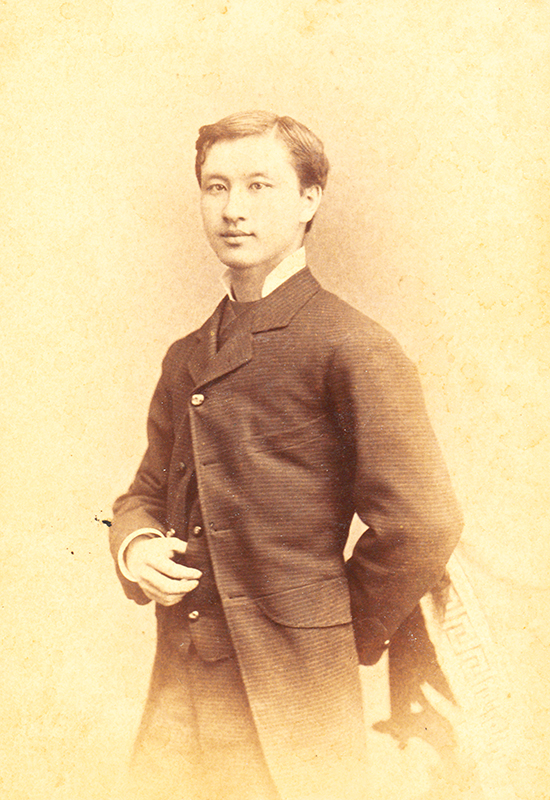 Kikuchi, who had studied at Tokyo Kaisei Gakko (known today as the University of Tokyo), traveled halfway across the world to study law at Boston University. In 1877, he became the first Japanese man to graduate from BU Law. His experiences at the school — and in Boston — would profoundly affect the young lawyer and the future of Japanese law.
Kikuchi returned to Tokyo in 1880 to join the Ministry of Justice — and found a very different legal system than the one he had studied. The country had no standard examination or certification process for public workers, lawyers, or judges. Moreover, the profession of lawyer was not recognized in Japanese culture. In 1885, Kikuchi joined forces with 17 other attorneys to form Igirisu Horitsu Gakko (English Law School), known today as Chuo University. The blueprint for the school would be a departure from peer institutions in Japan. The founders believed that teaching British and American law, rather than the widely accepted French law taught in other schools, would be the most effective means of establishing a modern judicial system in Japan.
Over time, the formula worked: the school's curriculum and emphasis on the practical application of learning attracted aspiring lawyers in Japan. Today, Chuo University is one of the country's largest and most prestigious private universities, known for its teachings in law, policy studies, science, and engineering.
Kikuchi would go on to be highly regarded as a scholar of Japanese law. He was awarded Doctor of Jurisprudence in 1888 and became the second president of Chuo University in 1903. That same year, he was elected president of the Tokyo Bar Association.
---
Nathan Abbott
When Stanford University opened its doors in 1891, founder Leland Stanford and president David Starr Jordan had an egalitarian vision of their institution: It would be nonsectarian, coeducational, and affordable — much like Boston University.
But unlike BU, Stanford didn't have a law school. In 1893, Jordan reached out to Nathan Abbott (1881) to lead a new law department at the university. Abbott, who studied at Yale before pursuing his law degree, was a protégé of Melville Madison Bigelow, BU Law cofounder. Bigelow had grown so impressed by Abbott's legal reasoning that he asked him to teach a course while he was still a student.
After completing his studies at BU Law, Abbott practiced law for several years in Boston before — on the advice of his doctor to lead a less strenuous life — he pursued teaching. Abbott held appointments at the University of Michigan and Northwestern University before accepting Jordan's invitation to travel west to California.
When Abbott stepped onto the Stanford campus in 1894, he discovered a university in disarray. The untimely death of the school's principal benefactor, Leland Stanford, coupled with the worst economic depression the country had yet experienced, threatened the institution's financial future. Abbott was tasked with performing a wide range of unusual duties to get the law school up and running, such as installing the department's first office and library and building most of its furniture by hand.
But furnishings weren't all that was missing. Like many contemporary law schools, the law department's entrance requirements were undefined. Abbott implemented new standards, including a provision that applicants must complete an undergraduate degree or meet rigid standards in their secondary school studies. He also welcomed women and people of color—something only BU and a handful of other law schools did at the time.
Plagued by financial setbacks, Abbott conducted most of the teaching single-handedly in the school's formative years. He quickly developed a reputation as an entertaining professor who had a skill for tracing the legal propositions of American law back to English common law. "His approach to a problem was gentle, but his solution was vivid," recalled Edward Hamlin Woodruff, the Stanford University librarian.
Abbott's hard work eventually paid off. By the turn of the century, the law department was the largest academic program on Stanford's campus. When he left in 1907 to join the law faculty of Columbia University, the school had acquired a reputation of excellence comparable to leading law schools in the eastern US.
More than a century later, Abbott's mission of providing an education rooted in excellence, integrity, and equality lives on at Stanford Law School.
---
Gleason Archer and Arthur MacLean
A chance encounter between the two strangers in the summer of 1903 would dramatically change the course of Gleason Archer's life. Archer (1906) met his benefactor, George Frost, a wealthy women's clothing manufacturer on a stagecoach traveling from Cape Cod to Boston. As the result of their meeting, Frost funded Archer's education at BU Law. When Archer attempted to repay him, Frost refused, saying, "If you ever have a chance to pass this favor on to others, do it for me."
Archer took those words to heart when, in 1906 (the year he graduated and passed the bar), he founded Archer's Evening Law School in the living room of his Roxbury home. The makeshift classroom sought to provide a legal education regardless of economic class, race, or religion. Later that year, it was renamed Suffolk Law School.
In 1908, the first Suffolk Law School student passed the bar. By 1930, the school had received full accreditation from the American Bar Association and was one of the largest law schools in the country with 2,207 students. In that same decade, the school expanded its focus with the Suffolk College of Arts and Sciences and the Sawyer Business School, and was incorporated as Suffolk University in 1937. Archer served as president of Suffolk Law School and Suffolk University until 1948.
Archer's friend and classmate, Arthur MacLean (1906), had similar ambitions. A native of Lowell, Massachusetts, MacLean graduated from BU Law in 1906. Two years later, he founded Portia Law School, a night school in Boston that offered legal education exclusively to women.
MacLean had a vision that Portia would become "one of the largest law schools of the country." It's a goal that seemed viable during the late 1920s when admissions to the school trended up and most of the women who passed the Massachusetts bar exam were graduates of Portia. In 1928, the school reached its peak enrollment with 414 students. Throughout its early years, Portia's student body hailed primarily from working-class and immigrant families.
The Wall Street Crash of 1929, and the subsequent depression, decimated enrollments at Portia. In 1938, the school became a coeducational institution and at the time of Arthur MacLean's death in 1943, it produced only eight graduates. The following year, it produced only two.
During the 1960s, enrollment at Portia rebounded and, in 1969, the school received accreditation from the American Bar Association and became the New England School of Law. Today, it's known as New England Law | Boston.
---
Jo Ann Rooney
Jo Ann Rooney (LLM in Taxation'91) never pictured herself working in a traditional law practice. She also didn't imagine becoming a teacher like her mom, who taught elementary school in Rooney's hometown of Hazelton, Pennsylvania.
But after graduating from BU Law in 1991 with an LLM in Taxation, Rooney found herself practicing law by day at a corporate firm and teaching law students at night at Boston-area schools, such as BU and Suffolk University. "I liked my day job, but I looked forward, believe it or not, to teaching from 6 to 10pm just to spend time with these students who really valued education," said Rooney.
Following the September 11 terrorist attacks, Rooney — like so many others — reconsidered how she could make a difference in the world. Then, through a colleague, she learned about the search for a president at Spalding University in Louisville, Kentucky.
In 2002, Rooney became president of the private doctoral-level university, where she is credited with turning around an institution facing severe financial challenges.
After nearly a decade at Spalding, Rooney moved back to Massachusetts in 2010 to take on the role of president at Mount Ida College. But just months into her position, she was nominated by the Obama Administration to serve in the US Department of Defense (DOD).
During her term at the DOD, Rooney wore many hats, including senior advisor to the under secretary of defense (comptroller) and principal deputy under secretary of defense for personnel and readiness. While she successfully managed a force of more than 30,000 employees and a budget of over $70 billion, Rooney notes one of her proudest achievements was helping military personnel continue their education after leaving service. "We worked with them to capture their experiences and their leadership in a way that would allow them to transition to civilian life and realize their impact with businesses or organizations, or start their own nonprofits," she said.
In 2014, Rooney returned to higher education to become the first woman and lay president to lead Loyola University Chicago. Her accomplishments at the Jesuit institution include creating a multiyear strategic plan, welcoming the most diverse and largest first-year class in the university's history, and diversifying faculty ranks.
Rooney stepped down from her position at Loyola in July 2022. What's next? "I'm hoping that I can take my love of education and the things that I've learned from all of these experiences and help organizations and leaders."
---
Hernando Parra Nieto
Colombian-born Hernando Parra Nieto (LLM in American Law'10) has led a distinguished career practicing and teaching commercial, banking, financial, and fiduciary law in his home country.
A founding partner of Bogotá-based Parra Nieto Abogados, he also served as in-house counsel at Citibank Colombia and vice president and general secretary of Banco Colpatria.
Parra Nieto has also devoted a great deal of his life to educating future generations. "I believe that as human beings we have the obligation to serve others, to show solidarity," he said. "Without it, life has no meaning. We must return to life part of what we have received from it."
At the Universidad Externado de Colombia, where he received his law degree in 1985, Parra Nieto has held the titles of professor, professor emeritus, director of the civil law department, and general secretary. In March 2021, he was named rector, the equivalent of president of the university.
When asked about the future of his alma mater in a post-pandemic world, Parra Nieto said it wouldn't be business as usual. "We abruptly changed an education model that was 200 years old, and the universities have to respond to it. The Externado will be at the forefront of this," he affirmed. "This is going to lead to changes in teaching models and is going to demand that we teachers adapt and develop a new pedagogy."
This Series
Also in
June 7, 2023

May 23, 2023

May 16, 2023