Class Notes: Spring 2022
Class notes for the spring 2022 issue of The Record reflect submissions received between May 1 and November 30, 2021.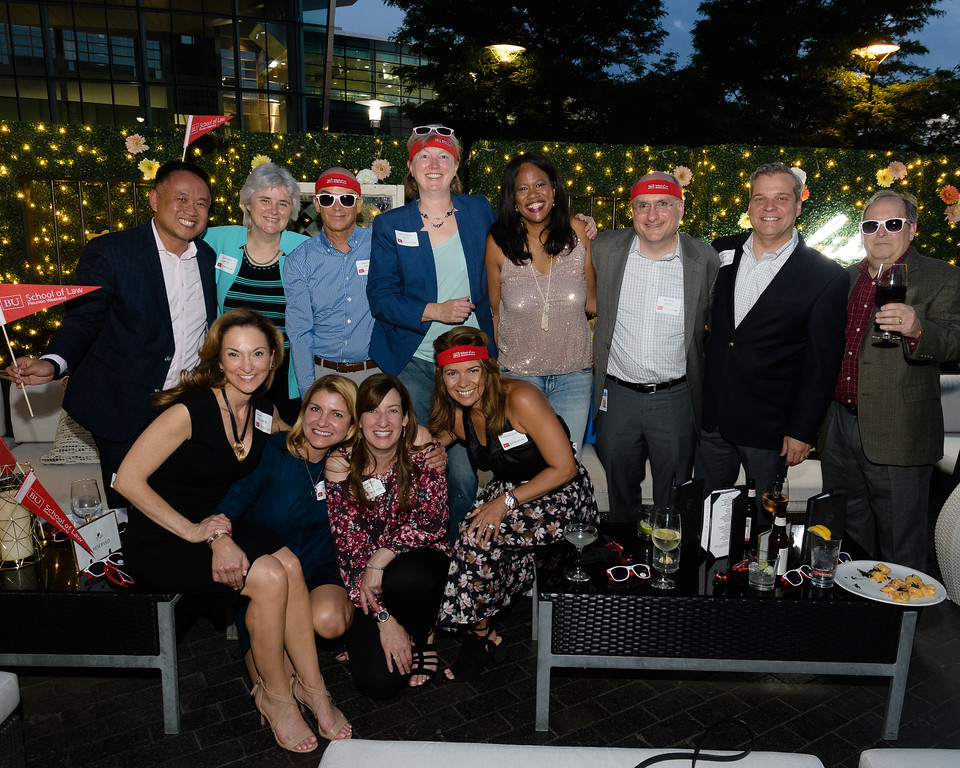 Alumni
News & Updates from BU Law Alumni
Spring 2022
Class notes for the spring 2022 issue of The Record reflect submissions received between May 1 and November 30, 2021.
Juris Doctor
1955
Lt. Col. Enoch Woodhouse, one of the last surviving members of the Tuskegee Airmen, the first Black military aviators in the US Army Air Corps, was honored at a Veterans Day ceremony in Boston.
1959
Clarence B. Jones, civil rights leader and advisor to Dr. Martin Luther King Jr., was honored by the American Bar Association with the 2021 Thurgood Marshall Award.
1968
Charles G. Douglas of Bow, New Hampshire, cut back on his law practice, and has become a newspaper publisher after purchasing the local Bow Times. It is a monthly paper with a circulation of 4,200 and an online version as well. It won eight New Hampshire Press Association awards this year.
1969
Harold Unger (LLM in Taxation'21) can now claim the Class of 2021, since he just received an LLM in Taxation with a concentration in estate planning. It took three years since he's still working full time, but he loved every minute of it. He may be the oldest graduate in the 150-year history of the law school, although he's not sure if that's a plus or a minus.
1971
Michael Roth retired from his position as executive chairman of Interpublic Group.
1972
William A. Lewis Jr. received an Honorary Doctor of Humane Letters from Susquehanna University on May 16, 2021. He was the first Black graduate of the University in 1968, and subsequently served on the board of trustees for 28 years before taking emeritus status. After working in the Philadelphia District Attorney's Office, he went on to a career with the federal government, including as a member of the Senior Executive Service, before his retirement in 2011. He now lives in Chevy Chase, Maryland with his wife, Paula Ramsey Lewis (Wheelock'70).
1975
F. Walter Bistline has retired from Earlham College in Richmond, Indiana, where he taught photography for 17 years. The Richmond Art Museum celebrated the former attorney's teaching career with a retrospective of his Midwest photography entitled "Earthbound," as part of a two-artist, two-gallery collaboration between Walt and his former student, photographic artist Marcela Pardo Ariza of San Francisco. A catalog of the exhibit is available from the museum.
James Squeri joined Downey Brand in its San Francisco office.
1976
Hon. Cheryl E. Chambers was named Jurist of the Year by the Metropolitan Black Bar Association and was elected vice president of the New York Bar Association.
Sean Coffey was named a Rhode Island Go To Lawyer by Rhode Island Lawyers Weekly. The list recognizes the top lawyers across the state who are leaders in their field with a long record of success.
Hon. Mark S. Switalski stepped down from the Macomb County 16th Judicial Circuit Court in Mt. Clemens, Michigan, after 33 years on the bench.
1977
Joel R. Weiss, of Farrell Fritz, was selected for inclusion in 2021 New York Metro Super Lawyers list in the area of white-collar criminal defense.
1979
Bruce T. Block was selected for inclusion in the 2021 Super Lawyers and the 2022 Best Lawyers in America lists in the areas of land use and zoning law, and real estate law.
Donald Greenough, whose practice focuses on on estate planning and administration and business law, joined Glovsky & Glovsky.
1980
1981
Carl N. Weiner, of Hamburg, Rubin, Mullin, Maxwell & Lupin, was selected for inclusion in the 2022 Best Lawyers in America. He has been included on this prestigious list since 2016.
1983
Ellen Epstein Cohen became chair of the Massachusetts State Committee for the American College of Trial Attorneys as of October 2021. In 2020 she was honored as "Defense Lawyer of the Year" by the Massachusetts Defense Lawyers Association, and in 2021 she received the "Industry Defender Award" from the Medical Professional Liability Association. Her practice focuses on the defense and representation of healthcare providers in malpractice cases and before their respective licensing boards.
Stephen W. Rider, of McGlinchey Stafford, was selected for inclusion in the 2022 Best Lawyers in America list and honored among the "Lawyers of the Year" in the area of commercial litigation.
Alan S. Rutkin, a partner at Rivkin Radler LLP, was selected for inclusion in the 2021 New York Metro Super Lawyers and the 2022 Best Lawyers in America lists in the area of insurance law.
John V. Veech was appointed senior advisor for Morgan Stanley Infrastructure Partners.
1984
Denise Cleveland-Leggett was named senior vice president of the Integral Group. She most recently served as the Southeast Region administrator of the US Department of Housing and Urban Development, where she managed more than 840 employees in 12 state and field offices.
Lynnette C. Fallon joined the board of directors of ClearPoint Neuro, a global therapy-enabling platform company providing navigation and delivery to the brain.
Rachel Jacobson was nominated by President Biden to serve as assistant secretary of the army for installations, energy, and environment.
Andrew B. O'Donnell, a partner at Mirick O'Connell, was selected for inclusion in the 2022 Best Lawyers in America list in the field of tax law.
Michael N. Ungar, chair of Ulmer & Berne's Litigation Department, was named to the 2022 Benchmark Litigation list of the "Top 100 Trial Lawyers in America," the group Benchmark considers to be the most elite trial strategists in their fields, for the eighth year in a row.
1985
Robert Finkel (LLM in Taxation'95), of Moritt Hock & Hamroff, has been selected for inclusion in the 2022 Best Lawyers in America list in the areas of tax litigation and controversy.
Sheila Forman, PhD, joined the faculty of Pepperdine University teaching law and ethics to master's level psychology graduate students. Her new book, TAME Your Appetite: The Art of Mindful Eating, is available as of spring 2022.
David M. Zaslav, president and CEO of Discovery Inc., was elected to the board of trustees of Syracuse University.
1986
Kevin G. Chapman was recognized with a 2021 Kindle Book Review Award in the mystery/thriller category for his third book, Lethal Voyage (A Mike Stoneman Thriller).
Joe Herlihy retired from full-time work after serving 27 years as general counsel of Boston College. He continues to work on a part-time basis, overseeing real estate matters and permitting, and providing legal advice on BC's master planning efforts with the City of Boston.
Mitchel Katz, of Barclay Damon, was selected for inclusion in the 2022 Best Lawyers in America list in the areas of commercial, banking and finance, and real estate litigation.
Hon. Alvin Yearwood, who had served as an acting justice on the Bronx Supreme Court, was named a new administrative judge for criminal matters in Bronx Supreme Court.
1987
Wendy Kirchick (LLM in Banking & Financial Law'89) moved into the residential mortgage industry after 10 years of practice with large Los Angeles and Washington, DC law firms. Since then, she has been assisting customers by creating customized financial strategies for purchasing and refinancing residential real estate (primary homes, vacation homes, and investment properties). She specializes in doctor loans, construction loans, and working with the firm's wealth team.
1988
Margie Jacobson joined the board of trustees of the Westport Country Playhouse.
Karen Ling has been appointed to the iRhythm Technologies board of directors.
1989
Andrew Melnick was named a managing partner in the New York office of Murphy & McGonigle.
1990
Hemanshu Nigam joined Venable LLP as a partner in the ecommerce, privacy, and cybersecurity practice in the Los Angeles office.
1991
Jason Hunter Korn, an attorney with Dentons Cohen Grigsby, was the recipient of the 2021 Greater Naples Chamber Chairman's Award for his continued support of the Chamber's mission.
1992
Hon. Steven B. Gould was appointed to the Maryland Court of Appeals by Governor Larry Hogan.
Elizabeth LB Greene, a partner at Mirick O'Connell, was selected for inclusion in the 2022 Best Lawyers in America list in the area of medical malpractice law. She was also named to the 2021 Massachusetts Super Lawyers list. Greene focuses her practice on advising and advocating for healthcare clinicians, care delivery systems, and digital health companies. She also defends healthcare clients in medical malpractice cases and represents providers before their professional licensure boards.
Thomas P. Lambert launched FLB Law, a full-service law firm based in Westport, Connecticut. He is joined by his longtime partners Eric Bernheim and Stephen P. Fogerty, and a team of talented lawyers and experienced staff. FLB Law's legal services include litigation; real estate transactions, finance and development; banking and commercial transactions; employment law; family law; and trust and estates. The firm's clients include large corporations, local businesses, and individuals.
Maura McCaffery has been promoted to vice president and general counsel of EBI Consulting.
1993
Heather Benedict Terrell (Marie Benedict) and coauthor Victoria Christopher Murray published The Personal Librarian, a historical novel about Belle da Costa Greene, a Black woman who passed as white and became a prominent curator of rare books and manuscripts for JP Morgan's world-renowned personal library.
Tracy A. Craig, a partner at Mirick O'Connell, was selected for inclusion in the 2022 Best Lawyers in America list in the fields of trusts and estates and litigation. She was also named to the 2021 Massachusetts Super Lawyers list. Craig focuses her practice in estate planning, estate administration, prenuptial agreements, tax-exempt organizations, guardianships and conservatorships, and elder law.
1994
John P. Barry joined Weil, Gotshal & Manges LLP as head of the employment litigation practice, based in Weil's New York office.
Johnnie C. Larrie has been honored by the North Carolina Bar Association with the Deborah Greenblatt Outstanding Legal Services Attorney Award.
Jonathan Serbin was named co-president of Warner Music Asia.
Andrea Spalla became New Jersey assistant state treasurer after serving as director of legislative affairs and constituent relations since 2018.
Lawrence Vernaglia, Olivia King ('19), Stephanie Schwartz ('20), and Alexandra Maulden ('22) authored a chapter on United States healthcare law for The Healthcare Law Review, which includes chapters on the healthcare economies and legal frameworks in thirteen countries.
Harpreet Walia was named the inaugural emerging companies & venture capital chair at Michelman & Robinson.
Bonnie Youn, a legal recruiting manager with The RMN Agency, was named to the board of trustees of ArtsATL.
1995
Pamela Wheeler was named diversity and inclusion officer at insurance broker and consultant NFP.
1996
Richard Briansky has been named a partner in the Boston office of Peckar & Abramson. He practices in the construction & infrastructure and commercial litigation and dispute resolution practices. His extensive experience includes representing general contractors and other parties litigating and trying complex construction, real estate, and general commercial disputes. For many clients, Richard also serves as in-house counsel, advising GC/CMs and other businesses in order to achieve their strategic business goals.
Jon Glazer (LLM in Taxation'02) was named an advisor to American Repertory Theater (ART) at Harvard University.
Lynette Herscha was named chief legal officer at Senda Biosciences Inc., a biotechnology company harnessing the molecular interactions between humans, plants and bacteria to enable new types of medicines.
Moorari K. Shah joined Sheppard, Mullin, Richter & Hampton LLP as a partner in the finance & bankruptcy practice group and as a member of the fintech industry team. Shah, who will be located in Los Angeles and San Francisco, was most recently a partner at Buckley LLP.
Hon. O. Rogeriee Thompson, of the US Court of Appeals for the First Circuit, announced plans to take semiretired status.
1997
Joy M. Napier-Joyce has been recognized in 2021 Chambers USA: America's Leading Lawyers for Business, an annual guide ranking the leading law firms and attorneys in the US. She is a principal in the Baltimore, Maryland, office of Jackson Lewis PC and leads the firm's employee benefits practice group.
Joan Reed Wilson was named president-elect of the Connecticut chapter of the National Academy of Elder Law Attorneys.
William H. Tobin was selected for inclusion in the 2022 Best Lawyers in America list in the area of employee benefits (ERISA) law.
1998
Grace Bacon Garcia has been named president-elect of the Massachusetts Bar Association for the 2021–22 year. She will serve as a member of the MBA's leadership team alongside incoming President Thomas M. Bond, who will focus his term on strengthening the bar's role as a partner to members of the legal profession, with a focus on diversity and inclusion.
Stephanie Sarantopoulos, shareholder in the Minneapolis office of Littler, is now overseeing legal operations of the firm's online platform for answering companies' workplace legal questions as program director of Littler onDemand.
1999
Carol Horvitz and her husband, Jeffrey, were recognized by the Joslin Diabetes Center for their work on behalf of the organization.
Douglas Marrano was promoted to assistant vice president of financial lines claims at Zurich American Insurance Company.
David Morris started as a new role, after more than 12 years at TripAdvisor, as the first general counsel at the sports and entertainment ticketing e-commerce marketplace Vivid Seats. Morris led the deal team that helped take Vivid Seats public in October 2021.
2002
Dan Gold joined the litigation practice at Shearman & Sterling as a partner.
2004
Lourdes Germán joined the board of directors of the Lincoln Institute of Land Policy.
2005
Erica Han relies on a combination of trademark and transactional experience to help clients across industries with licensing, collaborations, IP securitizations, bankruptcy/restructuring, supply chain transactions, M&A, rights of publicity in fashion and cosmetics, and more. She has served as senior intellectual property counsel at a leading global sports apparel and footwear company. She is a thought leader on IP issues and has played a leadership role in the IP Section of the Boston Bar Association.
2006
Terence Rozier-Byrd joined Akin Gump as a partner in its investment management practice in New York.
Joshua H. Soloway joined Moses & Singer as a partner in its corporate practice group.
2007
Justin Nahama was appointed to grow the Chopra Foundation's US and global mental health and veteran initiatives.
Abhay Patel joined Lafayette Square as managing director focusing on origination for the firm's credit strategy in the Gulf region of the United States.
Amy Weston joined Carney Badley Spellman, a downtown Seattle law firm. Her practice focuses on commercial contracts, privacy, and supporting clients as their general corporate legal counsel.
2008
Andrea CL Ricka joined the estate planning team of Ivins, Phillips & Barker.
Kerry Spindler was selected for the Leadership Council on Legal Diversity 2021 Fellows Program, which recognizes talented, mid-career attorneys who have exceptional leadership capabilities.
Shanta Trivedi rejoined the University of Baltimore, as an assistant professor of law and the director of the Sayra and Neil Meyerhoff Center for Family, Children, and the Courts. Trivedi previously completed a clinical teaching fellowship in the Family Law Clinic at the University of Baltimore and spent a year in the Domestic Violence Clinic at Georgetown University Law Center as a clinical teaching fellow.
2009
Ryan Evans left his position as Qdoba's sole in-house counsel to become general counsel of Spreetail, an e-commerce company in Omaha, Nebraska.
Kaj Rozga joined Davis Wright Tremaine as counsel in its antitrust practice.
2010
J. Jekkie Kim has been elected a partner at Latham & Watkins LLP. Based in the Bay Area of California, she is a member of the healthcare & life sciences practice and focuses on intellectual property and technology-related transactional matters. She primarily advices pharmaceutical, biotech, digital health, agricultural technology, and medical device companies and their investors, and she has experience assisting clients with cross-border transactions that involve markets such as China.
Trevor Rozier-Byrd launched Stackwell, a mobile application that delivers automated investment tools and education to help build Black wealth.
2011
Michelle W. Chan has been promoted to partner at Perkins Coie. Chan is a member of the real estate and land use practice. She focuses on land use entitlements, environmental compliance, and real estate transactions, representing developers, landowners, and public agencies in all stages of the development process for mixed-use, commercial, and residential development projects.
Amanda Griner, of Rivkin Radler, was selected for inclusion in the 2022 Best Lawyers in America: Ones to Watch list and in the 2021 New York Metro Rising Stars in the area of professional liability: defense.
Alyssa Kollmeyer focuses her practice on interpreting the tax code for private equity firms and global investors and devising tax-efficient strategies. Working for some of the world's most elite private equity investors, Kollmeyer has identified tax considerations in complex deals that have turned good investments into great ones.
Joseph McVicker was promoted to member at Frost Brown Todd, one of Cincinnati's largest law firms.
2012
2013
Matt Sferrazza joined BakerHostetler as a senior business associate handling securities, corporate governance, capital markets, M&A, and related matters, and was named to the firm's diversity & inclusion committee.
Justin Snyder joined Pierce Atwood's Boston office as an associate in its real estate lending practice.
2014
Emily Crim, an associate at Mirick O'Connell, was selected for inclusion in the 2022 Best Lawyers in America: Ones to Watch list for the area of trusts and estates.
Spencer Holland, an associate at Mirick O'Connell, was selected for inclusion in the 2021 Massachusetts Rising Stars list. Spencer's practice is focused on representing clients buying, selling, financing, and leasing commercial real estate. He also has experience advising clients on a broad range of land use matters, including zoning, permitting, and title issues.
Karin Lieber was named a parter with SBSB Law.
Timothy H. Kistner joined the US Attorney's Office in Boston as an assistant US attorney in the National Security Unit.
2016
Drew Eyman joined the Portland office of Snell & Wilmer as an associate in its commercial litigation practice group.
2018
Katherine E. Sheffield joined Reed Smith as an associate in the global commercial disputes practice group.
2019
Wyndham A. Hubbard joined Bourland, Wall & Wenzel. His practice focuses primarily on business planning and transactions.
2020
2021
Georgia Bolduc joined Pierce Atwood LLP as an associate in the firm's environmental practice group.
Hayleigh A. Sawyer joined Williams Parker as an associate working on a variety of real estate transactions, including residential purchases, investment acquisitions, and commercial projects.
LLM in Banking & Financial Law
1990
Todd Starr was appointed Mesa county attorney by the Mesa County Board of Commissioners.
1998
Jacqueline Parker was honored with the America Bar Association's Jean Allard Glass Cutter Award, which is presented annually to an exceptional woman business lawyer who has made significant contributions to the profession and to the Business Law Section.
2008
Brian Woldow joined Betterment as chief compliance officer.
2009
Cyro Goldstein Troper is chief compliance officer and data protection officer at Loggi, the Brazilian developer of an online shipping logistics platform, and well as is one of the founding partners of Ortovalor, a Brazilian medical services startup. He lives in Sao Paulo, Brazil, with his wife, Helena, and daughters Lia Yael and Rachel.
LLM in Taxation
1990
Hon. Gregory Shannon has been appointed to Calgary Civil Division of the Provincial Court of Alberta.
1991
Gregory McKenzie joined FisherBroyles as a parter in the firm's New York office.
1998
John Hughes joined the board of directors at Granite United Way.
2002
Christina Pearsall, a partner at Schell Bray, was appointed chair of the real property section of the North Carolina Bar Association.
2004
David Angus brought his captive insurance and transactional practice from The Angus Firm to Paul Frank + Collins PC.
2005
Garrett Winslow was named general counsel of Galecto, a biotechnology company focused on the development of novel treatments for fibrosis and cancer.
2014
Casey O'Flynn joined McGlinchey Stafford's national corporate and M&A practice in its New Orleans office as an associate.
2015
David Oh joined Fiduciary Trust International as trust counsel serving clients in Northern California.
2017
Johnathan Whidbee launched the Tax Professor Business Course, an online course designed to provide aspiring entrepreneurs with the needed resources to succeed in their ventures.
---
FEATURED IN:
The Record,
Spring 2022
---