Closing the Wage Gap
James Bessen's research into salary history bans is driving change for job seekers
Gender and Law
Closing the Wage Gap
James Bessen's research into salary history bans is driving change for job seekers.
Economist and researcher James Bessen says that his work studying salary history bans was something of a "lucky accident." "We kind of stumbled into it," he admits.
Last summer, Bessen and his team at BU Law's Technology & Policy Research Initiative (TPRI) published a study on the effects of implementing salary history bans. Their research has added fuel to the growing national movement to ban employers from asking job seekers about their salary history, which can reinforce pay discrimination for women, people of color, and marginalized groups. As of December 2020, 14 states and Puerto Rico had implemented salary history bans for all employees.
"An employer may not be at all discriminatory, but if they're using salary history to make offers, it's a structural form of discrimination," says Bessen. "It's going to perpetuate inequality, even if they aren't biased."
Bessen's interests in technology and the public interest have been consistent throughout his career. After graduating from Harvard, he established Community Focus/Enfoque Comunal, one of Philadelphia's first bilingual English/Spanish newspapers. In the early 1980s, he developed a computer program to help lay out advertisements for the newspaper and spun that program out into his own company, BESTinfo. Bessen's time in the software world spawned his interest in software patent issues and technology's influences on society, research which brought him to Boston University as a law lecturer.
In 2017, Bessen and a group of researchers founded TPRI, an initiative that studies technology's effects on society and the workforce, how technology impacts income and inequalities, and policies that take technology into account to foster innovation and benefit ordinary people.
While analyzing data on online job listings, Bessen discovered that the percentages of job ads showing salaries tripled from 2017 to 2019.
"We thought they had made a mistake somewhere," he says of the data, which had been supplied by an analytics company.
Diving into the reason why, Bessen discovered the increases corresponded with several states implementing salary history bans.
"The first law was passed in Massachusetts in 2016 but didn't go into effect until 2018," he says. "It was overwhelmingly pursued by women's groups, who saw this as a key aspect of gender discrimination and the gender wage gap."
---

I think we're sort of just at the beginning of what I hope is going to become a much broader source of change.

---
Beginning in August 2019, Bessen's team investigated the effects of salary history bans for job seekers and on the wage gap. The team discovered that under a salary history ban, wages rose 5 to 6 percent, on average, compared to states without bans. Pay rose 8 percent for women and 13 percent for African Americans. They also found that half of the residual wage gap for job-seeking women disappeared under a salary history ban, implying that the gender wage gap was not due to differences in worker productivity.
"The wage gap is mainly about other things," says Bessen. "Either discrimination, or perhaps different abilities to bargain or willingness to settle, but it's not productivity related. There's no good economic rationale for it."
Since publication, the study has received positive feedback and a flurry of press. Bessen and his team were invited to speak at the Massachusetts Caucus of Women Legislators on the findings, and employers have been reaching out about how to address wage gap issues. He hopes this research can provide greater transparency from employers and more equity for job seekers. The team plans to address feedback to the study and hopes to collaborate with advocacy groups to broaden their research.
"I think we're sort of just at the beginning of what I hope is going to become a much broader source of change," says Bessen.
---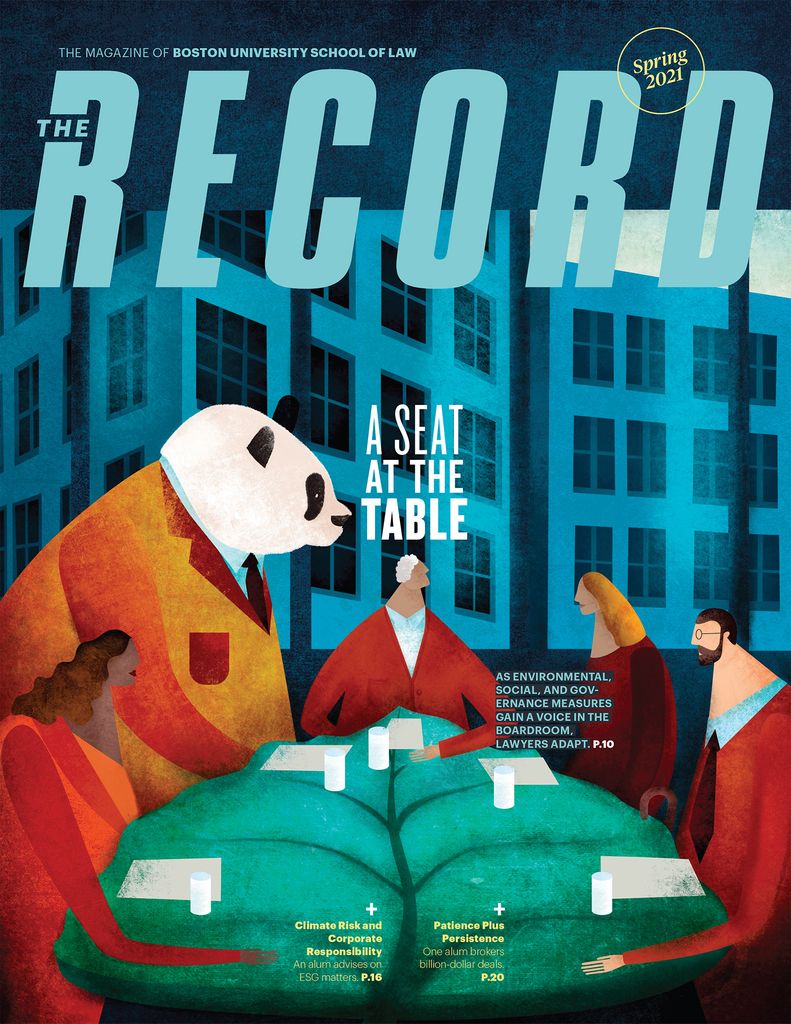 FEATURED IN:
The Record,
Spring 2021
---