From Antiracist Research to Antiracist Policy
Jasmine Gonzales Rose turns racial justice research into meaningful policy proposals.
Civil Rights
From Antiracist Research to Antiracist Policy
Jasmine Gonzales Rose turns racial justice research into meaningful policy proposals.
Jasmine Gonzales Rose holds many titles in her career that she is passionate about—professor at BU Law, critical race scholar, social justice advocate, and, most recently, deputy director of research and policy at the BU Center for Antiracist Research—but the one she loves most is "teacher."
Her love of teaching is connected to her roots in critical race theory, a body of legal scholarship pioneered by law professor and civil rights activists Derrick Bell, Richard Delgado, and several others studying the systems and structures of racism. The field examines racism by centering and valuing racialized experiences of people of color—who better to testify to the existence of racism than those who experience it?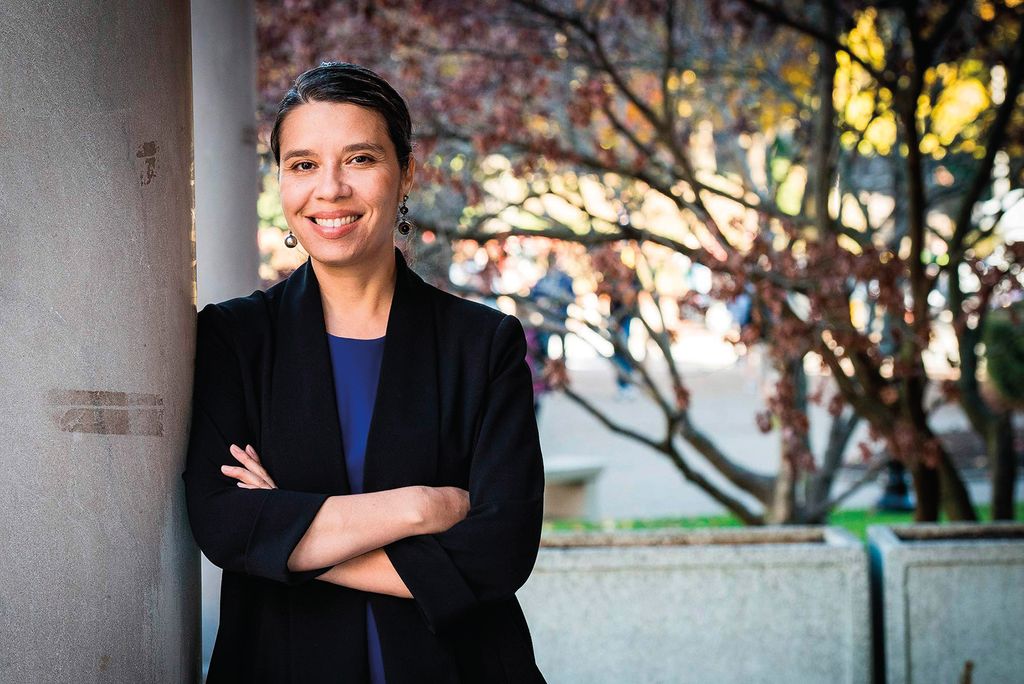 "Growing up as a person of color, you have a certain reality. That reality is not reflected in the dominant white society. You try to make sense of it, try to name it and understand it, and if you don't, you can internalize and think you're just wrong. You're trying to understand and name your experience," she reflects.
The power of naming racist experiences drew her to pursue impact litigation, legal scholarship, and legal education. But it's introducing this conceptualization around racism to students that for Gonzales Rose makes the job so meaningful.
"It's this moment where students who've been grappling with this issue—either as individuals who have this experience or as allies who are very interested in serving communities who have this experience—they see, theorize, label, and explain these experiences they've had or witnessed in their lives," she says.
Gonzales Rose has designed her career around imagining what a justice grounded in dignity and care would really look like. Her next challenge: rooting those ideas in research and turning them into meaningful policy realities.
How to Build an Antiracist Policy Center
Gonzales Rose started working with the BU Center for Antiracist Research in September 2020 (Professor Ibram X. Kendi had launched the center in July), and already in that time she has built a policy office with a multipronged approach to bringing research-based guidance to antiracist policy work.
The policy office Gonzales Rose has built in this last year comprises a racial policy tracker, amicus brief practice, evidence equity project, model legislation unit, continuing legal education offerings, and policy convenings.
Each of these projects relies on different forms of racial data to be able to identify disparities and inequities connected to various forms of policy. The data-based project Gonzales Rose has worked with most closely, the COVID Racial Data Tracker, was among the first efforts in the US to track the disproportionate testing and impact of COVID-19 on racialized communities.
"The COVID Racial Data Tracker project has revealed problematic data collection practices by states, which can obfuscate the existence and experience of racism," she says. For example, data practices that measure Latinx as an ethnicity separate from other racial categories, and so classify Latinx communities as white, can misrepresent gaps in equity between white and Black populations, and conceal Latinx experiences of racism altogether.
"You have to have that [racial demographic] data," Gonzales Rose says. "Data is important to understand and to track, and then to formulate policies to mitigate those disparities."
Evidence, Linguicism, and Critical Race Theory
Gonzales Rose's scholarship asks questions about how and where systemic racism plays out in legal procedure.
"Everything to me comes back to evidence, because evidence is about having knowledge, having a voice, and being able to prove something," she explains. The courts have a long history of keeping Black, Indigenous, and other people of color from testifying or sitting on juries. Even when these communities make it into court to offer evidence, their testimonies are often devalued, discredited, or subject to extra scrutiny.
One specific problem Gonzales Rose has identified in evidentiary procedure is with linguicism—discrimination based on particular uses or assumptions about language. Her recent work has found continuing issues with accent and other forms of linguistic discrimination in jury selection.
Gonzales Rose knows that these are ongoing problems, but Derrick Bell's original idea that racism is endemic and permanent doesn't scare her. It energizes her. She compares it to the work of putting out fires, saying, "You don't give up because you know there will continue to be fires. You don't just say, 'Well, close the fire department.' You simply say, 'You need more support. More firefighters.' Here we need more antiracist researchers, lawyers, and policymakers."
"I feel like that's what we have to do in the antiracist space," she says. "Just keep working on it every day and encourage people to work on it every day."
---

FEATURED IN:
The Record, Fall 2021
---