BU Law Course Selection Guide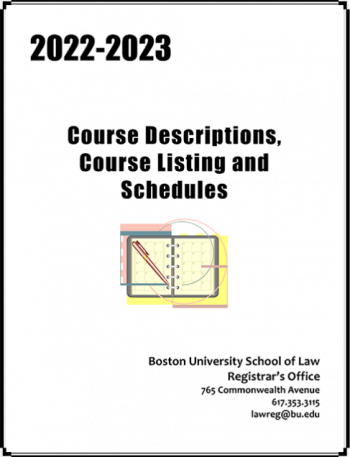 The Course Selection Guide contains registration deadlines, credit requirements, WebReg instructions and tips for using the system, a guide to useful information on the web, and advice on choosing your courses from the Associate Dean for Academic Affairs.
Please be sure to read all of the information in this guide carefully before you choose your classes. You may contact the Law School Registrar's Office at 617-353-3115 or by email at lawreg@bu.edu with any questions. The BU Law website includes the 2022 – 2023 course descriptions and first-year and upper-class class schedules. This information can also be found on the MyBU Student Portal.
The information in this guide and in the PDF descriptions and schedules was correct as of the date it was issued. Inevitably, changes occur and courses are added or must be dropped after these materials are produced. The School regrets any inconvenience this may cause, and we will endeavor to minimize disruption. Students should be certain to pay attention to any announcements the Registrar's Office makes regarding updates to these materials. These updates will be available on the School of Law Course Updates page.