UN Research Shows Climate Change is "a Code Red for Humanity"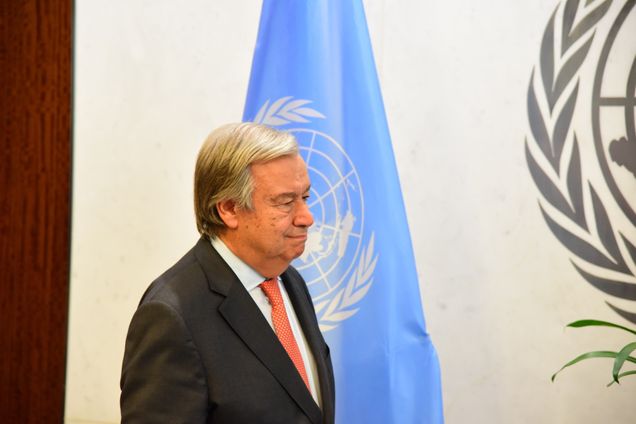 Climate change is a challenge that can only be overcome if it is addressed at the international level. Global leaders have attempted to collaboratively mitigate climate change since 1972, and these negotiations produced several important accords, including the 1992 United Nations Framework Convention on Climate Change (UNFCCC), the 1997 Kyoto Protocol and the 2009 Copenhagen Accord. Over the years, however, political will behind these initiatives has faltered. 
For this reason, a new international agreement needed to be reached urgently. On December 12, 2015, the UNFCCC negotiations produced the Paris Agreement, a global and legally binding framework wherein all developed and developing countries are required to contribute to mitigating climate change. One of the most important outcomes of the Paris Agreement is the objective to keep any temperature increase "well below" 2°C and ideally, below 1.5°C.
Yet, scientists suggest that important tipping points may have already been reached, causing irreversible damage to the planetary climate system. The Intergovernmental Panel on Climate Change's (IPCC) sixth assessment report (AR6) "highlights that human influence has warmed the climate at a rate that is unprecedented in at least the last 2,000 years." Atmospheric CO2 concentrations were higher in 2019 than at any time in the last 2 million years, due to human activities that are responsible for approximately 1.1°C of warming between 1850-1900. The AR6 provides "a best-estimate that the world will pass – or temporarily 'reach' – 1.5°C somewhere between 2030 and 2035, depending on the future emissions scenario." Worst-case projections indicate global temperature will rise between 2.6–4.8°C by the end of this century if the current rate of greenhouse gas emissions continues. 
In a recent interview with Reuters, Inger Andersen, Executive Director of the United Nations Environment Programme (UNEP), commented that "the world listened but didn't hear; the world listened but it didn't act strongly enough – and as a result, climate change is a problem that is here now." The global effects of climate change are no longer a dilemma for a future generation. Rather, the repeatedly ignored warnings over the past decades have become reality, and the damaging effects of warmer temperatures are already affecting human health in every region on Earth.  
According to the IPCC report, the water cycle is undergoing significant change and "extreme sea level events that previously occurred once in 100 years could happen every year by the end of this century," which in turn will affect "both ocean ecosystems and the people that rely on them." Coastal communities worldwide – including 11 of the 16 megacities with more than 15 million people each – risk being submerged underwater due to sea-level rise. Increased runoff will wash pollution into waterways, compromising drinking water and increasing the prevalence of waterborne diseases. Extreme downpours will occur more frequently because of a warmer atmosphere. Perhaps one of the most visible and damaging signs of climate change is the catastrophic flooding that occurred in Europe this summer, which killed more than 200 people. 
The AR6 also found that severe heatwaves that previously occurred once every 50 years will now happen once per decade. Speaking to NBC News, Karin Bumbaco, a Research Scientist at the University of Washington, warns that the recent record-breaking temperatures that soared well past 100°F across the US Pacific Northwest this summer are "certainly a preview of what we'll see more frequently in the future." High temperatures not only cause more severe heat waves, but also increase the prevalence and intensity of wildfires, which emit an enormous amount of carbon, further exacerbating climate change. Such fires negatively impact temperature and air quality, leading to serious health consequences, like asthma, heatstroke and, in extreme cases, death. A recent study by Boston University Professor of Environmental Health Greg Wellenius estimated that 5,600 deaths nationwide could be attributed to elevated temperatures each year. 
In August 2021 following the release of the IPCC report, António Guterres, the United Nations Secretary-General, warned the findings were nothing less than "a code red for humanity. The alarm bells are deafening, and the evidence is irrefutable." 
However, there is still hope – the world can avoid the "harshest punishment," but only if the international community commits to rapid mitigation strategies and deep emissions cuts. Guterres argued the report "must sound a death knell for coal and fossil fuels, before they destroy our planet" and that "the only way to prevent exceeding this threshold is by urgently stepping up our efforts and pursuing the most ambitious path."
Speaking to UN News, IPCC Working Group I Co-Chair Panmao Zhai says "stabilizing the climate will require strong, rapid and sustained reductions in greenhouse gas emissions, and reaching net zero CO2 emissions. Limiting other greenhouse gases and air pollutants, especially methane, could have benefits both for health and the climate." To Reuters, Petteri Taalas, Secretary-General of the World Meteorological Organization, commented that "current plans by governments to cut their emissions could, if confirmed and implemented, limit global warming to 2.1°C." 
In an interview with Thomson Reuters Foundation, the lead author of the IPCC study, Dirk Notz, spoke of hoping "both society and policymakers really understand what is at stake here – that we are leaving the comfort zone of our climate system that we've been living in for the past thousands of years and moving into completely uncharted territory."
While Guterres is confident that "inclusive and green economies, prosperity, cleaner air, and better health are possible for all," he also cautioned that the crisis must be responded to with solidarity and urgency. Will the international community listen this time?
Flavia Roscini is an MA candidate in International Affairs with a specialization in International Communication at the Boston University Pardee School of Global Studies and a 2021 Summer in the Field Fellow. Learn more about the Summer in the Field Fellowship.