Global Development Policy Center – Strategic Plan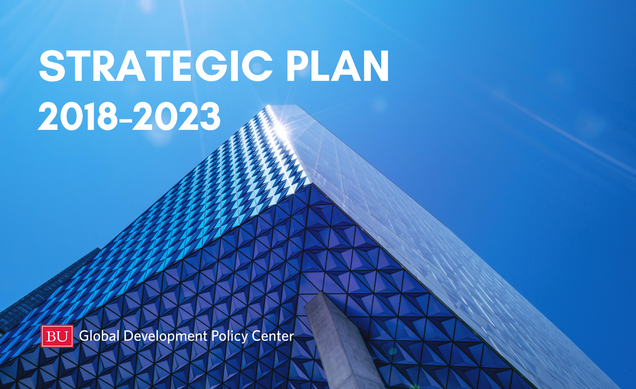 The Global Development Policy Center's (GDP Center) mission is to advance policy-oriented research for financial stability, human wellbeing and environmental sustainability. The GDP Center is a university-wide research center in partnership with the Frederick S. Pardee School for Global Studies and the Office of Research at Boston University. The ambition of the GDP Center is to be recognized for its intellectual leadership and global engagement.
The GDP Center's first strategic plan outlines the integrative mission and its bold ambition, as well as the five strategic objectives to fulfill the Center's aspirations. Over the next five years, the GDP Center commits to fostering a global development policy community at Boston University; advancing scholarly knowledge of global development policy; engaging in global policy dialogue; supporting student research and experiential learning; and building a global support base.
There are two aspects of the GDP Center that will make it unique among development-oriented centers across other academic institutions. First and foremost, the GDP Center recognizes that the development process is complex and thus, will necessarily be interdisciplinary in its approach. To that end, the GDP Center has assembled a faculty steering committee from the schools of law, engineering, business, public health, earth and environmental studies, economics and global studies at Boston University. Second, the GDP Center will put a premium on global engagement— generating concrete policy lessons from rigorous research and advancing such lessons into the global discourse.
The GDP Center strives to not only be a university-based think tank, but also an action tank.
Read the Strategic Plan