Resource Misallocation and Fiscal Decentralization: Evidence from China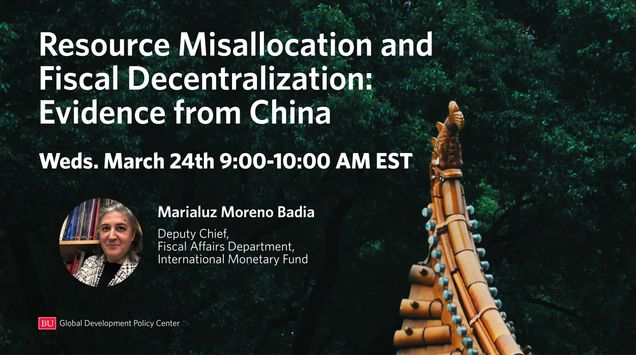 China has experienced an unprecedented period of growth over the last three decades, partly reflecting big structural changes. Nonetheless, productivity has slowed in recent years, raising concerns about future growth prospects. On Wednesday, March 24, Marialuz Moreno Badia will discuss whether fiscal decentralization and associated regional disparities can explain resource misallocation in China. Using a sample of over 300,000 manufacturing firms for the period 1998-2007, Moreno Badia will show there is a wide dispersion in the degree of misallocation across provinces. She will then explore what specific characteristics of the fiscal decentralization system explain cross-sectional differences and what are the channels that may give rise to inefficiencies.
Marialuz Moreno Badia is a Deputy Chief in the International Monetary Fund's (IMF) Fiscal Affairs Department, where she has led the work on global debt and coordinated various issues of the IMF's Fiscal Monitor. During her career, she has worked on a broad range of advanced and emerging market economies such as Brazil, China, Greece, Ireland, and Spain. Her main research interests are on debt sustainability, fiscal institutions, and fiscal-financial interlinkages. She served as a distinguished visiting scholar at the Global Development Policy Center in 2020.
STARTS:

9:00 AM EST on Wednesday, March 24, 2021

ENDS:

10:00 AM EST on Wednesday, March 24, 2021

LOCATION:

Via Zoom

REGISTRATION: