Book Launch: Southern-Led Development Finance – Solutions from the Global South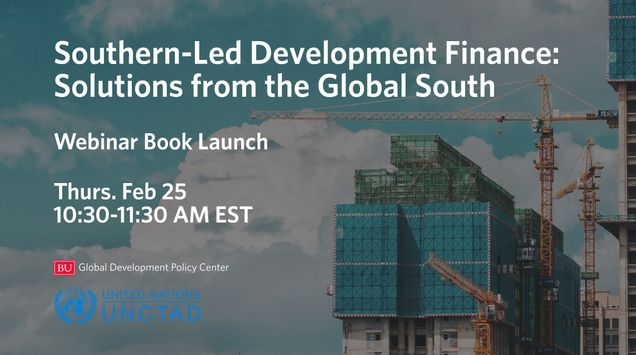 Even before the COVID-19 crisis, it was clear the global economy needed a reset and a massive increase in public investment.
In the last decade, it is no exaggeration to say that the leadership for this has come from the South – as Southern-owned development banks, infrastructure funds, foreign exchange reserve funds and sovereign wealth funds have doubled the amount of long-term finance available to developing countries. It was also available on easier terms, more quickly, with fewer conditionalities, and arguably with more willingness to invest in renewable and "green" activities.
What will this new era of development finance look like? And how will the Global South seek to transform their economies and shield themselves from global economic turbulence?
On Thursday, Feb. 25, join Boston University's Global Development Policy Center and the United Nations Conference on Trade and Development (UNCTAD) for a webinar discussion and book launch for 'Southern-Led Development Finance: Solutions from the Global South,' a new volume from Routledge Press.
The book, edited by Diana Barrowclough, Kevin P. Gallagher and Richard Kozul-Wright, examines some of the innovative new South-South financial arrangements and institutions that have emerged in recent years.
Written by practitioners in development banking in Asia and Latin America, and global experts from academia and international development policy, it highlights the extent to which the landscape of long-term finance has really changed and what this might mean for the future.
Chapter authors Mah Hui Lim and Luma Ramos will present on the experiences of Asia and Latin America and the Caribbean, respectively. The webinar will include a Q&A session and discussion of what comes next for Southern-led development finance.
Moderator:
Richard Kozul-Wright: Director, Division on Globalization and Development Strategies, United Nations Conference on Trade and Development (UNCTAD)
Speakers:
Mah Hui Lim: Chairman, Third World Network; Civil Society Activist; Independent Researcher
Luma Ramos: Postdoctoral Researcher, Global Development Policy Center, Boston University
Diana Barrowclough: Senior Economist, Division on Globalization and Development Strategies, UNCTAD
Kevin P. Gallagher: Director, Global Development Policy Center; Professor of Global Development Policy, Boston University
Starts:
10:30 AM EST on Thursday, Feb. 25, 2021
Ends:
11:30 AM EST on Thursday, Feb. 25, 2021
Location:

Via Zoom
Register:
https://bostonu.zoom.us/webinar/register/WN_1Wl7hWE7R0OBRha_swqS5Q