Senior Brunch
Senior Brunch was held on Friday, April 30, 2021 at 1 p.m. EST for the Class of 2021. The brunch was virtual but students picked up a meal from Boston University's Catering on the Charles to enjoy at home. You can watch the Senior Brunch below featuring entertainment from Boston University's Dean of Students, the BU Band and more!
Clarissima
Boston University,
Proud with mission sure;
Keeping the light of knowledge high, long to endure;
Treasuring the best of all that's old, searhcing out the new;
Our Alma Mater evermore! Hail B.U.
What is Senior Brunch(Breakfast)?
What has been called the Senior Breakfast for many, many years changed its name this year. BU wanted to make sure students from across the globe would be able to Zoom in. The Senior Breakfast is BU tradition that predates the George Sherman Union, Warren Towers and Walter Brown Arena. The exact year is not known, but we do have photos from the 1952 and 1953 Senior Breakfasts to show that it at least goes back that long. Back in those days, the event was held on Marsh Plaza and alumni were invited. (No, we don't know what they did if it rained.)
Just like the original versions of the event, the senior class is celebrated. Also, we announced the news everyone has been waiting for: this year's Commencement speakers.
Your Senior Brunch Recipes 2021:
Boston University's Catering on the Charles provided boxed brunches this year. Here are the menus for the boxes brunch, what we would have served to our seniors if we could be in person.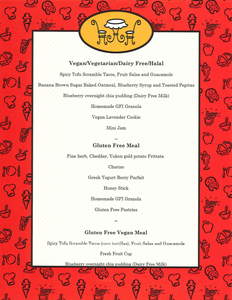 Senior Brunch Menus
Fine Herb, Cheddar, Yukon Gold Potato Frittata
Chorizo
Greek Yogurt Berry Parfait
Honey Stick
Homemade GFI Granola
Mini Croissant
Lemon Blackberry Scone
Lavender Cookie
Mini Jam and Butter
Vegan/Vegetarian/Dairy Free/Halal
Spicy Tofu Scramble Tacos, Fruit Salsa and Guacamole
Banana Brown Sugar Baked Oatmeal, Blueberry Syrup and Toasted Pepitas
Blueberry Overnight Chia Pudding (Dairy Free Milk)
Homemade GFI Granola
Vegan Lavender Cookie
Mini Jam
Gluten Free Meal
Fine Herb, Cheddar, Yukon Gold Potato Frittata
Chorizo
Greek Yogurt Berry Parfait
Honey Stick
Homemade GFI Granola
Gluten Free Pastries
Gluten Free Vegan Meal
Spicy Tofu Scramble Tacos (corn tortillas), Fruit Salsa and Guacamole
Fresh Fruit Cup
Blueberry Overnight Chia Pudding (Dairy Free Milk)