Chris Dellarocas Named INFORMS Distinguished Academic Fellow
Chris Dellarocas, Associate Provost of Digital Learning & Innovation and Questrom's Shipley Professor in Management was named INFORMS Information System Society Distinguished Academic Fellow, the highest honor an IS faculty can receive from the professional society.
During the November 8, 2020 ceremony, INFORMS IS Society President D.J. Wu, Ph.D. presented Dellarocas with the award and acknowledged his outstanding contributions to the Information Systems community.
"Chris has made exceptional intellectual contributions to the theory, research, and practice in the Information Systems area," said Wu. "He is known for his contribution and online reputation through a series of seminal papers that examine the role of reputation systems in establishing online trust."
Dellarocas' contributions to the IS community also include 15 top-tier publications. His research has received 19,546 citations with one sole-authored MS paper cited 4,368 times. He has won two best paper awards and has also received numerous grants from Google, Microsoft, DARPA, and the NSF, including the CAREER award. Dellarocas has been an AE for MS for 12 years, AE and SE for ISR for nine years. Additionally, he mentored eight PhD students at Boston University, Ecole Polytechnique Federale, and MIT, many of whom have become distinguished scholars themselves.
"The Information Systems community has been my academic home for the past twenty-five years," said Dellarocas during his acceptance speech. "The community welcomed me as a junior faculty transitioning his work from computer science. It recognized and appreciated my early work and offered me generous opportunities to grow professionally through my service as a reviewer, editor, panelist, and conference organizer. It is truly an honor to be receiving one of the community's highest distinctions."
Before an audience of nearly 200, Dellarocas expressed deep appreciation to his Questrom School of Business colleagues who initiated his nomination; thanked the distinguished ISS committee for the honor, and acknowledged those who mentored and supported him throughout his career.
"It takes a village to nurture an academic and what a wonderful village we have all been," Dellarocas said.
---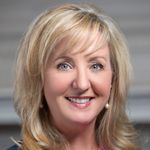 About the Author: Maureen McCarthy is the Communications Manager for BU Digital Learning & Innovation and editor of DL&I News.