What we serve and eat has an impact. Our menus reflect our commitment to local, sustainable, and responsible sourced foods that are good for consumers, producers, and the environment.
LOCAL
We consider how long our food chains are from field to fork, and how far our food travels to get to us. BU Dining Services prioritizes products that are locally grown and processed. Food produced closer to campus produces fewer transportation emissions, is fresher and supports local farmers and producers. We work directly with local farmers, ranchers, and processors. More than 22% of food we serve is locally sourced, click on the map below to learn about 100 of our independent local producers.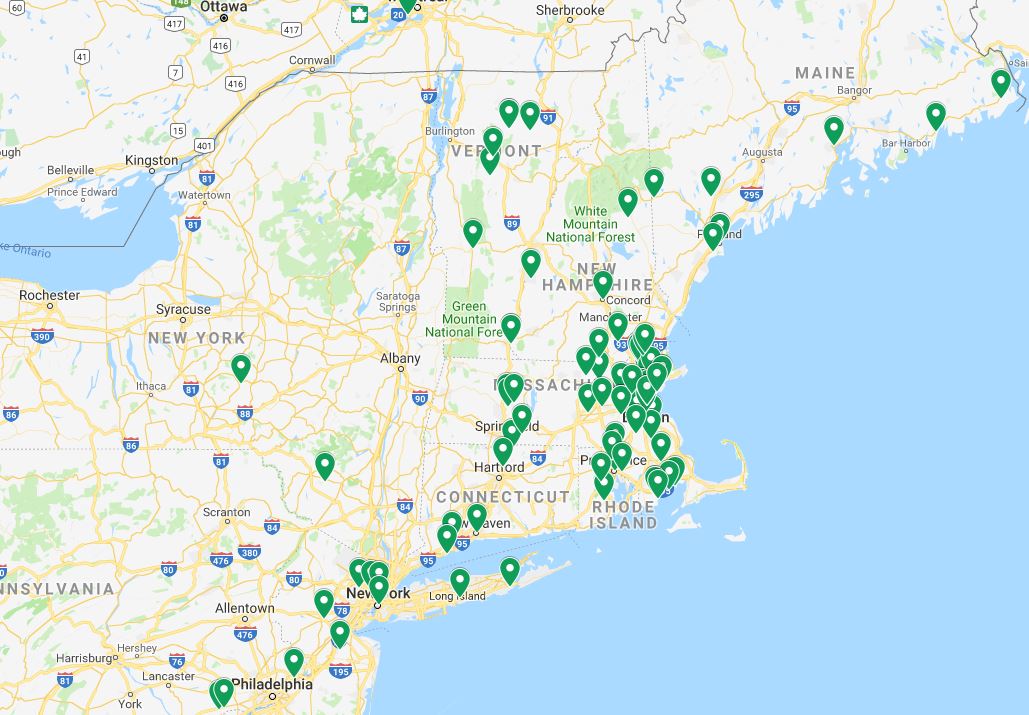 LOW CARBON DINING
You can find low-carbon footprint meals at our dining halls and restaurants every day. The Wholesome Roots program in the dining halls features an entirely-low carbon menu each week. Try out what it means to eat sustainably on Monday at Marciano Commons, Tuesday at Warren Towers, and Wednesday at West Campus.
FAIR TRADE
All coffee served in our residence halls is organic and Certified Fair Trade. Fair Trade Certified products are made according to rigorous social, environmental, and economic standards. Certifiers ensure that people making Fair Trade Certified goods work in safe conditions, protect the environment, build sustainable livelihoods, and earn additional money to empower and uplift their communities.
ORGANIC
When economically feasible, we support organic agriculture through the purchase of staples, including bean and alfalfa sprouts, coffee, yogurt, honey, beans, tofu, soy milk, and oats.
HUMANE ANIMAL CARE
Almost 20% of our meat and poultry products are certified as humanely raised. Our whole chickens, chicken thighs are Certified Humane. Ground beef, hamburgers, and hot dogs are grass fed and Animal Welfare Approved. Pork is gestation crate-free. And all of our eggs are cage-free (with the exception of EggBeaters and egg patties at Breadwinners, which are not available cage-free). Humane certifications provide independent audits to help verify that the animal growth and slaughter facilities meet precise, objective standards for farm animal treatment.
SUSTAINABLE SEAFOOD
As a coastal school set in a location with a deep fishing history, we promote stewarding the marine ecosystem locally and globally. More than 80% of the seafood we buy is certified as traceable, sustainably caught, or sustainably farmed. Our seafood is certified by the Marine Stewardship Council, the Monterey Bay Aquarium Seafood Watch, Best Aquaculture Practices, and Gulf of Maine Research Institute. We prioritize buying and serving underutilized sustainable seafood species from the New England coast.