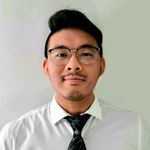 Jason Wong uses MET education daily at medical employerJason Wong
Senior Applications Analyst at Boston Medical Center
MS in Computer Information Systems, with a concentration in IT Project Management (MET'21)
Why did you choose BU MET for your graduate studies? What set BU MET apart from other programs you were considering?
As an employee of Boston Medical Center (BMC), I was partially biased to go to BU MET given existing partnership and business relationships. Aside from that and BU's prestige, the MS in Computer Information Systems (MSCIS) program, with a concentration in IT project management, was most appealing to me because it had a good balance of technology and business, and how to combine the two to make you think like an IT leader.
Were you able to use faculty as a resource? Is there a particular faculty member who enhanced your experience at BU MET?
Yes. Dr. Vijay Kanabar! Even after graduating, he has been a wonderful professor, willing to help his students and see them succeed.
How were you able to adapt to some of the challenges of balancing work, home-life, and school? Did you benefit from BU MET's flexible class delivery options?
Yes, the hybrid structure was very beneficial to me. I was working full time while taking classes for my MSCIS, and having the flexibility to learn from home or go into campus when my schedule permitted was extremely helpful to my work-life balance. It gave me the opportunity to meet my classmates and professors, to network and to have an overall better grad school experience
Are there any specific skills or competencies you acquired during your studies that qualified you for a promotion, professional designation, title change or other benefit?
Yes, the sub concentration for IT Project Management helped me obtain my Project Management Professional (PMP) certification. The courses and PMP cert have helped me become a better project manager at work.
What is one piece of advice you would give to someone who is considering applying to this program?
If your career aspirations are to get into IT leadership, this is the program to help you achieve that. You will build the necessary technical skills as well as business knowledge to help you advance in your career.
Is there anything else you'd like to add?
All the courses in the MSCIS program help you think of the evolving needs of today's society and how to intertwine them with growing tech changes. Enterprise Architecture (MET CS 783) with Marcia Yates was my last and favorite class in my degree program, and it served as a wonderful capstone that made me combine all the skills and knowledge I had learned from every class I took. It helped me think like a CIO and understand how to apply IT to further advance business strategy and initiatives. Ever since finishing my program, thanks to MET I am able to paint and convey the complete picture—incorporating both big and small.