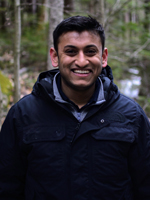 MSCS Candidate Aviral Srivastava Relishes Close Work with BU MET Faculty, Hones Research Skills
Aviral "Avi" Srivastava
Data Engineering Intern, Red Hat
MS in Computer Science (MET'21)
What compelled you to return to school and pursue a graduate education? What is your long-term objective?
In 2017, I interned as a junior at the University of Liverpool (UK) in data science research. Working there made me passionate about helping teams of data scientists and machine learning engineers. I worked at a startup in India as a data engineer and realized that I needed more conceptual knowledge, as building data systems required domain expertise. So I decided to pursue a master's degree, gain additional research experience and develop an aptitude for research and development.
My long-term objective is to be part of the data democratization taking place across the world thanks to organizations like Red Hat, Zcash (now Electric Coin Company), Bitcoin etc. Today data is the new oil, but I have observed that big ventures have an upper hand, and stifle technical innovation for small- and medium-sized enterprises. I want to democratize data and empower teams that can handle the data ecosystem by being able to provide the right engineering.
Why did you choose BU MET for your graduate studies? What set BU MET apart from other programs you were considering?
MET seemed to be a perfect fit for me because its courses are tightly coupled with what is needed in the industry. For example, the courses Designing and Implementing a Data Warehouse (MET CS 689), Database Security (MET CS 674), and Graduate Distributed Systems at the Graduate School of Arts and Sciences (GRS) all helped me learn both fundamentals and advanced topics thanks, in part, to extensive project requirements. The differentiating factor was the flexibility: I could take some industry courses from MET and some from GRS, which is not so common at other universities or even at other colleges at BU.
Is there a particular faculty member from your courses who has enhanced your experience at BU MET? Who and why?
Yes, definitely! First, I would like to point out that I always got help from the MET Computer Science staff, especially Program Administration Director Kim Richards and Academic Program Administrator Ronette Lyle, who both made MET life a nice experience. Coming back to faculty: Dr. Eric Braude. I have been his RA for two semesters. He also taught a course I took in the Spring 2020 semester, Machine Learning (MET CS 767). I pick him because he inspires me to remain highly objective in my work, and because he showed me that research could be dynamic. Before coming to MET, I held two research internships but found neither as energizing as my work with Dr. Braude.
How do you apply concepts you are learning in your courses at BU MET in your current job or internship?
It started with how I studied. I took quizzes seriously, both for my grade and because they improved my theoretical knowledge. For assignments, I tried to be experimental, to use new concepts or uncommon ways of solving a problem, something outside the textbook, or a leading-edge solution. That kept me aware of what is going on in the industry, what tools are being used, what new approaches are being introduced etc. For example, the Designing and Implementing a Data Warehouse course had some assignments that aligned closely with data engineering interviews I conducted. That helped me map work-related problems back to my course. As a general observation, the MET CS 600 and higher course series is pretty advanced.
Please talk about your experience as a research assistant. What are the benefits from this learning opportunity?
The initial experience was tough. I was taking four courses, working as an RA, and looking for an internship. Grinding hours were not a problem for me as I was used to it. But poor planning for a day could cost me a week's work. Dr. Braude helped me with two pieces of advice in particular: i) take it in small steps and ii) decide to produce something each week. The journey became exciting. As an RA in software engineering, I dove into the mindset of software developers and engineers by taking surveys, interviews, seminars etc. as part of my research. Some of the benefits included: i) developing research aptitude, ii) improving problem solving when there is no clear end defined, iii) challenging fundamentals, iv) exposure to the research world, and v) social validation. Yes! having an RA position on your résumé adds points. Not to forget, our research team was selected by the MIT I-Corps innovation program for commercialization.
What is currently, in your opinion, the most valuable thing that BU MET provides you?
The BU MET faculty has a good mix of research and industry expertise. That is invaluable and helps faculty make subjects exciting. Almost all my teachers gave me real-life examples of concepts and issues discussed in the textbook.
This summer, you were part of the SPARK/MIT entrepreneur training program. What was this opportunity like?
Exhaustive, challenging, but absolutely amazing. This program helped our research team be more specific. In particular, it made me realize that, in research, it is good to start out in a niche but not to crawl in it. I also learned some of the microeconomics that could help our research work in the long term.
Is there anything else you would like to add?
BU has always raised a voice for communities that need help. So I would like to take this opportunity to encourage everyone to donate to organizations like the Internet Freedom Federation, Wikipedia etc. These endangered organizations have helped the information revolution. Right now, people of few means do not have good access to information for their education and awareness, and it is important for the aforementioned organizations.