Boston University Opera Institute presents If I Were You at Booth Theatre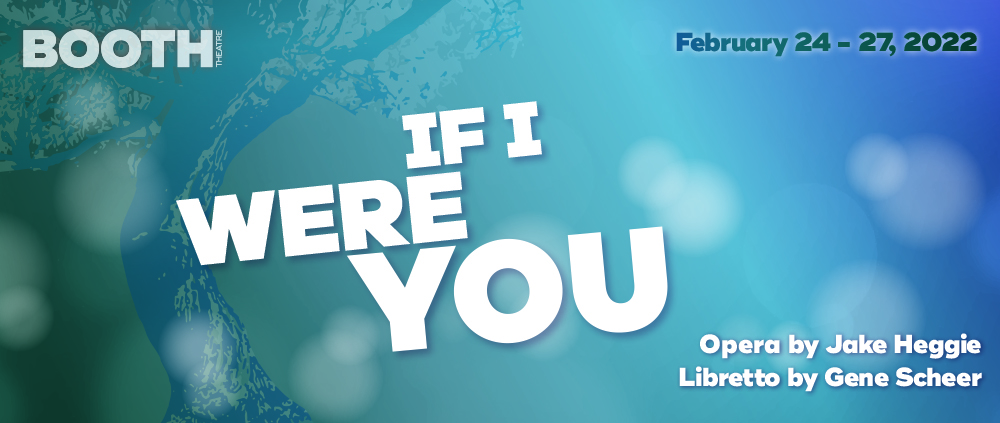 Boston, MA – Boston University College of Fine Arts (CFA) School of Music: Opera Institute and School of Theatre presents If I Were You, an opera in two acts with music by Jake Heggie and libretto by Gene Scheer. The production opens Thursday, February 24, 2022, in BU's state-of-the-art Joan & Edgar Booth Theatre. Artistic Director of BU Opera Institute and Director of Opera Programs William Lumpkin is the conductor, with professor emeritus Jim Petosa directing.
If I Were You (2019) is loosely based on the 1947 novel Si j'étais vous… by Julien Green (courtesy of the Estate of Julien Green and Editions Fayard). In this modern telling of the Faust story, the devil (Brittomara) makes a bargain with a dispirited young writer named Fabian Hart. He is given the supernatural power to move his soul and identity from person to person for as long as he likes; but, if he ever returns to his original body, he will die, and the devil will collect his soul. On his precarious journey to win the heart of his beloved, he leaves a trail of human wreckage and hollow shells. In the end, will he choose to live forever as someone else, or die for love as himself?
All performances will be in the Joan & Edgar Booth Theatre at 820 Commonwealth Ave., Brookline, MA. Tickets to If I Were You are $20 (general public), and free with Boston University ID (day of performance, subject to availability).
If I Were You Show Dates and Times
Thursday, February 24 • 7:30pm
Friday, February 25 • 7:30pm
Saturday, February 26 • 7:30pm
Sunday, February 27 • 2:00pm
BU's Commitment to Health and Safety
Per Boston University and in compliance with the Town of Brookline, visitors must wear a mask when indoors and have proof of COVID-19 vaccination to attend a performance in Booth Theatre. That verification can be done with:
A CDC vaccination card
A digital image of your CDC card
An image of any official immunization record
A COVID vaccine verification app
A Boston University ID (current faculty, staff, or student only)
Please reference BU's Back2BU website for additional information and the latest updates.
---
Coming Soon:
BU Opera Institute will also present Mozart's Così fan tutte at Boston University later this Spring.
Così fan tutte
By Mozart/DaPonte
April 22 – 23, 2022
Tsai Performance Center
685 Commonwealth Ave., Boston, MA 02215
William Lumpkin, conductor
Nathan Troup, stage director
---
BOSTON UNIVERSITY
Founded in 1839, Boston University is an internationally recognized institution of higher education and research. With more than 34,000 students, it is the fourth-largest independent university in the United States. BU consists of 17 schools and colleges, along with a number of multi-disciplinary centers and institutes integral to the University's research and teaching mission. In 2012, BU joined the Association of American Universities (AAU), a consortium of 62 leading research universities in the United States and Canada. Learn more at bu.edu.
BOSTON UNIVERSITY COLLEGE OF FINE ARTS
Established in 1954, Boston University College of Fine Arts (CFA) is a community of artist-scholars and scholar-artists who are passionate about the fine and performing arts, committed to diversity and inclusion, and determined to improve the lives of others through art. With programs in Music, Theatre, and Visual Arts, CFA prepares students for a meaningful creative life by developing their intellectual capacity to create art, shift perspective, think broadly, and master relevant 21st century skills. CFA offers a wide array of undergraduate, graduate, and doctoral programs, as well as a range of online degrees and certificates. Learn more at bu.edu/cfa.
BOSTON UNIVERSITY COLLEGE OF FINE ARTS SCHOOL OF MUSIC: OPERA INSTITUTE
The Opera Institute at CFA School of Music is an intensive, highly selective two-year performance-based training program for emerging operatic artists. A professional faculty and renowned guest artists provide personal support and training in all areas pertinent to a career in opera, including voice, acting, languages, and movement styles. Additionally, the Opera Institute also selects undergraduate and graduate singers from the School of Music who demonstrate true operatic potential and have mastered an intermediate integration of acting, vocal, and movement skills for the Opera Theater, Opera Workshop, and Opera Project programs. More at bu.edu/cfa/opera.
BOSTON UNIVERSITY COLLEGE OF FINE ARTS SCHOOL OF THEATRE
The School of Theatre at Boston University College of Fine Arts offers conservatory-style education for the study of acting, stage management, design, production, and all aspects of the theatre profession within the setting of a major research university. The School of Theatre seeks to provide students with opportunities for artistic growth through a rigorous curriculum, professional connections, and an emphasis on collaboration and new work.