CDS Announces Faculty & Staff Awards 2023
DeVits, McDonald, Varia Honored for Citizenship, 
Distinguished Leadership
When reflecting on the 2022-23 academic year, BU Faculty of Computing & Data Sciences Associate Provost Azer Bestavros said three things come to mind: dedication, community, and the coming of age. 
"It has been a very exciting year for CDS. We are not the startup that we were a couple of years ago," Bestavros said. "In terms of the curriculum, the number of faculty, the size of the classes, and more, CDS is officially operating at scale now." 
In recognition of the unit's growth momentum and the outstanding contributions of CDS' faculty and staff community, the academic unit held its inaugural Faculty & Staff Celebration & Awards event on May 12, 2023, on the 17th floor of the Center for Computing & Data Sciences building. The joint awards program and celebration were designed to elevate the exceptional work of faculty and staff while reinforcing CDS' collaborative and dedicated team environment, Bestavros said.
"We are trying to do something different here at CDS," he said. "The awards program recognizes the importance of things like student and peer mentorship, faculty and staff recruitment, citizenship, and more. And as a young academic unit, it is really important to highlight these communal engagement activities early, to recognize the contributions of faculty and staff, and to celebrate our collective accomplishments."
Allison McDonald, Assistant Professor of Computing & Data Sciences, and Chris DeVits, Director of Administration, each received the CDS Citizenship Award for Faculty & Staff. Mayank Varia, Associate professor of Computing & Data Sciences, received the CDS Distinguished Leadership Award.
"The awards program gives us the opportunity to recognize the great work of the faculty and staff in CDS," said Crovella. "As our unit grows and matures many people are making outstanding contributions and we really want to acknowledge how important those contributions have been to our success."
The nomination process was inclusive of all CDS faculty and staff, and according to Wildman, the response was impressive. 
"CDS has a wonderful vibe and the faculty and staff are excited to be forging something new together. But it is more than classes and publications and administrative duties," Wildman said. "It is about a culture, a mission, and a way of being a university unit together. We wanted to recognize and honor citizenship as a way of celebrating who we are and who we are becoming."
Citizenship Award, Faculty: Allison McDonald
Allison McDonald  joined CDS in 2022 as an assistant professor in the Faculty of Computing & Data Sciences. Working at the nexus of security, privacy, and human-computer interaction, McDonald's research emphasizes how technology impacts digital safety and exacerbates marginalization of often-overlooked groups such as refugees, political dissidents, and victims of domestic abuse. 
Since her appointment, McDonald has dedicated her time and expertise to elevating her students and colleagues. As an integral member of the CDS community, McDonald effectively assisted with the unit's cluster search, served on the hiring committee, assisted with PhD Visit Day, and continued to support new programs designed to elevate community engagement and spur mentorship opportunities at CDS.
"Allison worked tirelessly and with impressive skill to conduct research, welcome candidates, guide discussion, and facilitate an extremely complex and wildly successful recruitment process," said Wesley Wildman, Chair of CDS Faculty Affairs, during the awards ceremony. "Somehow Allison remains perpetually friendly, which has a significant positive effect on everyone's mood, from staff, to faculty, to students."
Faculty and staff nominators noted that not only did McDonald excel in numerous programming spaced, she did it all as a new professor. "I nominate Allison McDonald because of her impressive and tireless service to the cluster search and CDS hiring committees -- especially during her first year at BU and with the resulting research, teaching, and recruiting obligations that come with that."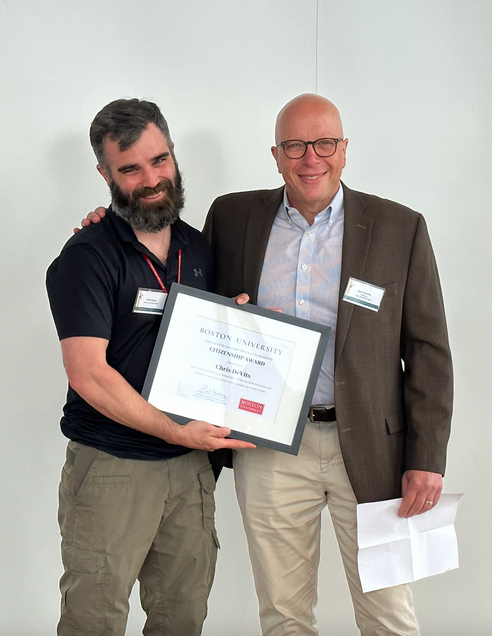 Citizenship Award, Staff: Chris DeVits
Chris DeVits joined Boston University in 2007 as department administrator in Computer Science and moved into the leadership role with CDS in 2021. As CDS' Director of Administration, DeVits effectively led the department's transition to the Center for Computing & Data Sciences building, located at 665 Commonwealth Avenue in Boston.
"Simply put, Chris is committed to excellence in every aspect of his job," said Crovella during the awards ceremony. "He accomplishes an enormous amount as a result of that commitment combined with an invariably positive attitude and great energy."
During the nomination process, DeVits' colleagues noted that he possesses a wealth of institutional knowledge and is "central to CDS operations." 
"Chris is seemingly doing everything for everybody all the time. Whether it's handling new building crises, trying to fill schedules for job candidates, or reassuring me over the weekend that there is a process for taking time off to take care of your sick kid, Chris handles every one of the myriad tasks of his role with good humor, clarity of communication, and general professionalism. He is a treasure and has easily earned this award."
Distinguished Leadership Award: Mayank Varia
Mayank Varia is an associate professor of Computing & Data Sciences. His research explores the computational and social aspects of cryptography, with his work featured in media outlets like CNET, The Hill, and ZDNet. Varia's designs for accessible, equitable, and socially-responsible data analysis have been used to determine the gender wage gap, subcontracting to minority-owned businesses, and repeat offenders of sexual assault inspired by the #MeToo movement. 
Since his appointment in 2021, Varia has embodied the CDS mission. As several nominators indicated, Varia "leads by example", is accessible to faculty, students, and staff, and possesses an unwavering commitment to the unit's vision and values.
"It is evident from the varied leadership roles Mayank has taken on from thoughtful curricular development, teaching and advising students, recruitment, mentorship of and advocacy for our faculty, to responsiveness and support of administrative staff and processed, to effective collaboration and and consensus building within CDS, your leadership, mentorship, advocacy, availability, and responsiveness makes you an inspiration to all," Bestavros said during the ceremony. "You are truly deserving of this recognition."
Noted in a variety of nominations, Varia's colleagues celebrated his contributions as a co-leader of CDS' faculty search and his involvement as a committee member in various initiatives. 
"In each instance, he always gives the matter his full attention and suggests ways to not merely handle the situation, but improve upon it. Thoughtful, respectful, and seemingly always working, he has my vote for the faculty citizenship award."  
Another colleague wrote: "Mayank gives so much of his time and energy to help CDS grow. The care and thoughtfulness with which he led the faculty search is above and beyond, particularly with respect to fairness and diversity. He is exceedingly generous with his time when it comes to helping other faculty. I'm not sure how CDS would run without his work."
Posted May 18, 2023 | Maureen McCarthy