CDS Hosts 2023 ADSA Data Science Leadership Summit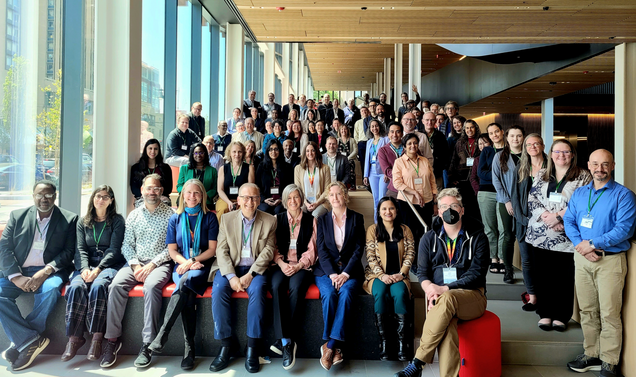 The Faculty of Computing & Data Sciences (CDS) at Boston University (BU) was proud to host the Academic Data Science Alliance (ADSA) 2023 Data Science Leadership Summit. The sixth annual event, held May 8 to 10, drew nearly 100 attendees from Harvard University, University of North Carolina, University of Toronto, Northeastern University, and more. CDS Associate Provost Azer Bestavros served as general chair for the summit and worked in partnership with Micaela Parker, ADSA executive director.
"The Academic Data Science Alliance Leadership Summit 2023 was a tremendous success and CDS's first national professional conference in our new home. Thank you, Micaela Parker and your dedicated team for partnering with BU Faculty of Computing & Data Sciences. And many thanks to the panelists and larger data science community for sharing your interests, experiences, and expertise with all," said Bestavros. 
As an emerging cross-disciplinary field, data science has experienced rapid expansion. In her keynote address, noted public interest technologist Afua Bruce told attendees that data science's potential is limitless. "Data science has the power to inform, to transform, and to inspire. It can inform decision-making. It can transform career paths, and they can inspire us to think about how we can build a more equitable world, a more just world," said Bruce, principal of the ANB Advisory Group LLC.
The summit also emphasized the importance of listening to and learning from others. "When it comes to organizational structures for data science in the academy, one size does not fit all. It was great to hear of the various models out there, and it was great to share the unique way BU went about it, which is seen by our peers as the golden standard," said Bestavros.
Bestavros' presentation, Data Science Organizational Structures, outlined CDS's cross-cutting, interdisciplinary approach to the field of data science. "Azer's opening talk really set the stage for a vision of data science that is inclusive and, in Azer's words, 'democratizes access to data-driven innovation in computing and AI,'" Parker said. "This theme was echoed throughout the meeting."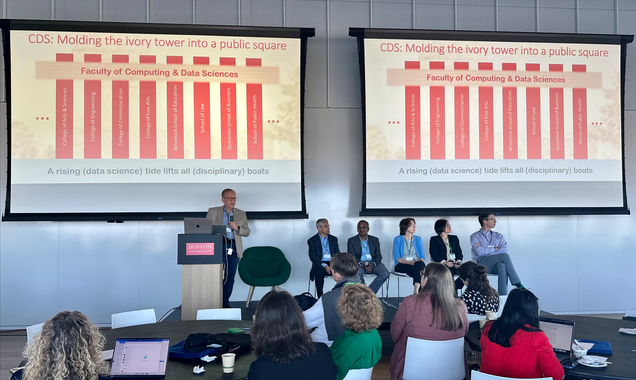 Sessions covered topics including challenges in faculty hiring, pathways to data science, and encouraging collaboration between the academic community and communities that employ a data science workforce. "Developing an Effective Data Science Work Force" panelist Amy Yeboah Quarkume, associate professor at Howard University, quoted an African proverb to drive home that last point: "If you want to go fast, you can go alone. If you want to go far, go together."
Attendees had the opportunity to present Lightning Talks (three- to five-minute talks on a topic of their choice), visit the Museum of Fine Arts and Museum of Science, and attend happy hours. The sessions and structure drew kudos from attendees.
"It's great to be in the community of colleagues who are willing to share different ideas from how they're engaging with industry to how they're developing our staff to what is the next biggest scientific breakthrough and how do we adjust and grow," said attendee Dr. Talitha Washington, director of Atlanta University Center's Data Science Initiative.
Posted May 15, 2023 | Toni Fitzgerald