Allison McDonald Joins the CDS Faculty at BU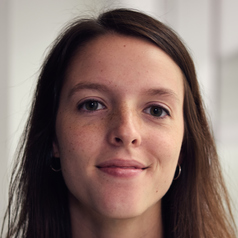 BostonUniversity is proud to welcome Allison McDonald as assistant professor in the Faculty of Computing & Data Sciences (CDS).
Working at the nexus of security, privacy, and human-computer interaction (HCI), McDonald's research emphasizes how technology impacts digital safety and exacerbates marginalization of often-overlooked groups such as refugees, political dissidents, and victims of domestic abuse. To that end, she leverages a diverse set of computational and social science methodologies to investigate causes of, and develop solutions to privacy and security challenges facing high-risk populations in order to advance holistic digital safety for these populations as well as for the general population.
"In a digitally-connected and data-driven world," Associate Provost for CDS, Professor Azer Bestavros, describes McDonald's work as "critical." While decades of security and privacy research have led to major successes in improving the baseline level of digital security for the general population, he notes that these baseline privacy and security mechanisms are not equally effective for everyone, and as a result "many at-risk and marginalized communities have security, privacy, and safety needs that are not well addressed by current solutions." 
Commenting on the importance of her research, CDS Professor Mayank Varia who directs the Hub for Civic Tech Impact in CDS notes that by considering the needs of different groups, McDonald's "cutting-edge work" leads not only to technological advances that are specifically tailored to help these groups, but also to policy advocacy for designing safer online experiences. "Her scholarship will strengthen and steer our objectives in the Hub for Civic Tech Impact of promoting digital activism and protecting against surveillance or abusive practices," says Varia.
"Allison's research agenda weaves together a number of themes that fit beautifully into our Cyber Alliance and Data Science for Good efforts in CDS and has the potential to influence law and policy," adds Law and CDS Professor Stacey Dogan. "Her work has implications both for building technologies with an eye toward public interest, and for thinking about new ways to regulate technologies to incentivize more responsible design."
Computer Science Professor Ran Canetti who co-directs with Varia the BU Center for Reliable Information Systems and Cyber Security (RISCS) describes Allison's interdisciplinary work as "deep and ground breaking" as it gives technologists the opportunity to take into consideration how people understand and interact with security features and how corporate and government policies deeply affect the perception of security and access, "often in unexpected ways, especially when the affected people don't have a voice because they are marginalized in one way or another. This is a crucially important area where BU can and should lead." 
McDonald's work uses a transdisciplinary lens — with toolkits ranging from human-subject interviews, surveys, and focus groups to large-scale internet measurement and laboratory experiments — to investigate the digital safety needs and challenges facing high-risk users when they engage in online activities, quantifying the impact of government regulation and corporate policy on safety, and informing the design of technical and procedural interventions that support safety for all.
"This kind of societal impact is exactly what CDS is striving to achieve," says Bestavros.  "We are delighted that Allison has chosen to pursue her academic career at BU."   
McDonald received her PhD in Computer Science from the University of Michigan in the summer of 2022. During her doctoral studies, she was supported by a Facebook Fellowship and a Rackham Merit Fellowship. She was also appointed as a Research Fellow at the Center on Privacy & Technology at Georgetown Law. Her work has been recognized with Best Paper Awards at the USENIX Security Symposium, IEEE Security & Privacy Symposium, and the ACM Conference on Human Factors in Computing Systems. Before beginning her PhD studies, She was a Roger M. Jones fellow at the European University Viadrina studying international human rights and humanitarian law. She holds a BSE in Computer Science and a BS in German from the University of Michigan.