How BU Helped Modern-Day Explorers Find a Lost Treasure on a Remote Glacier
The Howard Gotlieb Archival Research Center holds cameras, diaries that once belonged to famed mountaineer Bradford Washburn (Hon.'96)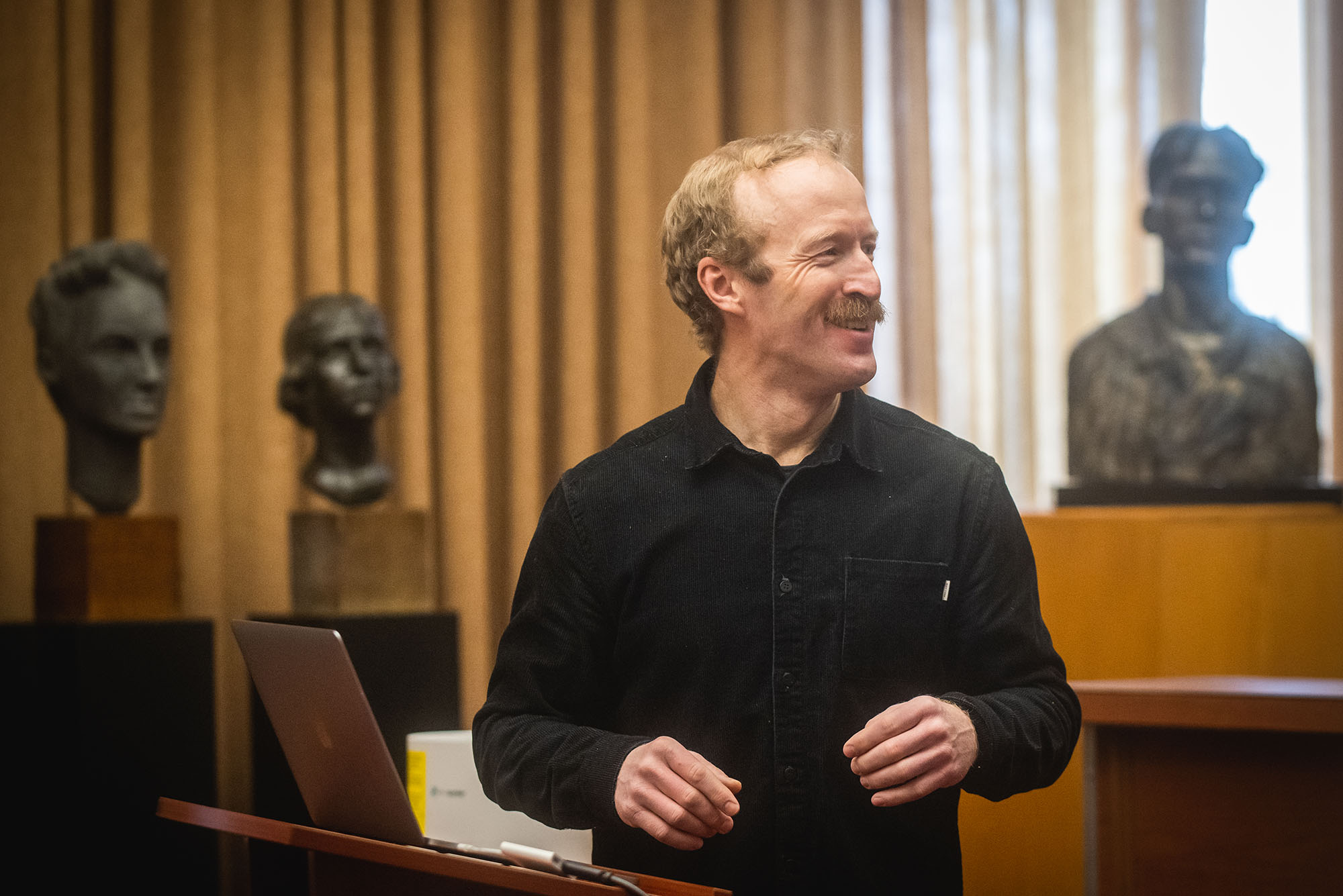 Gotlieb Center
How BU Helped Modern-Day Explorers Find a Lost Treasure on a Remote Glacier
The Howard Gotlieb Archival Research Center holds cameras, diaries that once belonged to famed mountaineer Bradford Washburn (Hon.'96)
In 1937, famed photographer, cartographer, and mountaineer Bradford Washburn (Hon.'96) set out to tackle Canada's 17,150-foot Mount Lucania, which was then the highest unclimbed peak in North America. Washburn's plan was to take photos and map the area's glaciers and peaks.
But after being pummeled by poor weather, he and his companion, Bill Bates, were forced to abandon most of their food, tents, ice axes, and valuable cameras and trek nearly 100 miles to meet a pilot who would fly them out.
Washburn went on to create maps of Denali and the Grand Canyon and completed more than a dozen first ascents in Alaska and Canada from the 1930s through the 1950s. He founded and served as the longtime director of Boston's Museum of Science. Once retired, he donated many of his cameras, and much of his correspondence and personal memorabilia, to Boston University's Howard Gotlieb Archival Research Center (HGARC). He and his wife, Barbara (the first woman to climb Denali in 1947), received honorary degrees from BU in 1996. Washburn died 11 years later, at the age of 96.
Despite his accomplishments, Washburn talked in his later years of his regret over the items he was forced to abandon in Canada decades before.
A few years ago, professional skier Griffin Post was mapping out a ski trip to Canada and read about Washburn and Bates' harrowing, 100-mile journey to safety, chronicled in Escape from Lucania: An Epic Story of Survival, by author David Roberts.
The idea of the lost cache nagged at Post. Washburn and Bates had left behind 1,000 pounds of gear, which, given its volume, likely wasn't all covered by snow and therefore would be visible, Post reasoned. "This idea that the cameras from one of the most legendary photographers of all time are just sitting on a glacier, and no one has bothered to look for them?" Post said recently during a talk at BU. "What if they are still out there?"
After a monthslong, three-expedition search in 2022, Post and his six-person team of scientists, explorers, and photographers found the cache that August. The find was thanks in part to the Gotlieb's archivists, whom Post had contacted in 2021. They provided access to the diaries and maps belonging to Washburn that were in their collection.
During Post's visit in February to meet and thank the team who had helped him, he showed BU Libraries' staff videos and photos of his expedition to the glacier and browsed items in the center's Washburn collection, including cameras, clothing, and diaries, none of which were among the abandoned items he uncovered.
"It was Washburn's journal, the account of the 1937 expedition, which was the most key part of the research," Post said. "In addition, [the Golieb's] photos gave me a better idea of the exact location of the camp, which was really what started everything. Without those, [we wouldn't] have been able to determine the GPS coordinates, and I don't think the trip would have moved forward at all."
"Entire Planes" Have Disappeared in This Area
Post's treasure hunt for the cache wasn't as simple as identifying the location of Washburn's base camp and heading there. Since glaciers move over time, Post explained, a glacier's flow changes the landscape. Ultimately, the men's equipment would be found 12 miles down the glacier from where they were abandoned.
Post reached out to Parks Canada, Canada's national park service, who connected him with universities that have research permits to operate within the Kluane National Park and Reserve (where Mount Lucania is located). He was paired with Dorota Medrzycka, a University of Ottawa glaciologist, who worked to interpret maps and historical observations of the glacier's flow to try to pinpoint where the cache might have moved over the decades. But she could only provide estimates, so Post and his six companions had to physically scour the area.
"What's unique about the Walsh Glacier is that it surges, and only 1 percent of the world's glaciers surge," Post said during his recent talk at HGARC. "If a glacier typically moves one foot per day, when they're surging, they can move up to 45 feet per day. That makes predicting where this cache had moved pretty complicated." So, they would have no idea how accurate that modeling would be until they went out into the field, he said.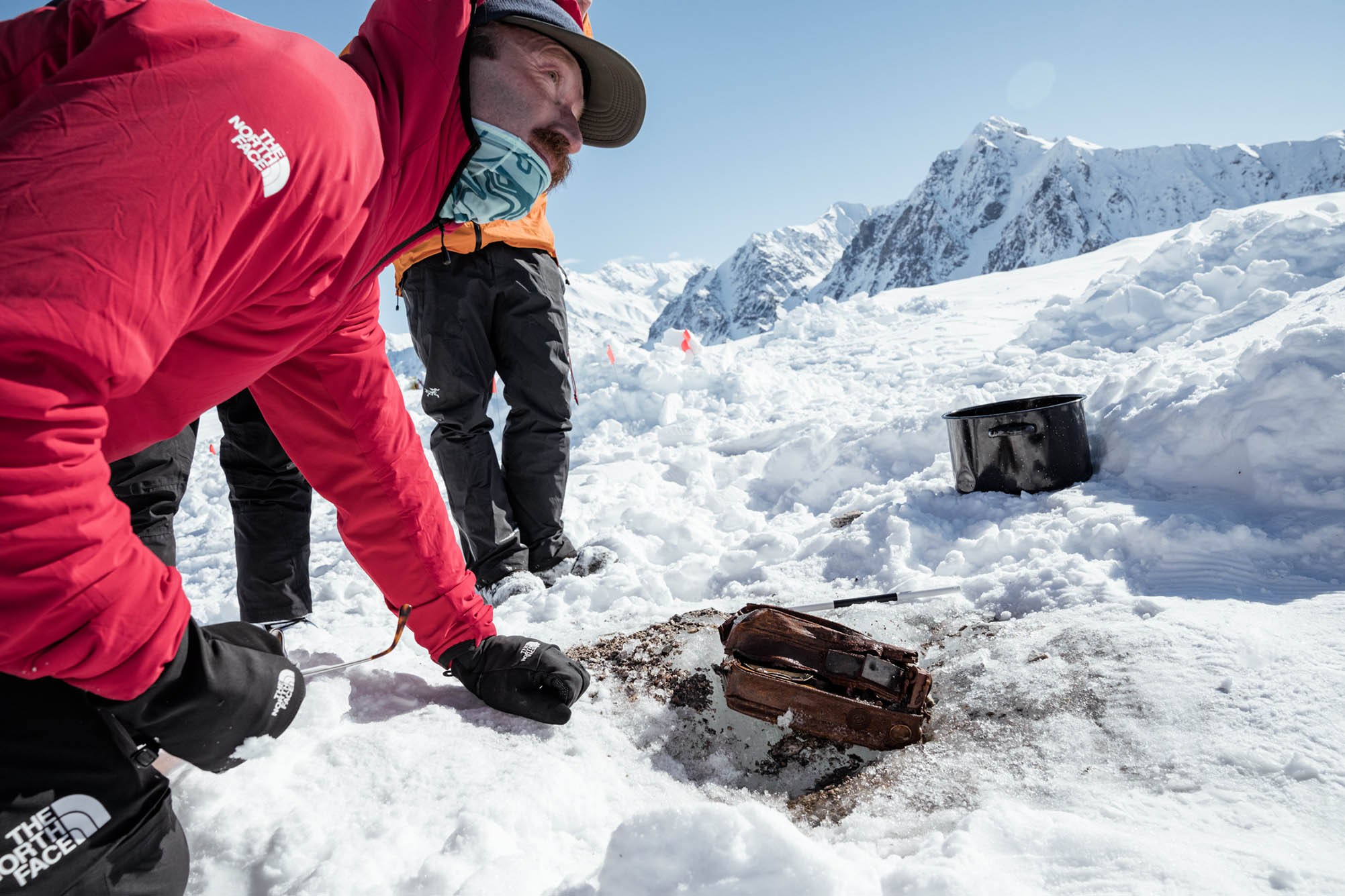 Post's expedition, sponsored by Teton Gravity Research, which plans to produce a film about the discovery, gave him pause at first. "There are a lot of risks involved, with this pipe dream that the cache is going to be recoverable," he said. "It could be in a crevice or something." To give context, entire planes have disappeared in this vast and desolate area of the Yukon, and no one has ever found them.
The first two trips turned up nothing. But towards the end of the team's weeklong expedition in August 2022—the group's third and likely final attempt in the area—Medrzycka noticed two cracks in the pattern of the ice, which she estimated had been caused by the surges. She recalculated and came up with a new estimate about another area to search, according to the New York Times. With only four hours left until the helicopter picked them up, Post's team decided to search the area one last time. The first thing they found was a fuel canister, followed by a pair of goggles. "Then we all see it at the same time, this debris spread over 200 yards or so," 12 miles from where Washburn abandoned it all in 1937. "We were essentially doing touchdown dancing," he laughed.
Among the relics the team found on the glacier was a portion of Washburn's Fairchild F-8 aerial camera, two motion-picture cameras, a DeVry "Lunchbox" model and a Bell & Howell Eyemo 71A (both with film still loaded), and mountaineering equipment.
Conservators at Parks Canada are now working to see if any images from the cameras can be recovered. The film, if it can be processed, would show the landscape as it appeared more than 80 years ago, which would unlock three decades of "never-before-known glacial movement data," according to a press release published by Teton Gravity Research.
Post said he hopes that one day some of the items he found might be displayed at Boston's Museum of Science.
"In the end, the story played out far better than I ever could have imagined," Post said. "Even if I had not found anything, I think it still would have been worth it for the adventure, for the story. And for no other reason than not having to lie in bed and wonder, what if I was right?"