Helping PhD, Law, and Grad Students Make Friends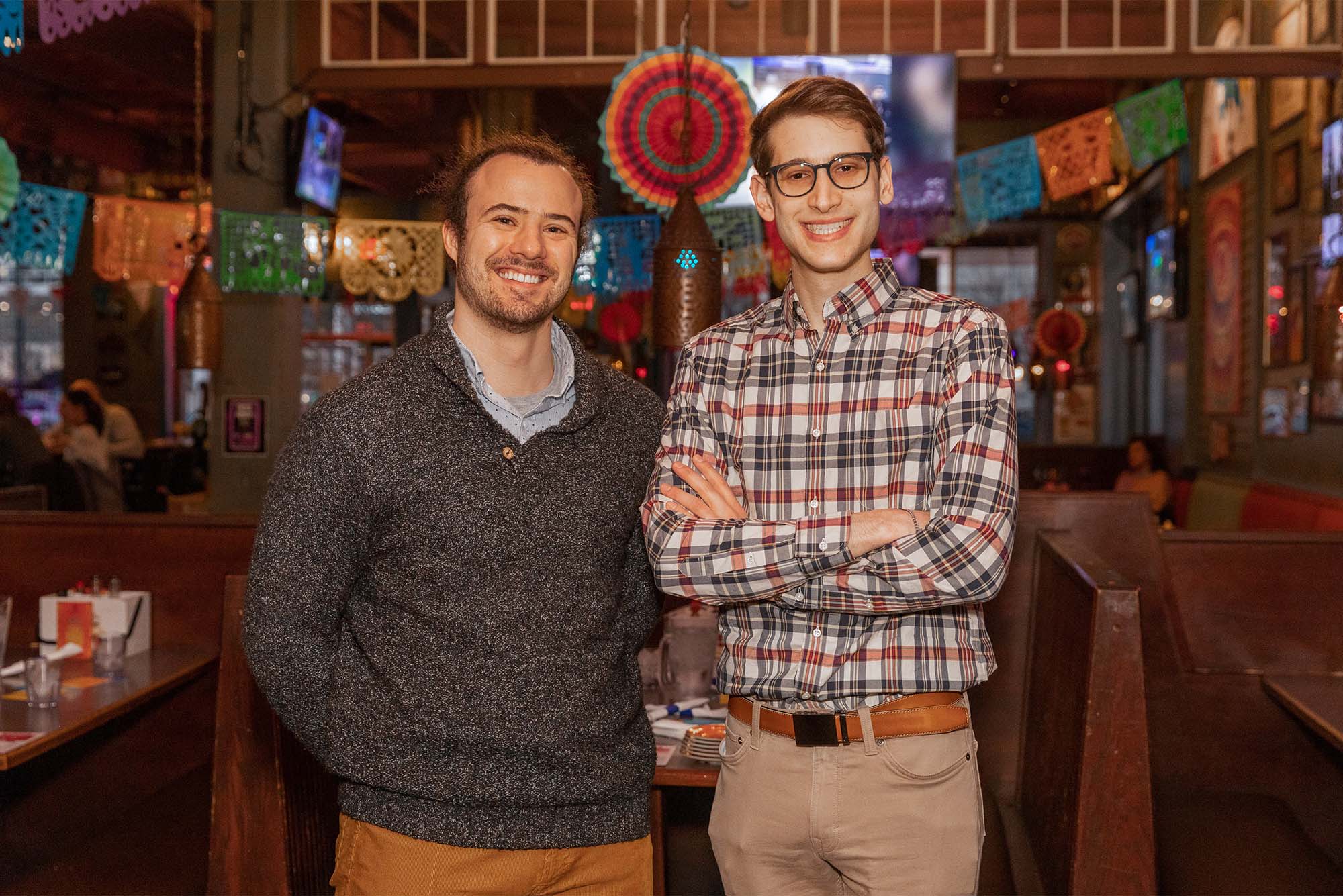 Wellness
Helping PhD, Law, and Grad Students Make Friends
New group BU MeetUp holds mixers, pairs students in different concentrations
Last year was Eric Wellers' first year as a law student, and he was excited about meeting his new classmates, who came to BU from around the world. Like many people, Wellers (LAW'24) had responsibly socially distanced during the pandemic and was eager to make new friends in person. But he soon discovered how challenging it could be.
"After the first initial excitement of we're all in a new place, people started going into their little silos," he says. "There was just an observable difference between people who found their group, and people who were like, 'Wait, the socializing is over?' There aren't a lot of good excuses to socialize in a low-stakes way, where everybody there is intentionally meeting up for the sake of meeting others. Socializing like that is a valuable opportunity." Wellers figured other people also felt rusty when it came to making new friends, and so last spring he invited his School of Law classmates to join a new group he'd cofounded, which met solely to socialize. In spring 2022, he joined forces with William Saunders (GRS'20,'24), a PhD student studying astronomy, to expand the group to all doctoral students at the University. Master's degree students are also welcome to join now, too. Called BU MeetUp, the group is about "letting people show up and say, 'Yeah, I'm here because I want to meet people, and you're here because you want to meet people'—there is no stigma," Wellers says.
BU MeetUp organizes mixers (a recent event held at the newly reopened Sunset Cantina garnered 30 sign-ups) as well as "friend dates," where three or four students from different disciplines arrange to meet up for anything from a walk on the Esplanade to lunch at the BU Pub to grabbing a coffee at Pavement. After sending out an initial email to about 3,000 students in BU's PhD and JD programs, the group received about 250 responses, showing that it fills an important need, organizers say. They hope to reach out to those earning master's degrees in the coming months, as well as to increase their presence on the Medical Campus.
Loneliness is widespread nationally, especially in the wake of the pandemic. A recent study by Harvard University found that one in three Americans are lonely, and that number rises to 61 percent in young people. Even before the pandemic, a former US surgeon general deemed loneliness an epidemic.
When Wellers was thinking of expanding his group University-wide, he started brainstorming with Sasha Goldman, BU assistant director for PhD professional development. She had previously talked to Saunders, who had also expressed interest in helping fellow students find community outside of their academic concentrations. Goldman connected the two and they began collaborating.
Saunders points out that even though he has been at BU since 2018 and has made in-person friends, he wasn't immune from feeling lonely at times. "I came back to campus [after the pandemic] excited by the opportunity to meet new people and develop connections outside my department," he says, "and I looked for any way to do that, and found nothing."
Compared to undergraduates, graduate and PhD students have a very different path through the University, Saunders says. "People come in at different ages and life stages and have different goals, so I can understand why it's harder to connect and find friends," he says.
While mapping out the details of BU MeetUp, Wellers and Saunders were introduced to Pedro Falci (COM'11, Wheelock'15), director of Student Wellbeing, and Carrie Landa, executive director. Landa was so impressed by their passion about the issue that her office is now providing administrative support for the program.
Landa says that for decades, research has demonstrated that good, quality relationships have a positive impact on both physical and mental health and that loneliness can negatively influence both. "Graduate students often find themselves immersed in their studies and professional paths, with little opportunity to meet peers outside of their own academic circle, which, in turn, can feel really isolating and lonely," she says. "Will and Eric have created a great way where relationships can evolve organically once students are matched into smaller groups. I think that after the past few years, many are seizing the opportunity to get out from behind a computer and to have in-person interactions."
Once students sign up for BU MeetUp, they are randomly matched into small groups. The organizers do their best to avoid repeating partners and placing people from the same department in the same group, to avoid an awkward odd-man-out situation for whoever joins them. Saunders developed computer code to randomly assign students in the groups, which he says may sound like an easy solution to the problem, but has been challenging since he is not an engineer by training.
"The goal is to get people to meet each other, and they have the option to continue meeting with the people in their group if they hit it off," he says.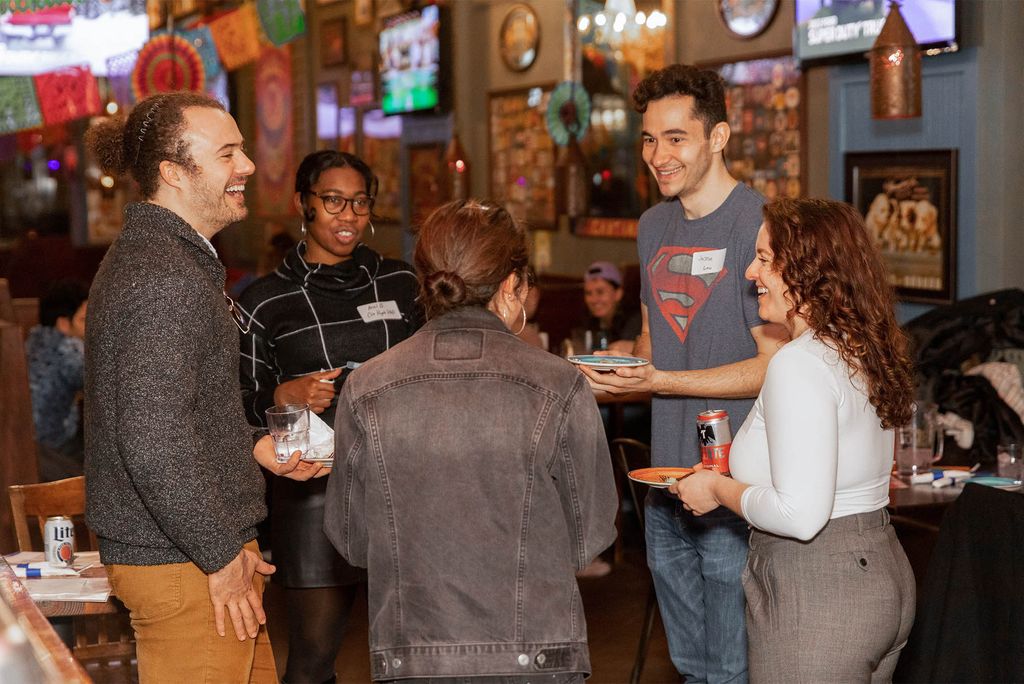 "We find conversations do lean towards research," Wellers says, "but it morphs into people talking about what they've found to do in Boston, and what parts of the city they like."
Smridhi Chawla (GRS'27), a first-year PhD student studying physics, says she joined BU MeetUp last semester as a way to connect with people outside of her program, as well as grow her friendship circle in Boston (she's from India). Her first meeting with two PhD students went well; both had lived in Boston for a few years and gave her lots of ideas about what to do in the city. In addition, they advised her about what gear she needed to buy for her first Boston winter. The three plan to hang out again this semester too.
"We met right before Diwali, so I was able to tell them about the holiday and how I usually celebrate," Chawla says. "I'd definitely recommend the program to other students. PhD students have so much work that we sometimes feel like we don't have a lot of time to make new friends. This program makes it easier to do that."
Interested in joining BU MeetUp? Fill out this Google form to be matched for the next round of meet-ups. The deadline is February 21.