He Wrote a Book to Help Kids Deal with ADHD Better than He Did
Peter Shankman (CGS'92, COM'94) makes the most of neurodiversity
Books
He Wrote a Book to Help Kids Deal with ADHD Better than He Did
Peter Shankman (CGS'92, COM'94) makes the most of neurodiversity
When he was a kid, Peter Shankman's brain kept betraying him.
"I loved, loved, loved my English, my rhetoric, my writing classes, because that's what I was really good at," says Shankman (CGS'92, COM'94). "I would be the most focused student in the class—tunnel vision from the second the class started till five minutes after it was over. Math class? Not so much."
And in classes he didn't like, he'd start clowning around and distracting everyone. "It seemed to make me feel great. And I didn't know why. So I kept doing it, even though I wasn't supposed to, even though I promised my parents every day I wouldn't do it again." He'd end up in the principal's office. Over and over.
"It wasn't, 'Oh, you have ADHD.' It was, 'Sit down. You have disrupting-the-class disease.'"
As an adult, Shankman was diagnosed with attention deficit hyperactivity disorder (ADHD), a neurodevelopmental condition that affects 11 percent of school-age children. Shankman says the basic issue is that his brain has less of certain chemicals that provide dopamine rewards for activity. So, he found other ways to get those rewards. "Something about making the class laugh actually allowed me to sit down and focus. Of course, I never got the chance, because I''d be kicked out of the classroom and sent to the principal''s office."
Knowing, he says, enabled him to turn ADHD into his superpower. He learned to channel the surges of energy into hyperproductivity and eventually success as an author, a CEO, and a media entrepreneur. He wrote a book about it all, Faster Than Normal: Turbocharge Your Focus, Productivity, and Success with the Secrets of the ADHD Brain (TarcherPerigee, 2017) that's still in the top 50 in its category on Amazon six years later.
Faster Than Normal was aimed at grownups, and it struck a chord with parents struggling with the emotional and academic fallout of their kids' ADHD.
"There were a lot of parents like, 'Oh, my God, is this book OK to read to my seven-year-old'?" When he responded, "That might be a little too much faster," they suggested he write a kid's book. Now he has.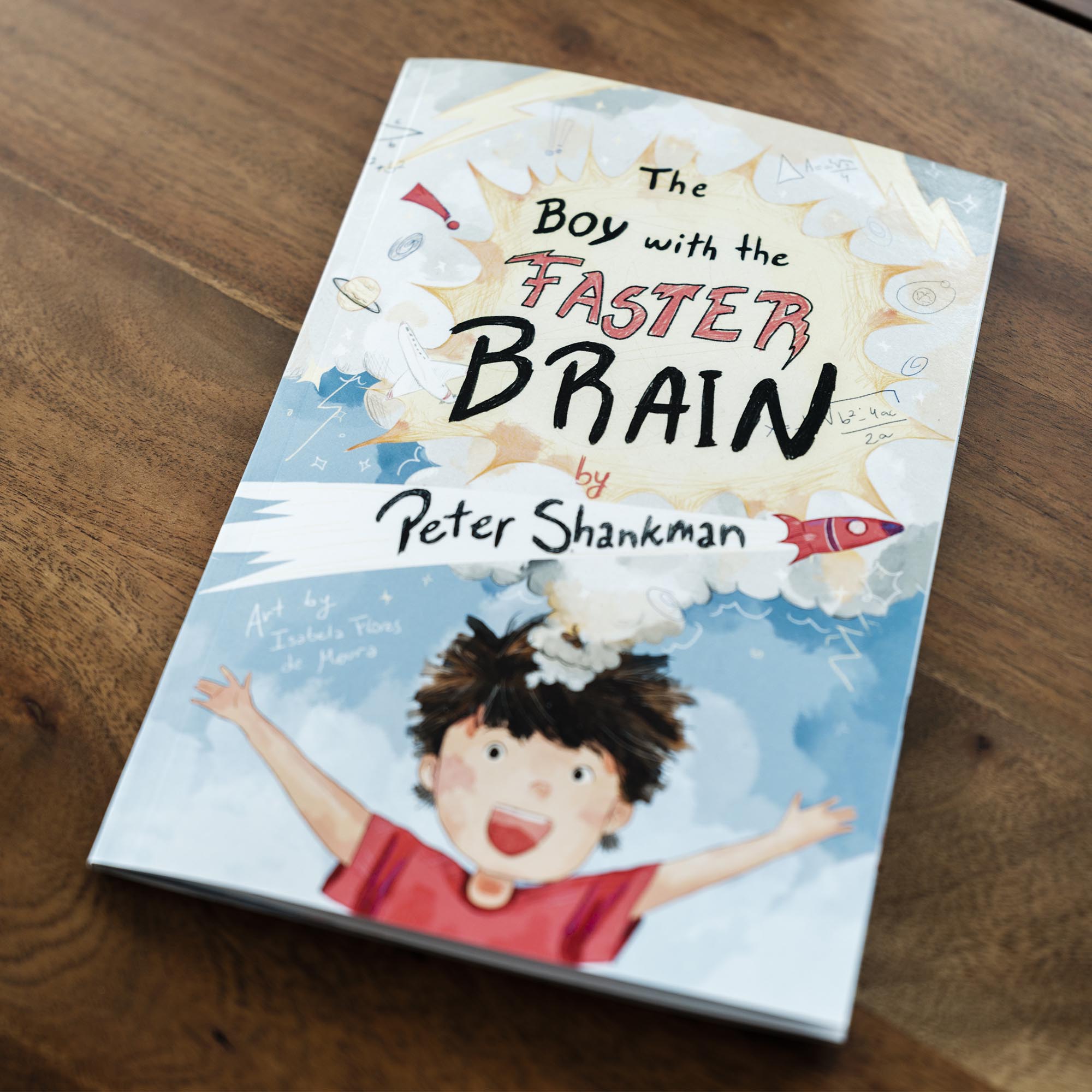 The Boy with the Faster Brain (Peter Shankman, 2023), charmingly illustrated by Isabela Flores de Moura, is the story of 10-year-old Peter, who gets in trouble for cutting up in class, even though he's trying to be good. When it happens again, he expects his parents to ground him or take away his computer and his iPad. Instead, his father admits that he used to have the same problem and says they're going to teach Peter how to make the best of his faster-than-normal brain.
"Over the next several months, Peter met Dr. Lisa every week to learn how to 'drive' his faster brain," the book says. "He learned about other ways of giving his brain those chemicals it needed, so he could focus on his work, instead of making jokes or talking out of turn in class. He learned how movement and exercise, like running around and playing before school started could help him drive his brain."
Spoiler alert: With mindfulness and breathing exercises, Peter turns himself into an excellent student again.
ADHD = Success?
After he sold his third company—Help A Reporter Out, an online service that links press-seeking businesses with reporters and links reporters with sources—Shankman "finally sat down and said, OK, you gotta start figuring out why you can start and sell a company in three years, but your marriage is failing, and you can't remember to take out the trash and you're not really good.
"I got diagnosed," Shankman says, "and I figured out that everything I had been told was wrong with me growing up was actually giving me all the good stuff that's ever happened in my life, all the success I've ever had.
"It was at that point I'm like, Wow, this is a far cry from growing up and being told repeatedly that I was broken. And so Faster Than Normal was designed to help people get hours of their life back by being productive."
He says some in the ADHD community disagree with his positive approach, and he takes getting banned from a subreddit on the topic as a badge of honor.
The causes of ADHD are undetermined, but may include genetics and other factors, and the condition often continues into adulthood. According to the US Centers for Disease Control and Prevention, "Children with ADHD may have trouble paying attention, controlling impulsive behaviors (may act without thinking about what the result will be), or be overly active." However, "research does not support the popularly held views that ADHD is caused by eating too much sugar, watching too much television, parenting, or social and environmental factors," the CDC says.
Before he understood it, that impulsive behavior brought him plenty of awkward moments even as he got older.
"I had the social acuity of a turnip," he says cheerfully. "I will never forget freshman year at BU. I walked into a friend's dorm room, and he was with a couple of people, and someone made a joke, and I said something, and it just fell flat. This was 1990. So it's over 30 years ago. And I still remember all four of the kids in that room just looking at me like, maybe you should leave now. I wasn't offensive. I just didn't know when to shut up. It took years."
He does have a prescription for a common ADHD medication, but seldom takes it, preferring to manage the symptoms himself. He still seeks those chemical rewards and the resulting periods of focus and productivity, but consciously and in more constructive ways, including punishing workouts on a stationary bike and boxing at a gym near his home in Hell's Kitchen, Manhattan.
---

I never want any kid to feel as broken as I did growing up.

---
Perhaps the most extreme example—Shankman talks fast and cites lots of examples—is that skydiving helps him write.
"Most people do a skydive, they check it off their list, and they get to tell that great story," he says. "I did my skydive and signed up on the spot to get licensed right away. I have over 500 jumps now. I'll take my parachute, I'll go up to New Paltz, I'll do a jump. I land, and I'll walk to the airplane hanger, throw my gear in the corner, and I'll sit down, pull out my laptop, and do 2,500 words in 45 minutes. I'm just so full of those chemicals."
He created The Boy with the Faster Brain on an ADHD time frame, he says: "I took five years to think about it, and then sat down one day and wrote it in two hours."
With his business and marketing experience and audience in the ADHD world, he decided he would publish it himself. He's begun meeting with an animation firm, thinking about turning Peter's story into a TV show.
"I never want any kid to feel as broken as I did growing up," Shankman says. "Looking back on it, I just assumed coming home with a note from the teacher every day was a way of life."