Some Good Words about ADHD
Author, entrepreneur, and alum Peter Shankman gives CGS Stone Lecture Thursday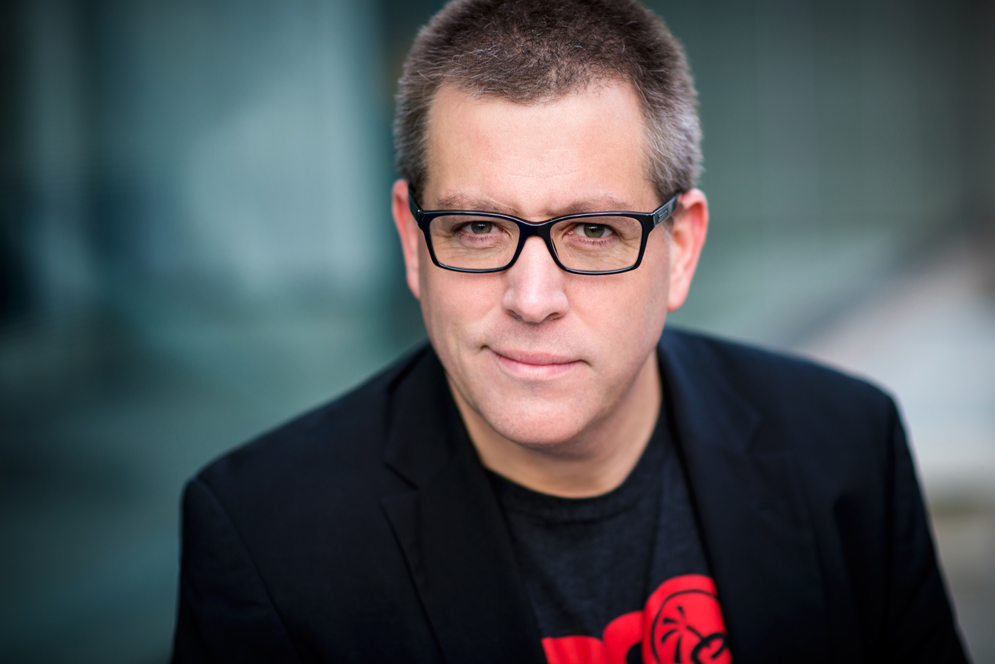 Author, CEO, and media entrepreneur Peter Shankman has a lot on his plate, and he likes it that way. He's the best-selling author of five books on subjects from marketing to the advantages that he's found come from having attention deficit hyperactivity disorder (ADHD) and the founder of Help a Reporter Out (HARO), an online service that links press-seeking businesses with reporters and links reporters with sources. He is also an angel investor and a popular speaker who has appeared with TedX and South by Southwest (SXSW).  
Shankman (CGS'92, COM'94) comes to BU on Thursday, November 8, to deliver this year's College of General Studies annual Stanley P. Stone Distinguished Lecture. The series, which brings notable speakers to BU annually, is sponsored by Stanley P. Stone (CGS'64, Questrom'66).
Among all of Shankman's interests, he is perhaps best known for his unusual and very personal take on ADHD. He is convinced that the condition, often considered a hindrance, has helped him, by making him "faster than normal." He is the creator and host of a podcast of the same name that is ranked the internet's top podcast on the subject. Shankman believes that people just like him—what he calls "the new neuroatypical generation" have the potential to change the workplace and the world for good. 
BU Today spoke with Shankman about that conviction and about his career in advance of Thursday's talk.
BU Today: You have said that ADHD has been an asset, that it has helped you succeed as a speaker, PR expert, and entrepreneur. Could you talk about how that works?
Shankman: Simply put, ADHD is the brain's inability to produce as much dopamine, serotonin, and adrenaline as "regular" people's brains produce. Because of that, our brains have become "faster." When managed right, that becomes a superpower.
Have you found that you tend to think faster than most people?
Yes. My brain is faster than normal. I do everything faster. I joke that I only have two speeds: "Namaste" and "I'll cut a bitch." Because of that, as long as I follow certain rules, I can drive my superfast brain without skidding off the road and crashing into a tree. But because I'm always going at light speed, it's superimportant to make sure I do the right things, and know where I could get tripped up.
A recent study that followed people with ADHD from age eight to adulthood found that those with ADHD are at greater risk for behavioral issues and learning issues, anxiety, depression, substance abuse, and self-injury. What about you—did you have trouble learning?
When I was growing up, ADHD wasn't a thing. I had "sit down, you're disrupting the class" disease, and as such, I had a horrible time in school. I was the class clown. I scored perfect grades on the stuff I loved, but walked the line of barely passing in the subjects I hated. In fact, during my two years at CGS I was on academic probation the entire time. It wasn't until I made it through to fifth semester that I was able to shine.
What did you do to overcome those problems?
In school, I didn't overcome them. I barely made it through. It wasn't until my early 30s that I discovered that this thing I had could be used to my advantage: my life rules came into play throughout the next 10 years. When I finally realized I was different and it wasn't going away, I learned to embrace those differences.
Can you talk about your life rules and how they come into play?
After I sold my third company, I did an internal audit of myself to figure out why I could do some things really well, but could spend three days walking past the bag of trash I'd put in the living room so I wouldn't forget to take it out. What I realized was that I'd spent my entire life "beneficially self-medicating," i.e., training for Ironman triathlons, skydiving, starting companies, public speaking, all as a way of tricking my brain into producing more dopamine, serotonin, and adrenaline, the kind that people without ADHD automatically produce. Once I realized what I was doing, I realized that I'd stumbled upon a way to get more out of my brain than would ever be expected. I came up with a routine that guarantees that I live my life to the best of my ability every single day, and it begins with drawing an initial wake-up hit of those three brain chemicals I mentioned above, a hit that'll last me long into my day, and ends with pure exhaustion and a wonderfully rejuvenating sleep to start the cycle over the next day. No pills needed, no external stimuli required.
What exactly is your routine?
When my alarm goes off at 3:45 am and my bedroom lights have finished their automated program to light my room, I rise out of bed, already in my workout clothes, because I always put them on the night before. I slip on my bike shoes, and walk to my Peloton bicycle, which sits right next to my bed. I snap on my heart-rate monitor and start my first 45-minute workout of the day. By the time the sun comes up, I've either done two rides already, or I'm finishing an outdoor long run or a lifting workout at the gym, depending on whether it's a day my daughter is staying with me.
What comes next?
By 6:45 a.m, I'm back in my apartment, showered and dressed, and ready to start my day. I'm wearing either a T-shirt and jeans or a button-down shirt and jeans, depending on whether I'm traveling/going to the office, or speaking/going on TV.
That sounds extremely regimented. Do you also avoid things that might slow you down, like alcohol?
I quit drinking, not because I had a problem, but because most people with my type of personality simply can't have one drink. I avoid the chance of drinking a lot, which would lead to eating poorly, which would lead to not getting up early, which would lead to no exercise, which could potentially start a cycle that could ruin me.
How hard was it for you to write books?
I've written five books, all entirely on airplanes. My most recent two have been written on flights that I had no other reason to take. In other words, I flew to Asia and back to write a book on the plane. Why? 14 hours each way of uninterrupted deep work, no distractions, no internet, no mobile phone, no alerts. Just a blank page and my headphones. And it works.
Was there one realization that changed your life?
Yes. I finally learned that I needed to stop caring what others thought about the things I do, and do the things that matter to me, for me. The second I did that, my world opened up for me. If you're not taking care of yourself first, how can you possibly expect to take care of others, to better the world, or to create epic things? Taking care of you, whatever that might look like to you, isn't optional. In the end, I've set up these life rules for myself because I know they make me better all around.
Technology is blamed for speeding up our lives. You naturally operate at a faster speed—has that increase in speed been helpful to you?
The technology I use helps me tremendously, but I don't live by it. If the network went down tomorrow, I'd grab a pen and piece of paper and continue doing my thing.
How did you come up with the idea for HARO, connecting people who want press with people who can give them press?
When you're ADHD, you talk to everyone. This built me a great Rolodex. I realized that I'm at my best when I'm helping people—acting as a connector. HARO started as an offshoot of that. A way to connect my friends to my other friends, journalist friends to source friends. It blew up, and was acquired three years later. I also run ShankMinds, a worldwide entrepreneur networking and advising forum with members in over 20 countries, and I host a podcast on ADHD, called Faster Than Normal.
You've had many successful ventures. Have you also had failures? How do you deal with failure?
I love failure. I learn every time I fail. Do that, it's not failure.
Peter Shankman will deliver the Stanley P. Stone Distinguished Lecture on Thursday, November 8, at 5 pm, in the College of General Studies Jacob Sleeper Auditorium, 871 Commonwealth Ave. The event is free and open to the public. Seating is first come, first served.