COVID-19 Vaccine for Children under Five Approved. Here's What Parents Should Know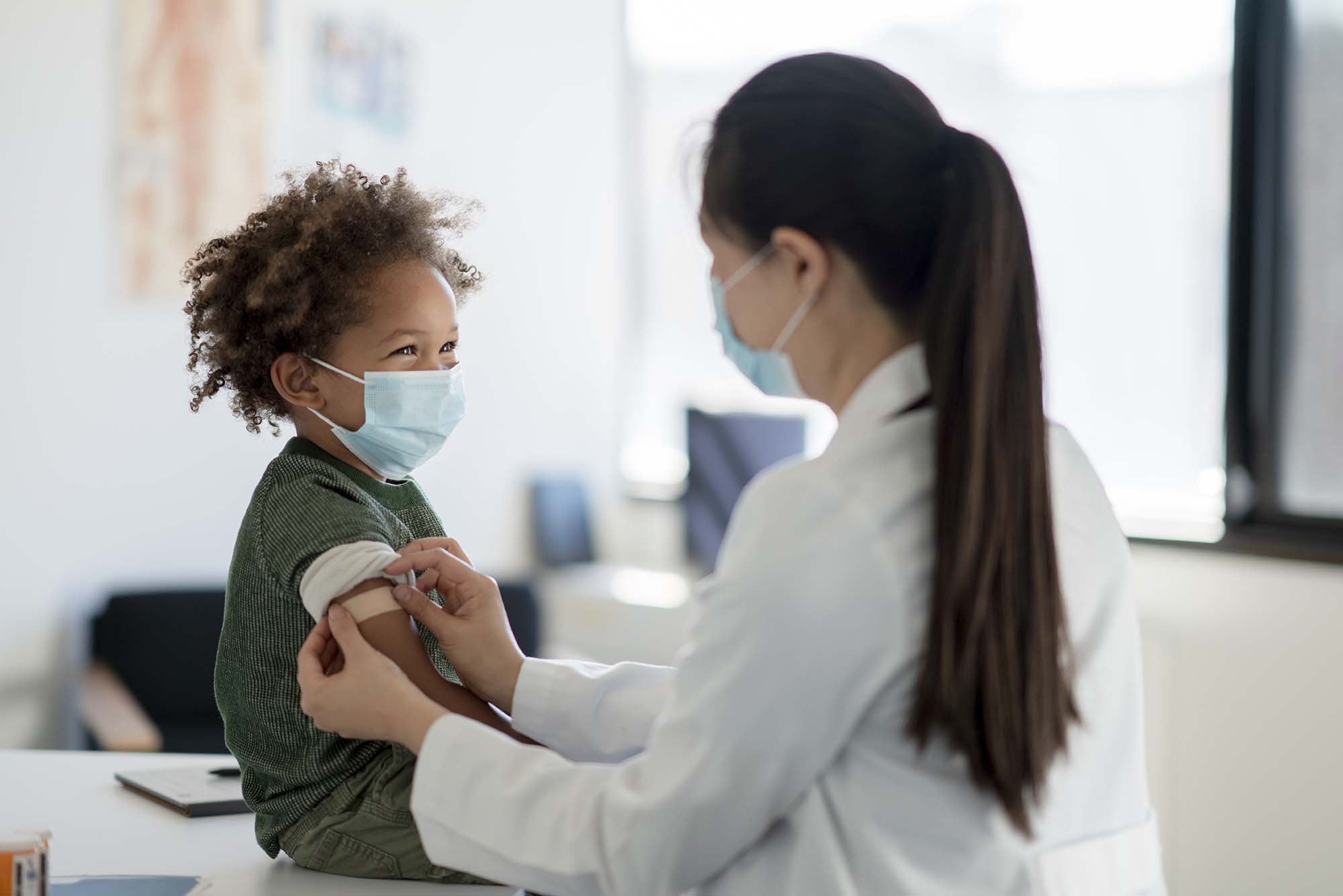 COVID-19 Vaccines
COVID-19 Vaccine for Children under Five Approved. Here's What Parents Should Know
Pediatrician Elizabeth Barnett on whether to wait, why side effects are unlikely, and other questions
The moment that parents of 18 million young children in America have hoped and prayed for is finally here: the Centers for Disease Control and Prevention (CDC) has approved the Moderna and Pfizer COVID-19 vaccines for kids ages five and under.  
Shots in arms for the last eligible group in the country can now begin. The Biden administration had already shipped 10 million doses of the just-greenlit vaccines to states and healthcare providers in anticipation of the approval. "We know millions of parents and caregivers are eager to get their young children vaccinated," said Rochelle Walensky, CDC director.
Yet, some parents may demand more assurance of the vaccines' efficacy, and of the absence of side effects. An April Kaiser Family Foundation poll found only 18 percent of eligible families were ready to immediately vaccinate their toddlers; 38 percent said they'd hold off—perhaps because COVID typically is less severe in younger children.
What do parents need to know? We asked Elizabeth Barnett (MED'85), a Boston University School of Medicine professor of pediatrics and principal investigator of the Refugee Health Assessment Program at Boston Medical Center, BU's primary teaching hospital.
Q
&

A
Elizabeth Barnett (MED'85)
The Brink:
The Kaiser Family Foundation says 38 percent of eligible parents don't plan to immediately vaccinate their kids, perhaps because COVID typically is less severe for younger children. Is waiting a good idea, or does the risk outweigh the benefits of watchful waiting?
Barnett: We're always going to have early adopters, the group that's in the middle, and then a group that's hesitant. The fact that about a third of parents are not willing to be the first in line doesn't mean that they are not going to immunize eventually.

A couple of things that could be taken into consideration when thinking about whether to immunize their child: whether there are susceptible people in the household—or family circle of friends and relatives—who are susceptible to COVID and could be protected secondarily by having the youngest children immunized. I know of many families that haven't had the interactions they desire because their youngest children are not yet immunized. The other factor is that people tend to wait and see how it's going for a couple of weeks. I think in parts of the country where case rates are declining or there are not that many cases, that's a reasonable way to proceed.
The Brink:
That would include Massachusetts?
Barnett: The numbers are declining, but there is still a relatively high number of cases compared to other times in the past two years. I think it's reasonable to consider moving quickly toward vaccination, but there will understandably be some who are hesitant until they have seen that the rollout is not associated with any safety events. And it is not expected that there will be.
The Brink:
Are there children for whom this vaccination would be medically contraindicated?
Barnett: There would be very, very few children who might fall into that category. The only real contraindication, even in adults, is a severe allergic, anaphylactic reaction to a previous dose of vaccine or a component of the vaccine. The vast majority of children would be eligible to receive this vaccine.
The Brink:
What would you say to convince parents to vaccinate their children?
Barnett: The first thing we need to do as healthcare professionals is listen to the concerns parents have, then answer their questions, talk about safety, the effectiveness of the vaccines. As I mentioned, I think it's helpful to present the fact that immunizing will not only protect this child but other people with whom this child interacts. The older grandparent who might have medical conditions and hasn't been able to interact with that child. The other people in their circle they've avoided because there were unimmunized children. The ability of the child to then be more involved in the community, because now all the other children that child can interact with will be immunized.
The Brink:
Any advice for handling predictable toddler fears of the needle?
Barnett: That is an important point, because children get so many vaccines these days that it just seems overwhelming. Some things being done in providers offices are using distraction techniques, such as having them look at a screen with a cartoon or other distraction on it. They have devices called buzzies, which are small devices that fit in a child's hand. They buzz and feel interesting.
---

Some parents themselves are afraid of vaccines; it's probably better to have someone else accompany the child, or disclose that to the caregiver. In most offices, there are other people who can come in and help.

---
The other thing is when parents approach vaccination calmly and firmly, by saying things like, "It's time for your vaccine now. Why don't you sit on my lap? I'm going to hold you tight and give you a big hug. It will be over soon." Some parents themselves are afraid of vaccines; it's probably better to have someone else accompany the child, or disclose that to the caregiver. In most offices, there are other people who can come in and help get the child vaccinated.
The Brink:
Do you expect parents to confront vaccination-scheduling logjams for their kids, as sometimes happened with older populations signing up for shots?
I think we're not going to experience anything of that magnitude, because pediatricians and healthcare providers and pharmacies that are anticipating immunizing children have already been given the opportunity to preorder vaccine. It is really anticipated that most of the vaccine to children under five will be supplied to their primary care providers, and they will receive these vaccines. There will be some immunizations in pharmacies and other sites, but I don't think we expect anything like what adults went through when the vaccine first came out.
The Brink:
Do you expect toddlers will also need a booster?
Under five is a three-dose series [of COVID vaccinations]. We do not yet have information about what will be needed after that. My guess is that we will all need additional boosters at some point.
The Brink:
Why did approval take so long?
The initial study by Pfizer [of its vaccine] was a two-dose series. When they analyzed the data, they did not meet their prespecified conditions, and they had to make a decision to add that third dose [for youngest children]. That delayed having results where they could show that their vaccine does meet their specified milestones. They have now met those criteria. It was a delay related to making sure that the dose and the intervals of the vaccines in this age group resulted in appropriate immunologic response and was safe. This delay is to make sure that this vaccine is safe and effective in this age group.
The Brink:
Are children likely to have side effects from the vaccine?
Children are likely to have side effects similar to those experienced with other vaccines, such as soreness of the injection site, maybe a little redness at the site. Some children may feel a bit under the weather or have a low-grade effect. But there have not been any serious safety signals in this age group.
The Brink:
As a pediatrician, have you seen hesitancy over COVID vaccines spilling over into other necessary shots?
The number of children who are up-to-date with vaccines reduced during the pandemic. Whether that is associated with an increase in vaccine hesitancy, or a lack of willingness to come to a doctor's office during a pandemic and keep regular appointments, is not terribly clear. We know there are families who are adamantly anti-vaccine. But we also know families—I saw one in my office last week—that just wanted to wait and be sure that things looked safe to them. This was a child not much older than five. The family very thoughtfully got the older adults immunized, then the older teens, and decreased by age. As each family member got their vaccine and did well, they became more confident about immunizing the younger children. I think we may see that.