What Biden's Student Loan Forgiveness Plan Means for BU Students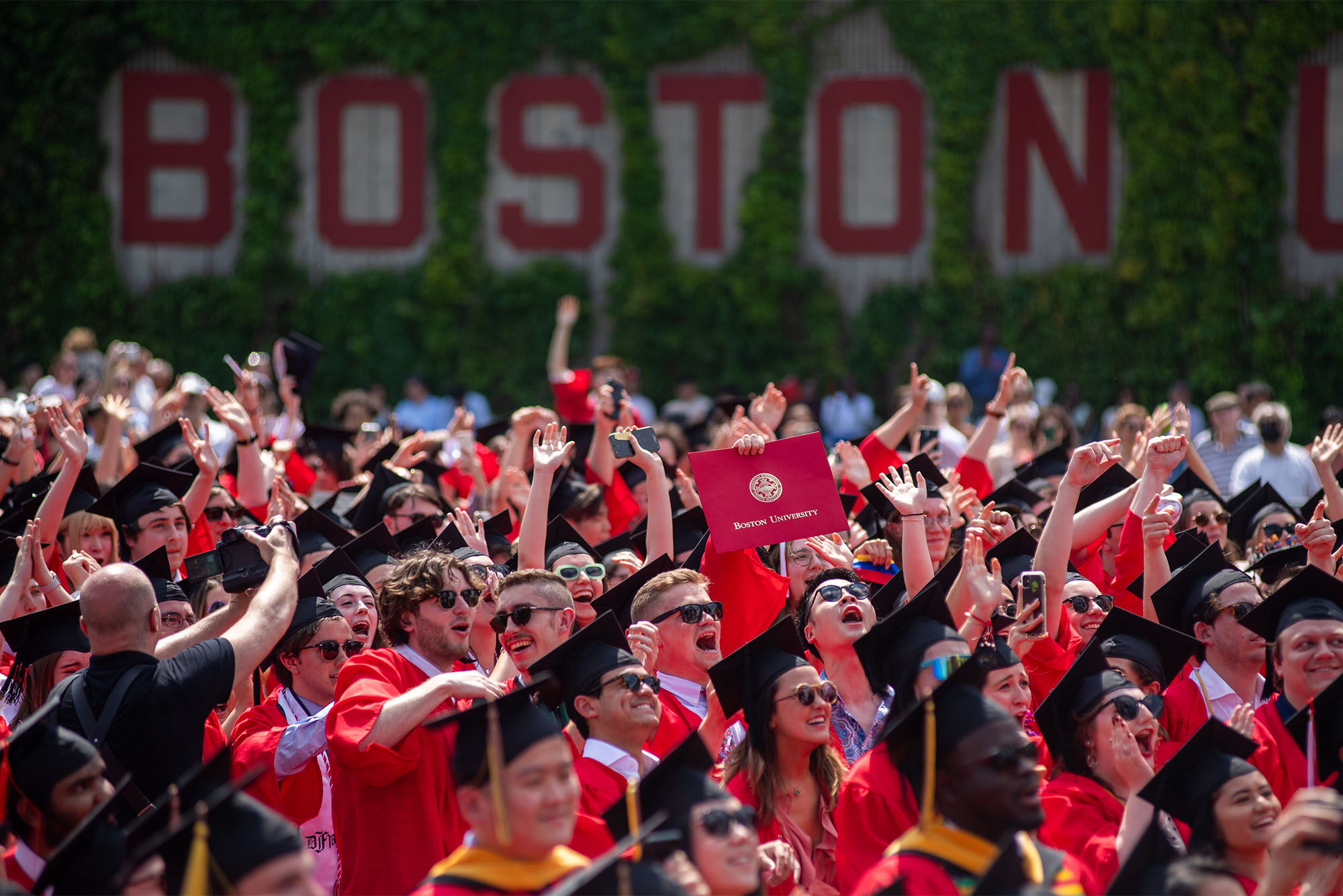 Finance
What Biden's Student Loan Forgiveness Plan Means for BU Students
Reaction from students ranges from joy to relief: "That's incredible to me," one senior says
As economists and lawyers continue the fierce debate over President Joe Biden's plan to cancel student-loan debt, and political candidates argue over its fairness and timing, there's at least one group that's ignoring the noise and simply rejoicing: students.
"I'm really happy about it," Bianca Pokrzywa (CAS'23) says of the debt forgiveness plan. "As someone who's not going to be making $125,000 out of college, this is a huge relief. Half my loans are going to be gone—that's incredible to me."
Biden's announcement last week is "great news for borrowers," says Christine McGuire, Boston University vice president and associate provost for enrollment and student administration.
"Many people will have their debt completely eliminated, especially if they were Pell Grant recipients as undergraduates," says McGuire, who oversees student financial assistance at BU. "Although loan payments have been on hiatus since the beginning of the pandemic, the burden of the debt has remained a stressor. This announcement is a great relief for so many."
The plan would forgive up to $10,000 in federal student loans for borrowers who make less than $125,000 a year, or less than $250,000 a year for families. For people who received Pell Grants—federal aid that's awarded to undergraduate students who display exceptional financial need—the federal government would cancel up to $20,000 per borrower.
Current students and borrowers who meet the income requirements and whose federal loans—including undergraduate, graduate, and Parent PLUS loans—were fully disbursed by June 30, 2022, are eligible for forgiveness. That means that people who never finished a degree or students who are still in school can have their federal loans forgiven, as long as those loans were taken out before the end of June. Loans taken out after June 30, 2022, won't qualify for forgiveness under Biden's current plan.
The Department of Education offers a number of income-driven repayment plans for borrowers whose income is within a certain percentage of federal poverty guidelines.
People with federal student loans will need to fill out an application to have their debt canceled. Borrowers can sign up to receive emails from the Department of Education notifying them when the application is available, which should be in early October. Biden administration officials recommend that borrowers apply by November 15, in order to have their loans canceled before repayments start up again on January 1, 2023.
"This is huge," says BU Pell Grant recipient Aysah Dalton (CAS'23). "I already have $50,000 in student loans as a senior, and that's not including any private loans I'll need to take out for grad school. So this really helps tremendously."
Meanwhile, even students who aren't currently carrying any federal student loans say they support the plan, because of what it means for others.
Maya Pensa (CAS'23) is one such student. Her parents have been able to pay for her undergraduate education, but she's grateful for the debt-relief plan because she knows so many people for whom this is "a game-changer," Pensa says. "I have family, friends, relatives—all these people who are so relieved."
The White House estimates that roughly 43 million student-loan borrowers are eligible for forgiveness, and some reports estimate that half of those borrowers could see their debt completely wiped out. In addition to the blanket forgiveness, Biden's plan extends the pause on loan repayments for four months, until December 31, 2022, and reduces the amount that lower- and middle-income borrowers will need to repay each month.
The plan would cap borrowers' monthly payments to just 5 percent of their discretionary income, a decrease from the current 10 percent cap. It would also cancel loans after 10 years of payments, as long as the loans are $12,000 or less by that point. And it would cover the borrower's unpaid monthly interest—a clause that McGuire describes as "one of the best aspects of the new income-driven repayment.
"That should prevent loan balances from increasing when using an income-driven repayment plan," she says. "Very few former BU students find themselves in this situation, but for those who do, it is a better safety net than the existing income-driven plans."
Biden's plan, which is in the form of an executive order, still faces hurdles: it may very well be challenged in court, according to one BU law expert, who questions the legal arguments the White House used in explaining the executive order. Being debated in political circles is the timing of the announcement, with some Republicans arguing Biden was trying to influence voters before November's midterm elections.
In the meantime, this last extension of the pandemic-era moratorium on loan repayment offers welcome relief for many borrowers, McGuire says.
"This final extension, coupled with the reduction or elimination of loan balances, should allow borrowers to breathe a bit easier in meeting monthly expenses," she says. "For those who might soon find themselves with some extra cash on hand each month, they should consider redirecting those funds into a savings or investment account."