Terriers Heading to the Tonys Sunday
Theatre
Terriers Heading to the Tonys Sunday
Sound designer, actor, writer, and producers among alums nominated for Broadway's highest honor
The much-heralded 2021–2022 Broadway season has been cause for both celebration and hand-wringing. Theaters that had remained dark for 18 months because of the pandemic finally reopened, but COVID continued to cast a shadow, leading to delayed premieres, last-minute cast changes, and extended closures of shows as casts and crews came down with the virus. Audiences who had happily returned to theaters were rewarded with a mix of critically praised, probing new dramas like The Lehman Trilogy, hit revivals of musicals like The Music Man and Company, and plenty of star wattage—Hugh Jackman, Phylicia Rashad, Jesse Tyler Ferguson, and Jesse Williams, to name a few.
As the season draws to an official close, the theater community will gather at Radio City Music Hall in New York City Sunday night for the 75th annual celebration of Broadway's best—the Tony Awards. Leading the pack with 11 nominations—and the most buzz—is A Strange Loop, Michael R. Jackson's acclaimed genre-bending musical about a gay Black man writing a musical about a gay Black man who's writing a show about a gay Black man. Among the musical's nominees is Drew Levy (CFA'03,'04), who earned a nod for best sound design of a musical.
The veteran designer, who received his first Tony nomination in 2019 for a revival of Rodgers and Hammerstein's Oklahoma! says he was drawn to the project because it offered a chance to work with director Stephen Brackett. But after reading the script and listening to the music, "I knew that Michael R. Jackson had something really special," Levy says of the show's playwright/composer. "There is something very powerful about the raw honesty of the story."
Described by the New York Times as "a dazzling ride on a mental merry-go-round," A Strange Loop foregoes a traditional narrative in favor of something more abstract.
"The songs are very wordy, with overlapping parts and dense harmonies," he says. "This is a challenge in terms of intelligibility, and just following the story. It is made even more difficult by the fact that the story doesn't follow a straightforward path that audiences might be used to—those typical context clues that your brain uses to seamlessly fill in gaps."
Levy began working on the show during a pre-Broadway tryout at D.C.'s Wooly Mammoth Theatre Company in December 2021 (it had had an earlier off-Broadway run at Playwrights Horizons before the pandemic). As a sound designer, he says, there are a lot of choices that go into making sure the words are clear, the music has the right sound, and that audiences can hear all of it together.
"It's not unlike producing an album—just live, every night," he says. "I rely very heavily on the A1 [the primary audio engineer], or mixer, to understand each moment and the intention that drives those sonic moments."
While designing the sound for A Strange Loop, Levy says, he approached the project much the way he does every other one, starting with the script and lengthy discussions with the director, writer, composer, and orchestrator "to get a sense of what they hear in their heads when they think about the show." He then analyzes what makes the show unique: "What do the vocal parts sound like? What's the vibe of the show—is it period, traditional, modern, pop, etc?" In addition, he has to get a handle on the venue itself and what's needed to make the production work inside a particular building.
When the Tony nominations were announced in May, Levy says, he felt a combination of shock, surprise, and elation. "There are a bunch of great shows this season, and to be recognized among them is really an honor," he says. "We had a tough time getting the show open due to COVID-related delays and a shortened preview period, where we traditionally get to do a lot of the sound work. So, to get through that with something we as a team are proud of was great. To be nominated on top of that is really special."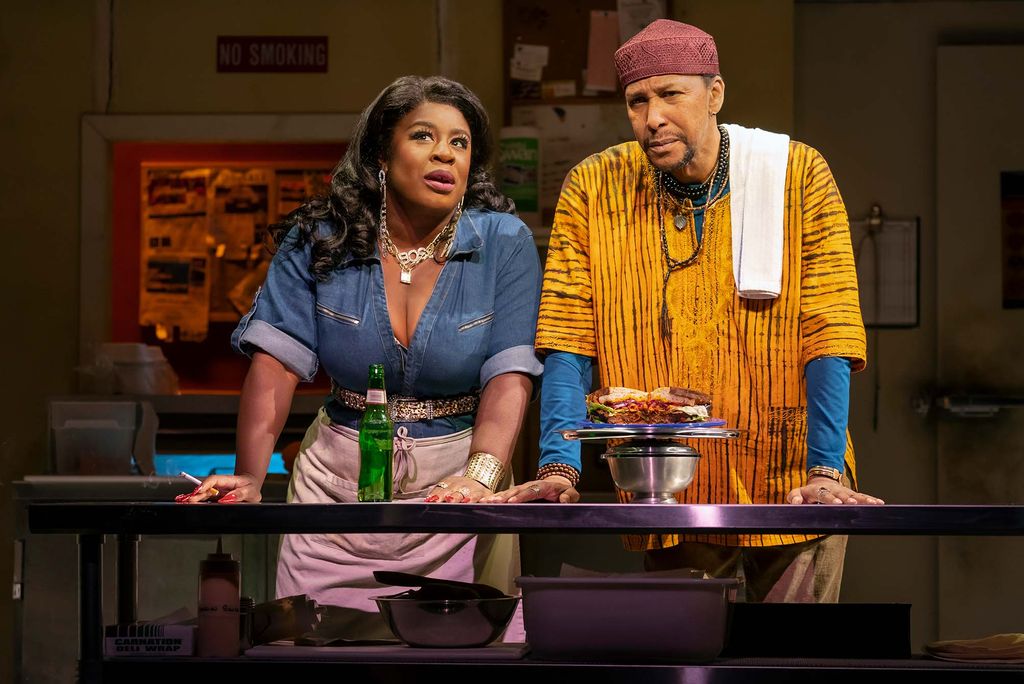 A Tony win would be an affirmation not just for himself, Levy says, but for the larger sound community. "Ever since sound design has been a category for Tony consideration, we have struggled to get the folks to understand the art that goes into crafting the sound of a show, and that while there is a lot of technology involved, it is far more creative that just assembling some speakers," he says. Sound design first became eligible in 2008, was eliminated in 2014, and then reintroduced in 2018 after a backlash from industry professionals. "Every year that sound remains a category, I think we move that needle of understanding forward."
Levy won't be the only BU alum at Sunday's ceremony. Uzo Aduba (CFA'05), best known for her Emmy Award–winning work in Netflix's Orange Is the New Black and FX's Mrs. America, has earned her first Tony nomination, for best featured actress in a play for her title role in Lynn Nottage's drama Clyde's. Aduba plays an intimidating proprietor of a truck-stop sandwich joint whose staff, like herself, has served time in prison and endured more than their share of pain and hard knocks. The role marks Aduba's first return to Broadway in a decade; she last appeared in a revival of the musical Godspell.
Playwright and screenwriter Craig Lucas (CFA'73) is up for his fourth Tony Award, for best book of a musical for Paradise Square, which examines the relationship between Black Americans and Irish Americans in New York City during the Civil War. Lucas, whose earlier Tony bids were for best new play (Prelude to a Kiss), and best book of a musical (The Light in the Piazza and An American in Paris) is one of three credited with writing the book for Paradise Square.
Also nominated are veteran producers Stewart Lane (CFA'73), Diana DiMenna (COM'85), Sue Wagner (CFA'97), and James Nederlander (CGS'80), who could be the night's biggest winner. Already the recipient of 11 Tonys, he is nominated for an astonishing 4 awards this year: best play (The Lehman Trilogy, a drama by Stefano Massini about the world-famous family of financiers whose company collapsed in 2008) and 3 best musicals (Mr. Saturday Night, A Strange Loop, and MJ). Lane, who previously has won six Tonys for best play or best musical, is nominated for best play for his work as a producer on Tracy Letts' drama The Minutes. Wagner is also nominated for best play, for her work as a producer on The Lehman Trilogy, which recently won the Outer Critics Circle Award for best play. She has seven Tony wins thus far. DiMenna has earned her seventh nomination in six years for her work as a producer on the musical Girl from the North Country, featuring the songs of Bob Dylan. The show is nominated for seven Tonys, including best musical. And Brian DeVito (COM'12) has earned his first Tony Award nomination as a producer of the revival of Stephen Sondheim's Company. The show notched a total of 10 nominations.
The 75th annual Tony Awards ceremony will be broadcast live on CBS on Sunday, June 12, starting at 8 pm EDT.