Pasta with Clams, White Beans, Tomatoes, and Kale
Try this briny, garlicky, dish for a fast and simple dinner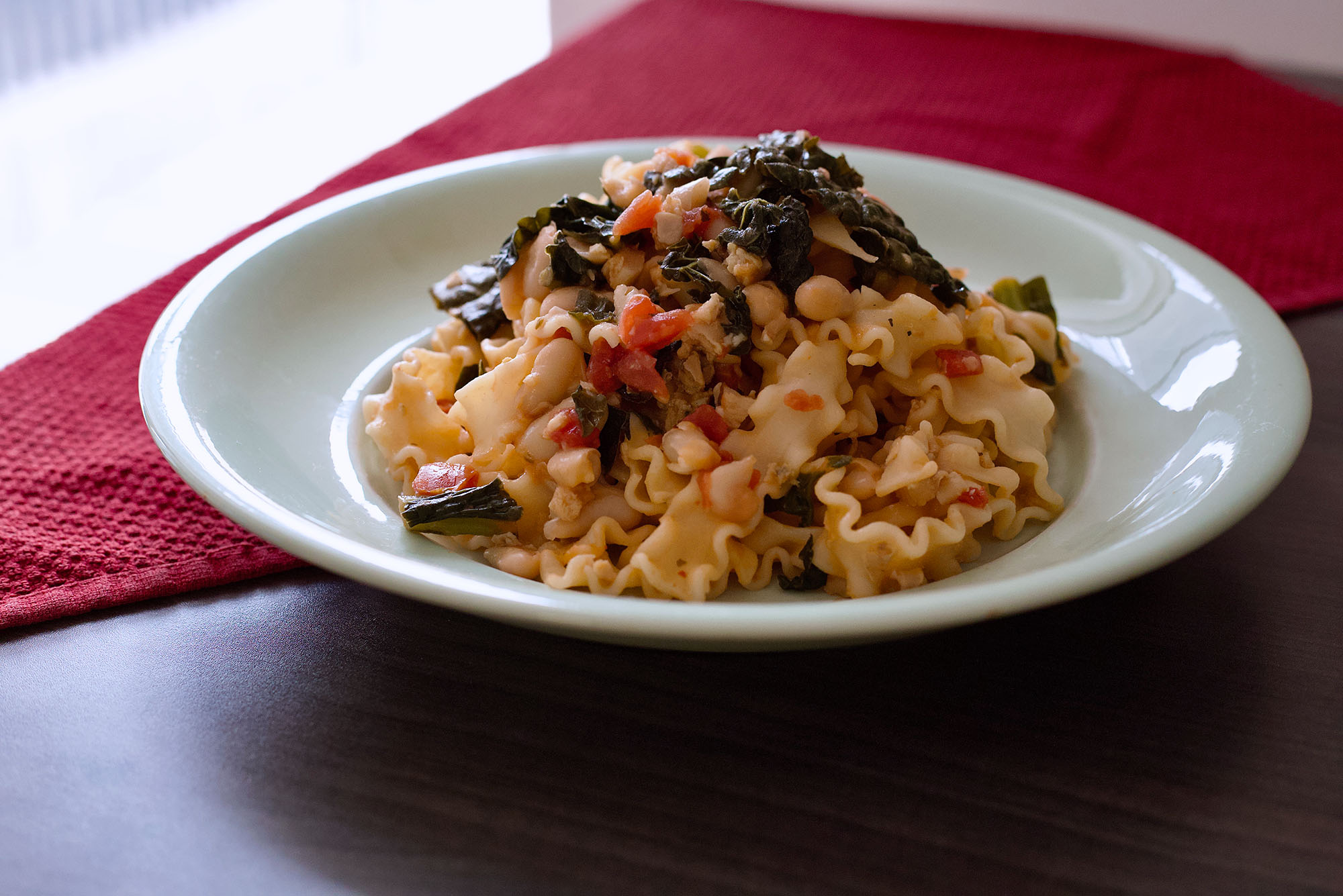 RECIPE SERIES
Pasta with Clams, White Beans, Tomatoes, and Kale
Try this briny, garlicky, dish for a fast and simple dinner
Pasta with Clams, White Beans, Tomatoes, and Kale
This dish highlights how canned goods can be transformed into a gourmet meal. Don't rinse your beans for this recipe—their starchy liquid, along with some reserved pasta water, makes for a smooth and silky sauce that's then brightened by the punchy garlic, briny juice from the clams, tomatoes, and a squeeze of lemon.
Prep time: 10 minutes
Cook time: 25 minutes
Total time: 35 minutes
Yield: 6 servings
---
Ingredients
2 tablespoons extra-virgin olive oil
6 medium or large garlic cloves, minced
2 15-ounce cans low-sodium white beans (such as cannellini or Great Northern)
1 15-ounce can diced tomatoes
6 cups kale, chopped and tough stems removed
1 teaspoon oregano
1 teaspoon basil
1 teaspoon red pepper flakes
2 6-ounce cans whole or chopped clams, liquid reserved
1 pound pasta (such as spaghetti, linguine, or mafaldine)
Juice of 1 lemon
Salt, to taste
Directions
In a large pot of boiling water, cook pasta until al dente. Reserve a ½ cup of pasta water.
Heat the olive oil in a large skillet on medium heat. When the oil is shimmering, add garlic and cook until soft and fragrant.
Turn the heat up to high and add both cans of beans, including their liquid. Stir. Add the tomatoes and liquid from the clams and stir again.
Add kale, oregano, basil, and red pepper flakes. Allow to come to a boil and cook uncovered for five minutes.
Cover, turn heat down to medium low, and continue to cook for 10 minutes, or until the sauce has thickened a bit.
Uncover, add the clams, lemon juice, and reserved pasta water, and give the sauce another stir. Taste and add salt if desired.
Add pasta to the sauce and toss to coat.
This Series
Also in
September 19, 2022

October 3, 2022

October 24, 2022