Blueberry Breakfast Bars with Ginger and Almonds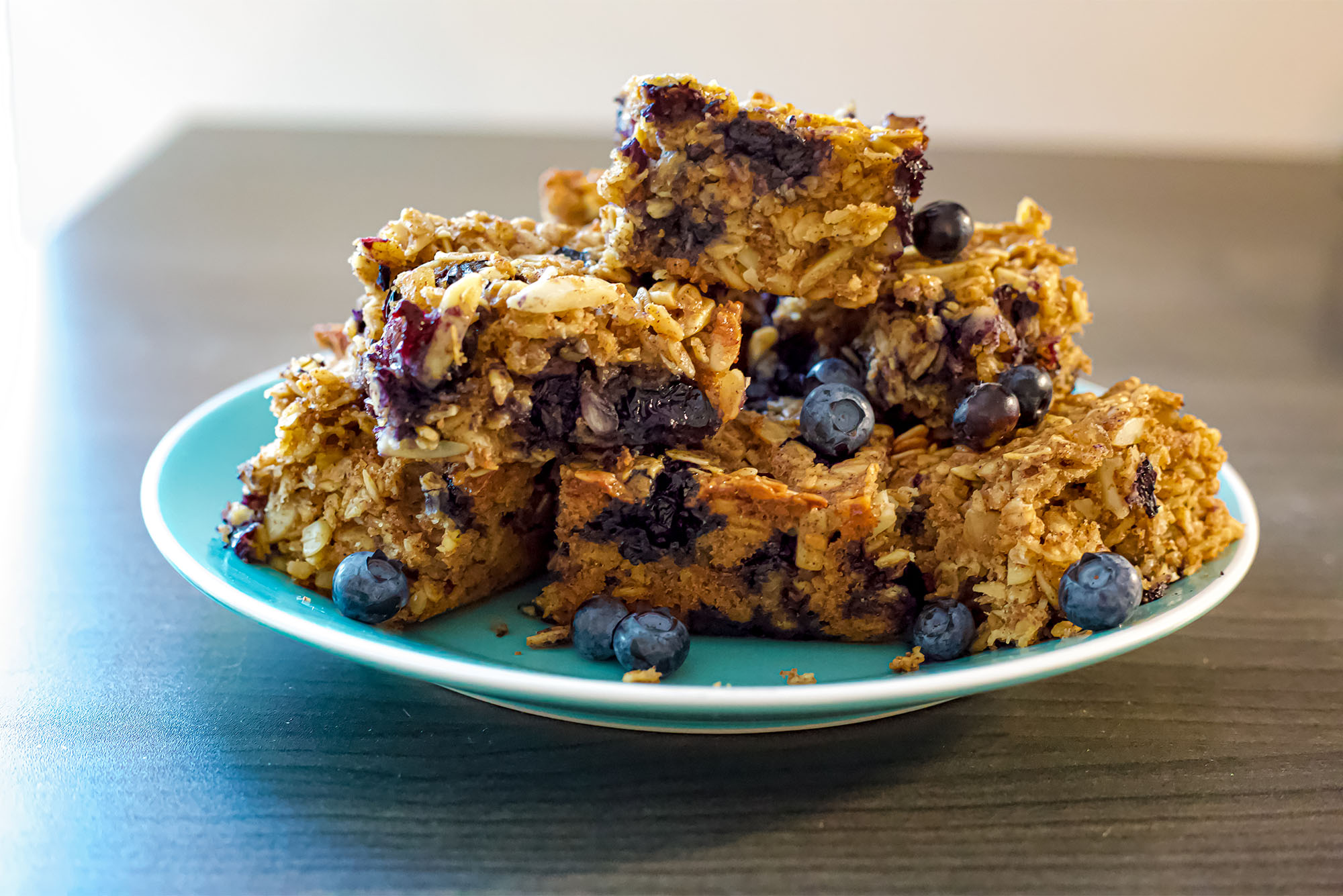 Recipe Series
Blueberry Breakfast Bars with Ginger and Almonds
A quick and satisfying breakfast option, these oat-packed bars make a great on-the-go treat
These easy-to-make breakfast bars are the perfect treat for busy mornings. Lightly sweet and packed with fiber-filled rolled oats, they're punched up with the addition of tart and sweet blueberries and spicy candied ginger. Slivered almonds provide a satisfying crunch to the soft and chewy bars. Bake up a batch over the weekend to have a nutritious, filling breakfast on hand for the week ahead.
Prep time: 10 minutes
Cook time: 35 minutes
Total Time: 45 min
Yield: 12 bars
---
Ingredients
2 cups old-fashioned oats
¼ cup flour
1 teaspoon baking powder
½ teaspoon salt
1 tablespoon cinnamon
1 teaspoon powdered ginger
¼ cup vegetable oil
1 egg
½ cup milk
½ cup maple syrup
1 teaspoon vanilla extract
1 cup blueberries
¼ cup candied ginger, chopped
½ cup slivered almonds
Directions
Preheat oven to 350 degrees.

Grease an 8×8 pan. Set aside.

In a large bowl, whisk together oats, flour, baking powder, salt, cinnamon, and powdered ginger.

In a medium bowl, whisk the oil, egg, milk, maple syrup, and vanilla.

Pour wet ingredients into dry and stir to form a thick batter. Fold in blueberries, candied ginger, and almonds.

Pour batter into prepared pan. Bake for about 35 minutes, until top and edges are crisp and brown and center is cooked through.

Cool, then slice into bars. Store at room temperature for up to three days.

Enjoy!
---
Notes
Feel free to substitute melted butter or coconut oil for the vegetable oil. If you do, make sure your egg and milk are room temperature to prevent the butter or coconut oil from seizing up too much.

You can also substitute your preferred sweetener, like honey or cane sugar, for the maple syrup.
Change it up! Try different combinations of fruit and nut mix-ins to suit your taste.
Pro tip: Make a larger batch and freeze so you have these bars at the ready. Take a bar out in the morning to defrost.
---