Opening Doors: Trevor Rozier-Byrd (LAW'10)
Founder and CEO, Stackwell Capital, Inc.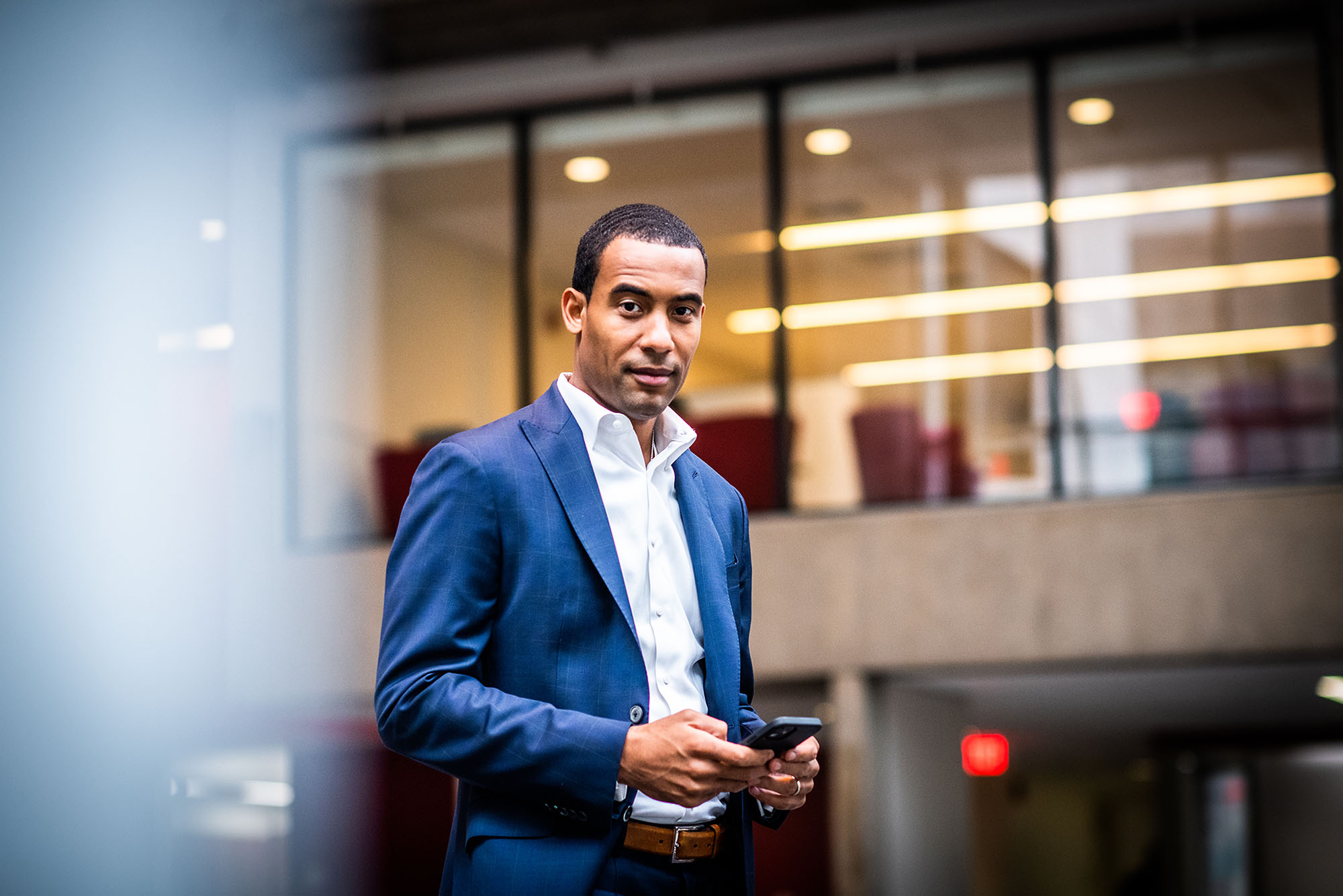 Trevor Rozier-Byrd,
Founder and CEO, Stackwell Capital, Inc.
They are determined to use their experience, influence, and positions to help make their business, organization, and world more inclusive. They are breaking barriers—and then reaching back to help those behind them overcome the same hurdles. They are BU alumni, faculty, and staff—of every race, ethnicity, age, and gender—and they are "Opening Doors" for the next generation.
---
To address the age-old problem of racial inequality, Trevor Rozier-Byrd turned to the modern business of fintech, as founder and CEO of Stackwell Capital. Its mission: tap the power of financial markets to close the wealth gap between Black and white Americans.
Stackwell launched in August 2022 after raising $3.5 million in seed funding. Rozier-Byrd (LAW'10) had worked at State Street for six years before leaving to start Stackwell. The company, recently profiled by CBS News, says it will provide clients with an app with "automated investment portfolios, recommended based on user-specific goals, to help users invest with confidence; in-app educational content that demystifies investing so users can grow their knowledge and their wealth; [and] science-based nudges to help users stay committed, stay consistent, and achieve their long-term wealth building goals and objectives."
While anyone can sign up for the app, Stackwell's primary mission is to eliminate the wealth gap by helping Black clients increase their ownership of financial assets. The median white household's net worth exceeds the median Black household's tenfold.
"We fundamentally believe, as an organization and as individuals, that the racial wealth gap is the social justice issue of our time," says Rozier-Byrd. "It directly impacts the numerous other gaps we face—legal rights, quality education, affordable housing and healthcare, social mobility, job opportunities, and so many more—that have left too many Black Americans feeling like they aren't set up for success in this country. All of those things are directly impacted by a person's access to capital, or lack thereof."
The stock market can be volatile, but Rozier-Byrd says that Stackwell's diversified strategy—the brokerage accounts for investing that clients open will mix low-cost stock funds and fixed-income, exchange-traded funds (bond funds traded on a stock exchange)—minimizes that risk. The market has averaged an annual return of 8.5 percent in the last 30 years, he told CBS.