Opening Doors: Roger Wellington (SHA'94)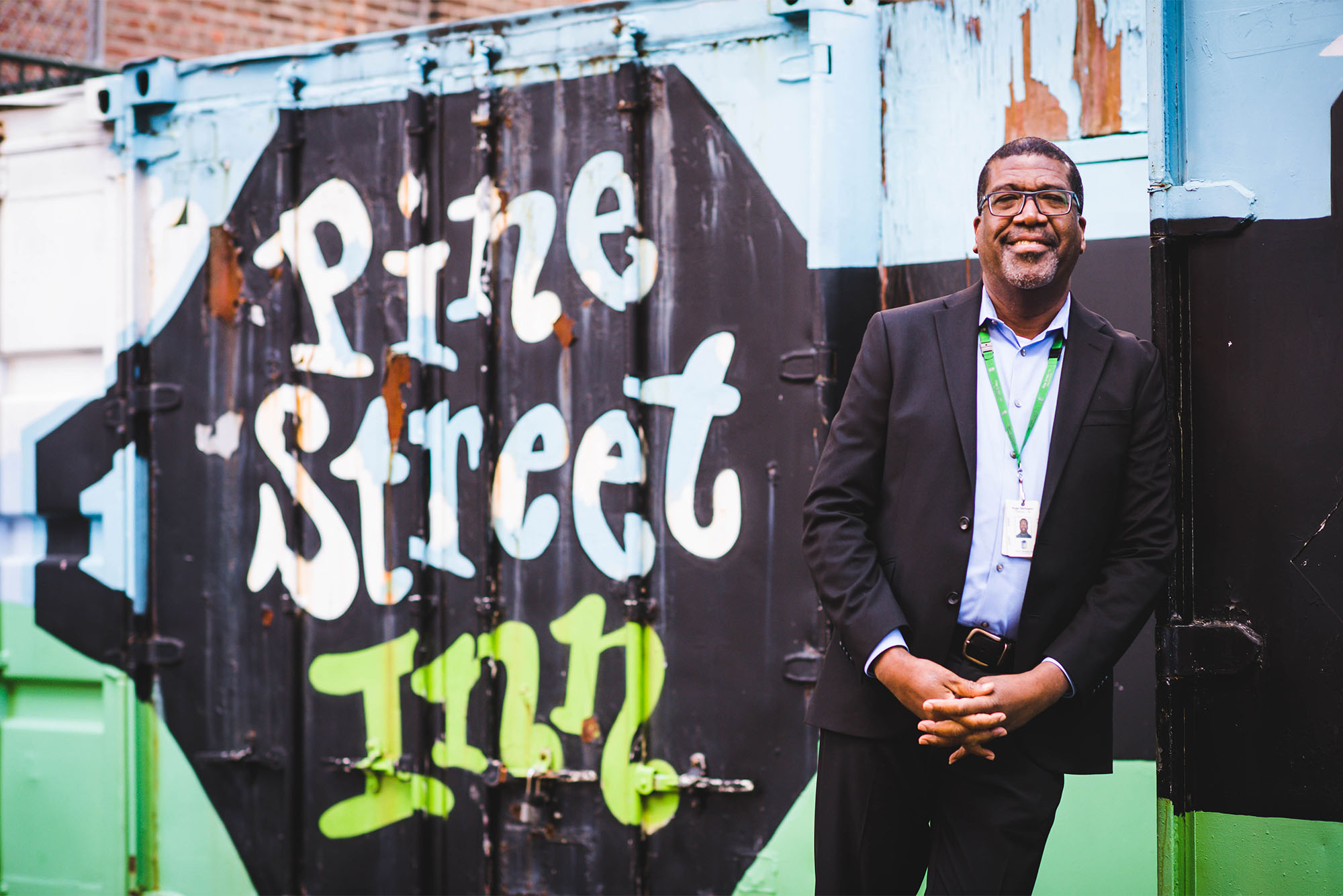 Roger Wellington,
Boston's Pine Street Inn Senior Director of Diversity, Equity, and Inclusion
They are determined to use their experience, influence, and positions to help make their business, organization, and world more inclusive. They are breaking barriers—and then reaching back to help those behind them overcome the same hurdles. They are BU alumni, faculty, and staff—of every race, ethnicity, age, and gender—and they are "Opening Doors" for the next generation.
---
Just over three decades ago, Roger Wellington was newly arrived in Boston, newly enrolled in a Boston University hospitality program, and looking for work. He saw a job ad for the Pine Street Inn and applied, thinking it was a bed-and-breakfast.
When he arrived for his first day of work and found out it was the city's largest homeless shelter, he decided to stay. Three decades later, he's still there, newly appointed as the nonprofit's senior director of diversity, equity, and inclusion.
"The idea of homelessness was very foreign to me. We didn't have it in the country where I grew up," says Wellington (SHA'94), a native of Trinidad and Tobago in the Caribbean. "If for any reason you hit some hard times, there was always a relative or someone who would take you in."
Wellington went to hotel school on the island because tourism was where the jobs were. There, he discovered a knack for food service and teaching that has taken him in an unexpected direction.
For much of his time at Pine Street he worked in its iCater Enterprises, which prepares more than 2,400 meals a day for local businesses, nonprofit organizations, and its own clients; he also oversaw its food services training program.
He started the new post in September, but much of the fall was spent helping to find his replacement. Now, he will be responsible for developing a DEI (diversity, equity, and inclusion) action plan for Pine Street and coordinating diversity training, among many other tasks.
"Before we even posted this position, Roger and I talked quite a bit about the challenges facing us as an agency, not only our internal work, but the fact that we work within many inequitable systems," says Lyndia Downie, Pine Street's president and executive director. "It was clear to me that Roger was committed to diversity and inclusion, but also, having worked with him for over 20 years, I had seen Roger do the respectful work that DEI is based on in his department with staff and our guests.
"We know we have work to do on these critical issues," she says, "and Roger is the right person to drive our efforts forward."
Bostonia:
Describe the transition from growing up in Trinidad to BU's hospitality program.
Roger Wellington: Growing up was very, very rustic. I equate my lifestyle growing up to Little House on the Prairie. I grew up in the southernmost part of Trinidad and Tobago, called Moruga. It was a lifestyle of outdoor plumbing and no electricity and having to go to a public faucet to collect water for all the use in the house. It wasn't till I was 11 and took my exams that I was sent to live with an aunt in San Fernando, Trinidad, and attended high school and the technical institute in San Fernando.

I went on to the Trinidad and Tobago hotel school. The focus was really on Caribbean tourism. I decided upon the BU hotel and food administration program largely because it worked for someone who wanted to go to school and work at the same time. It was offered through Metropolitan College then; SHA wasn't on its own yet. [The School of Hospitality Administration got its name in 1992 and became an independent school in 2004.] I often thought I would become a food and beverage analyst for a large hotel chain and travel the world.
Bostonia:
That wasn't how it ended up, though?
Roger Wellington: It was by sheer accident that I ended up at Pine Street Inn. I saw an ad in the newspaper that said they were seeking an assistant food service trainer. I had some experience teaching in Trinidad and Tobago and thought, this will be ideal! An inn in Boston! I was clueless about it being a homeless shelter. Back then the internet was very foreign to most of us. I applied by faxing in my resume, had a phone interview, then an in-person interview at an offsite HR office. It wasn't until my first Saturday morning when I showed up to work, in September of 1991, that I realized it was a homeless shelter. I remember thinking, oh boy, I am going to spend maybe a week here and that will be it.
Bostonia:
Why did you stay?
Roger Wellington: I often tell a story about this young woman I met when I was working that first weekend at Pine Street. These were all people in transitional housing programs, formerly homeless people in a sober environment, and we were offering them job training. Get you sober, give you some case management and job training, then place you in housing. I was teaching things like, you need to wash your hands now, use the gloves, those types of things. One of the trainees came to me and said, "Thank you for being here. We've been here about six months and this is the most I've ever learned." And I went home that night and thought I'd maybe see this group through the complete training program, and then I would leave. And that has turned into 30 years.
Bostonia:
To you, Pine Street is hospitality work?
Roger Wellington: It is very much like any hotel. We refer to the men and women we serve as guests and we treat them as our guests. They don't pay for services in terms of dollars, but we provide them with food, clothing, shelter, even health care, job training, job placement, and housing, so it's unique in that sense, and I think far greater than any hotel I've ever been to.
Bostonia:
As a person of color, coming from the island to Boston, did you encounter discrimination?
Roger Wellington: It was a very diverse group of students in the hospitality program. Yes, I always identified as Black, but there were a couple of other students of color—one was a woman from Jamaica—and we had a very large Asian group within that program. It was, yes, you're different, you're not in Trinidad anymore, but it wasn't as profound as I came to feel later in life. I have seen discrimination in Boston, but very subtle forms of it. I remember someone saying to me once, "You know, Roger, you are different from the others." In my head, I'm like, what do you mean? Did they mean, "You went to BU, you're well-educated, you don't involve yourself in drugs and crime?" It was a subtle microaggression. I've seen that from time to time.

But I remember very clearly being in New York City trying to get a cab, and I was with a person who is white, and I kept flagging cabs down and they wouldn't stop. And then my white friend stepped forward and put his hands out, and a cab stopped immediately. It was driven by an individual from India or that part of the world. And I asked him why I had a tough time and my friend didn't, and these were his exact words: "Black people jump out of cabs without paying." And I remember thinking, wow, this is strange. It was for me a bit of an eye-opener.
Bostonia:
Pine Street has long had a diverse clientele and staff. Why does it need a diversity initiative?
Roger Wellington: It is a very, very diverse workforce. When I took the job, I remember thinking that I wanted to get a good sense of demographics of those we are serving—white, Black, male, female, gay, veteran, whatever—and see how that aligns with the workforce, how we align with people we are serving. And they are very similar.

One of the things I remember early on when I came to Pine Street: I was well-dressed and a person said to me, "You probably want to dress down a bit so our guests feel comfortable." We pay attention to those things today. I don't see people walking around here in jackets and ties like they are working in the Financial District. I also don't see staff dressing as if they need to blend in with our population. It is a warm and welcoming place to work. I have never felt like an outsider or not fitting in at Pine Street.

I wouldn't have stayed working for the organization for 30 years if it was a place that I felt treated people unfairly or with a lack of respect. Pine Street Inn has always been a leader in that regard, but should we be doing more? Definitely!
Bostonia:
Such as?
Roger Wellington: There are employees who would tell you they're not sure we are a place that is too welcoming to guests or employees who are transgender. One of the things we pride ourselves on is, we accept all and treat all with respect and dignity, and to hear an employee who is trans say we need to do more is mind-blowing. So, we do have work to do.

We had a [DEI] consultant come in shortly after George Floyd was murdered. I think what really happened is senior leadership really did not know how to respond to employees who had questions around, why are Black and brown people being killed? And our senior leadership then was a group of white people. This consultant recognized that while Pine Street Inn was a very diverse place, that diversity seemed to end at the director level and above, and I think that is apparent to our very, very diverse workforce. The consultant said this position is something that you need to create.

I did not jump immediately at this opportunity. But it really said to me, here is an opportunity to bring about some change, to put into place some programs and initiatives that would benefit those that you're working with, and in turn, the men and women we are serving, and even our stakeholders—neighbors, funders. Pine Street is investing in this DEI initiative and here's an opportunity for me to play an active role in making sure we get that right.
This Series
Also in
February 24, 2023

November 18, 2022

October 25, 2022