My Big Idea: Anti-Bullying Software for the Classroom
Juan Ramirez (Questrom'21) on his software start-up, Brave Up!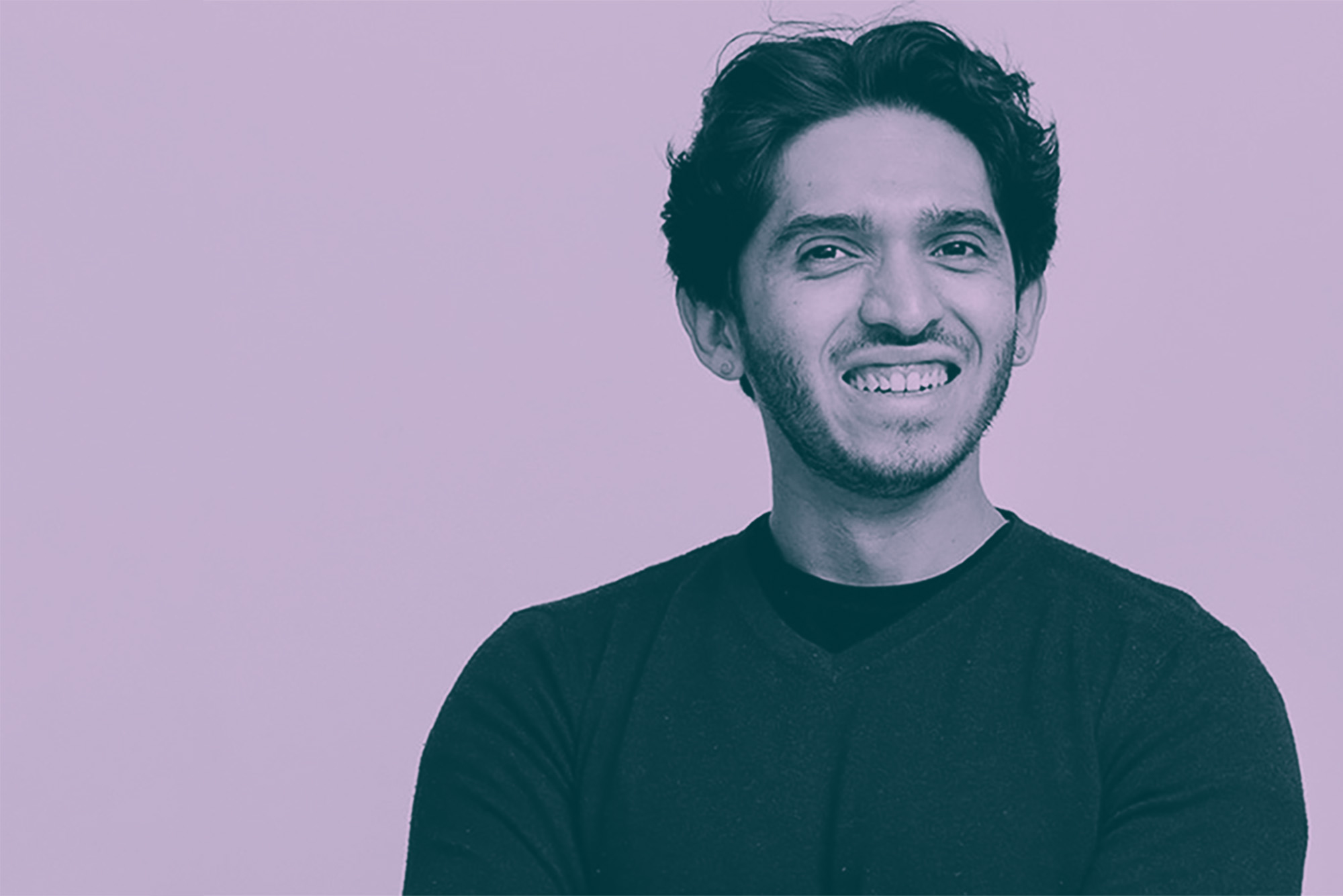 Business & Economics
Anti-Bullying Software for the Classroom
Juan Ramirez (Questrom'21) on his software start-up Brave Up
In our series My Big Idea, we bring you interviews with BU alums and other members of the University community who have launched a business, built a new product, or solved problems big and small. We ask them how they got the idea, what were their biggest stumbling blocks, and what's next for their big idea.
It's no secret that bullying is still prevalent in classrooms. In fact, one in five children report being bullied during their school years.
It's also not a secret that thanks to staff shortages and budget cuts, teachers and counselors are increasingly being asked to cover more and more students, making it easier for instances of bullying to slip through the cracks. 
That's where Brave Up comes in.
The software, which Juan Ramirez (Questrom'21) and Enrique De Lima (CAS'21) helped bring to market, is aimed at students and counselors to help predict, detect, and prevent bullying and cyberbullying inside K–12 classrooms. Brave Up launched in early 2022 and is in use in 150-plus schools across both the United States and Latin America, where much of the leadership team is from. 
Comprehensive anti-bullying software has been a long time coming in the education technology space, says Ramirez, Brave Up's head of revenue and strategy. And particularly now, with students back in classrooms after COVID lockdowns and struggling to adjust to a changed social landscape.
"With COVID, we have seen a lot of reports that students don't know how to communicate, they don't know how to socialize again," Ramirez says. "We knew we had to step on it and respond to increases in bullying—because [if] kids are struggling to communicate and express themselves, they [can] go straight to fighting."
Through all the challenges of launching a new company, knowing they're helping kids has always been motivating, he says.
"When we were doing our first pilot program in Colombia, our software pointed out that a certain girl was having problems, and no one—not the teachers, not the counseling team—had noticed that she was being excluded and mistreated," Ramirez relates. "Our software made it really clear that she was the victim of bullying. After that, the school was able to talk to her parents [and help her]. Enrique and I were like, 'This is it; this is why we do it.'
"We all went through school; we know how kids can be," he adds. "This is a tool that we all need. I love knowing that I'm helping somebody who doesn't even know me."

Ramirez spoke to Bostonia about how Brave Up works and how he succeeded in breaking into the education technology industry as a recent college grad.
Bostonia:
So what, exactly, is Brave Up?
Brave Up is a software that can detect, predict, and prevent cases of microaggressions, bullying, and cyberbullying in real time at schools. We have three main features. First is Brave Up Mode, a communication channel for students and counselors. Then we have resources, which include activities and PDF documents for every member of the school community, like counselors, teachers, classroom assistants, students, and parents. (In our experience, parents don't always know how to talk to their kids about certain topics, so we try to address things like that.) The last thing we do is data visualization. From our research we noticed that on average, one school counselor in the United States has something between 500 to 700 students. That makes it hard to know what's happening [in every classroom]. We were like, okay, how do we make it so counselors can see really quickly what's going on? So we have students take surveys [about their classroom experiences] and we present the data in an elegant way so that counselors can see exactly what's going on inside a classroom.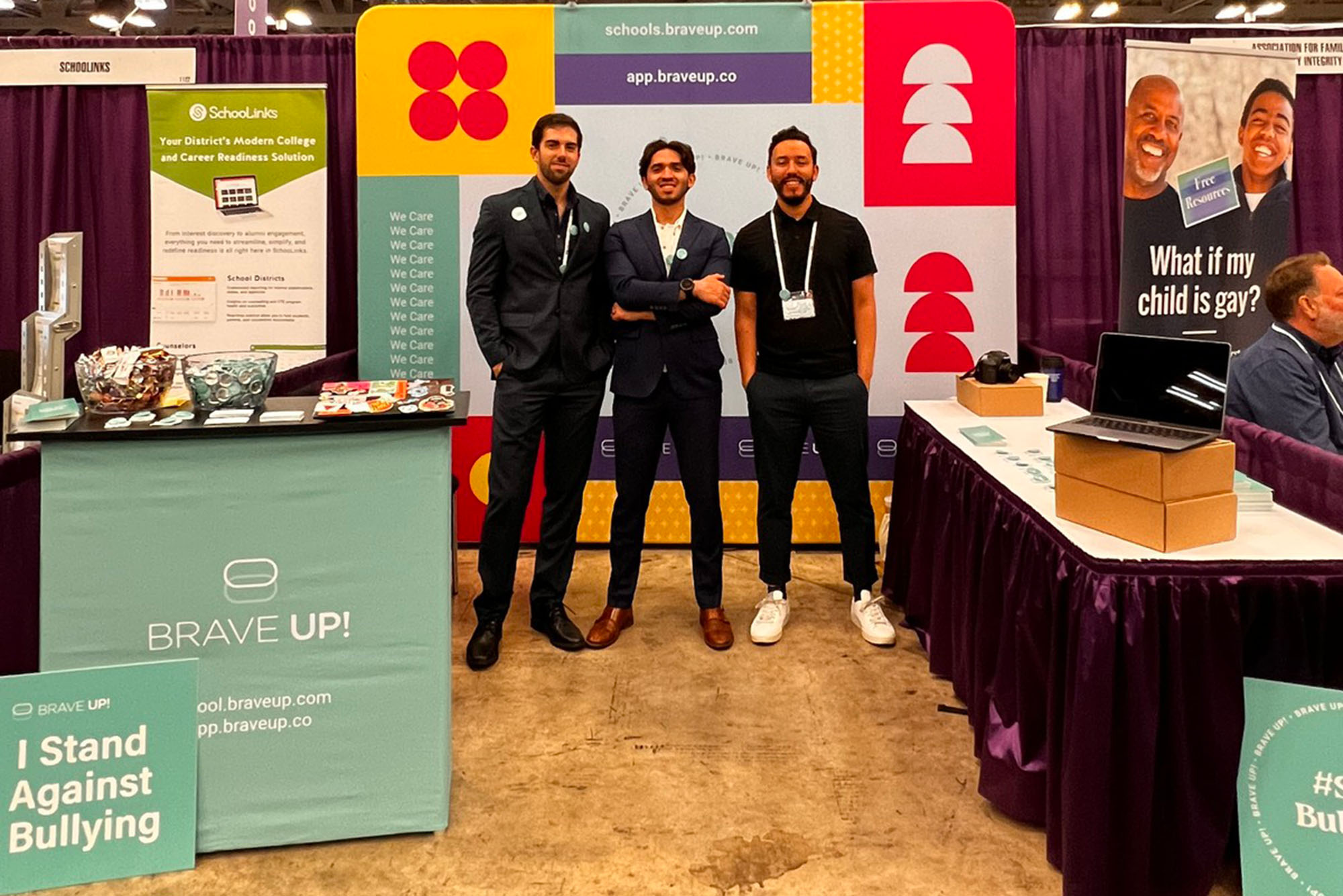 Bostonia:
Why design the software for counselors instead of for teachers?
At the beginning, Brave Up was for teachers. But we noticed that the "bully" in a classroom was often mislabeled as a bully. He's not necessarily a bully; he's a troubled kid who's having trouble somewhere else. He needs help as well. Let's say he doesn't like his teacher and the teacher doesn't like him; that bias can make it so they never build a rapport. That's why we have the Brave Up Mode; it's a communication channel that jumps from students directly to a counseling team.
Bostonia:
How does the software work to prevent bullying?
That starts with the student surveys and data visualizations. The first survey takes place at the beginning of the school semester. Based on those results, we can create things like "friendship networks," showing the interpersonal dynamics between groups of students. I can tell you who's the popular student, who's the outsider, and who's the mediator. So the friendship networks show counselors who is the "bully" and who is the "victim" in a group. Let's say that Paola is the mediator for Enrique, the outsider. The visualization will recommend seating Paola with Enrique because she's going to be the one who is going to bring him closer to the rest of the class.

The second survey happens in the fourth or fifth month to see if the implementation plans that a counselor is doing work or don't work. That shows us what we can improve and if classroom dynamics are improving. And the third one, at the end of the year, is to see and measure how successful we were. And most important, after the third survey, the tool becomes predictive for instances of bullying.
Bostonia:
What were some of the challenges you faced when launching Brave Up?
Ed tech, or education technology, is very interesting. I would say it's one the hardest industries to tap into. There are some very big companies that have been around since the 1980s, and they have all the channels to the educators and school districts in the States. In the beginning, it was very, very hard to convince adults who have been doing things the same way for 30 years that there's a different, better way to go about things.

Also, as the young guys, people have had certain skepticisms [with Enrique and me]. The two of us recently had a meeting with a school district, and they asked us, "What's your age? Why are you working with schools; weren't you in school like, one year ago?" It's been good to also leverage our cofounder and CEO, Álvaro Arriaza, who's older and is really, really experienced in working in education and ed tech.
Bostonia:
What advice would you give someone else trying to break into ed tech?
You need to have an amazing, amazing mindset and be very open-minded. Because it's like falling down, but at the same time building up your baselines. I would say that our fall was not understanding the sales cycle for schools. No one's thinking about buying new software until the summer. So any change with your product has to be ready before the summer starts. It's ed tech—your whole calendar should make sense according to the school year. When September starts, do pilots, demos, development, all the way through November. Offer your product for free, get exposure, get traction, and get numbers, because next month, you're going to need to raise capital. And for that, you need traction.

Focus your strategy to sell for the summer. And start going out and doing that. Check for conferences—for example, we went to a conference in New York for school counselors. There, we got feedback, we got marketing, we got exposure. You also want to listen to the proper feedback. Google isn't going to give you the answers about working in ed tech. Only people with experience can do that. Get good advisors; go to LinkedIn and send messages with questions to people who work in ed tech—they're going to answer you because they know how hard it is to break in.

And most important, believe in your product. Believe in what you have. Do not try to accommodate your product to every single school. Because they're going to ask for changes that you're not going to be able to deliver, and if you try to customize to every single school, you're not going to end, ever. So, listen to people with experience—and who believe in your product—and deliver on what you have.
This Series
Also in
April 11, 2023

February 14, 2023