My Big Idea: Clean Body Care Products
How Sarah Moret (Questrom'11) founded Curie, a line of nontoxic, aluminum-free personal care products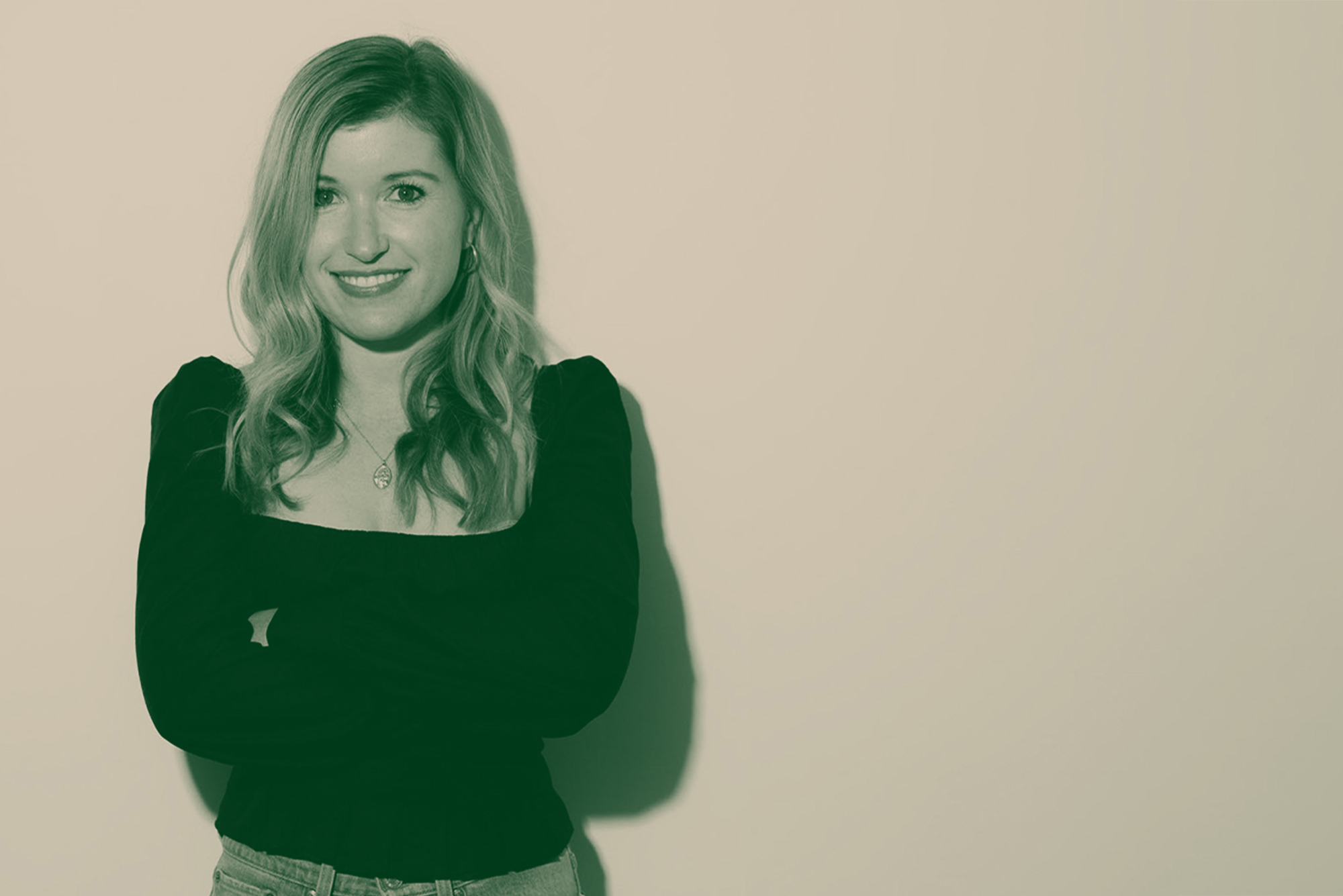 Innovation
Clean Body Care Products
How Sarah Moret (Questrom'11) founded Curie, a line of nontoxic, aluminum-free personal care products
In our series My Big Idea, we bring you interviews with BU alums and other members of the University community who have launched a business, built a new product, or solved problems big and small. We ask them how they got the idea, what were their biggest stumbling blocks, and what's next for their big idea.
It's the Hollywood ending people dream of.
In September 2021, Sarah Moret, founder and CEO of an expanding business that produces a line of clean personal care products, was taking a quiet hike in one of her favorite Los Angeles parks. Two hours later, she was standing in a TV studio, pitching her brand, called Curie, to the investors and entrepreneurs on the reality show Shark Tank.
Moret (Questrom'11) created Curie in 2018. Her first product: aluminum-free deodorant. Since then, the company has expanded to include products such as full body deodorant spray, detox masks, body oil, whipped body wash, and hand sanitizer.
The Shark Tank episode aired in March 2022. After negotiating, Moret secured a deal from two of the sharks, Mark Cuban and Barbara Corcoran, who offered $300,000 for 14 percent equity. Within 12 hours of airing, Curie received thousands of orders and completely sold out of its deodorant.
Moret, who graduated from BU with a bachelor's degree in business administration, got her CPA license and spent several years working in public accounting and venture capital. After becoming frustrated with aluminum-free products that didn't work, she began learning about clean, natural products and decided to create her own.
"I started Curie as a bit of a side hustle," Moret says. "I wasn't seeking an idea; it really just came to me. It wasn't my goal or plan to start a company."
Curie products, she says, are clean, meaning they don't have ingredients known to cause harm to your body or the environment. They contain no aluminum, parabens, or cancer-causing or animal-tested ingredients. Plus, all packaging is 100 percent recyclable.
Curie is sold online and in more than 300 stores nationwide, including Anthropologie and Nordstrom. It has also been featured in the New York Times, Shape, and Glamour.

Moret recently spoke with Bostonia about her time on Shark Tank, the challenges she faced during the COVID pandemic, and her journey from BU graduate to founder and CEO of Curie.
Bostonia:
How did Curie begin?
Moret: I've always eaten very well and paid attention to what I'm putting in my body, but I never really paid much attention to the products I was putting on my skin. I remember learning somewhere that your skin is your biggest organ, and what you put on your skin actually does get absorbed into your body. It was a light-bulb moment for me, and I started to make the switch to clean, natural products that had safe ingredients that weren't known to be cancer-causing, like a lot of drugstore products contain. I started to test out different deodorants, and none of them worked for me. I kept giving up and going back to antiperspirants, and that's when I came up with the idea. I couldn't find anything that worked, so I decided to make my own.
Bostonia:
Describe your experience on Shark Tank.
Moret: It was really exciting. It was always a dream of mine since I started the company, but it's actually a crazy story. I was a standby company, because I'm local in LA. They didn't actually give me a filming time. They were just like, "Be by your phone. We could call you at any time."

I only got two hours notice, but as a result, I really didn't have time to get nervous. I was just in fight-or-flight mode. I got to the studio and filmed, and it was kind of a blessing that I had short notice. I look back fondly on the experience. The sharks were really wonderful, and I wasn't one of those companies that got torn apart. I ended up getting a deal with Mark Cuban and Barbara Corcoran, which was incredible, and the experience catapulted the business to a new level.
Bostonia:
Have you seen the effects since March?
Moret: For sure. It's really changed the company. It's the gift that keeps on giving. Obviously, when it aired, we saw a huge increase in sales. But it has continued to have a positive effect on the company because it gives us that legitimacy. And people love Shark Tank.
Bostonia:
How did the pandemic affect your business?
Moret: The pandemic was really, really tough, because people stopped buying deodorant. Not the whole time, but parts of 2020, when COVID started, people just stopped buying deodorant because they weren't leaving their houses. It was really challenging—at the time, we had only deodorant. It was probably the most difficult and stressful time since I've been running the company, and at one point, I wasn't sure if we were even going to make it—our revenue was cut in half overnight when the shelter-in-place started.

We got really lucky from the fact that we had already started developing our hand sanitizer. We were planning on making a hand sanitizer even before the pandemic started, so we accelerated the timeline of the launch. Originally, we were going to launch it at the end of the year, but we did it in May of 2020 instead.
Bostonia:
Were there any other challenges?
Moret: There are always challenges. You definitely get a lot tougher and more immune to challenges because challenges are never-ending. There are always things that go wrong. There are always issues. It's just part of running a business. We're shipping, and that leaves a lot up to chance. Sometimes carriers lose products or lose packages. Over the last three years, I've gotten a lot better at managing them and handling them. A problem I have today would have been, maybe, catastrophic two and a half years ago. Now that we've been through so much, I know we can handle it.
Bostonia:
Did your Questrom classes influence Curie?
Moret: Definitely. There were two things that stood out: one is the "core" project, where you come up with a business idea and create a fake company. That was really helpful in teaching me operations, finance, and marketing. The other thing was [Questrom associate professor Jeffrey] Furman's strategy class, and I think about that often. The whole class was based on Harvard case studies and learning how companies have been successful.
Bostonia:
What advice would you give to someone who wants to launch their own business?
Moret: Always focus on every product being a solution to someone's problem. I see a lot of companies struggle because they are selling something that people don't actually need. That's my first thing. Second piece of advice, and something I'm happy I did, was not quitting my job immediately. I gave myself some time to test the idea a little bit before I went all-in on it. It took a lot of pressure off me and helped me focus on the customer.

Don't quit your day job too soon. Try to prove that the idea has legs before you go all-in.
This Series
Also in
November 8, 2023

April 11, 2023