My Big Idea: Compostable E-Commerce Packaging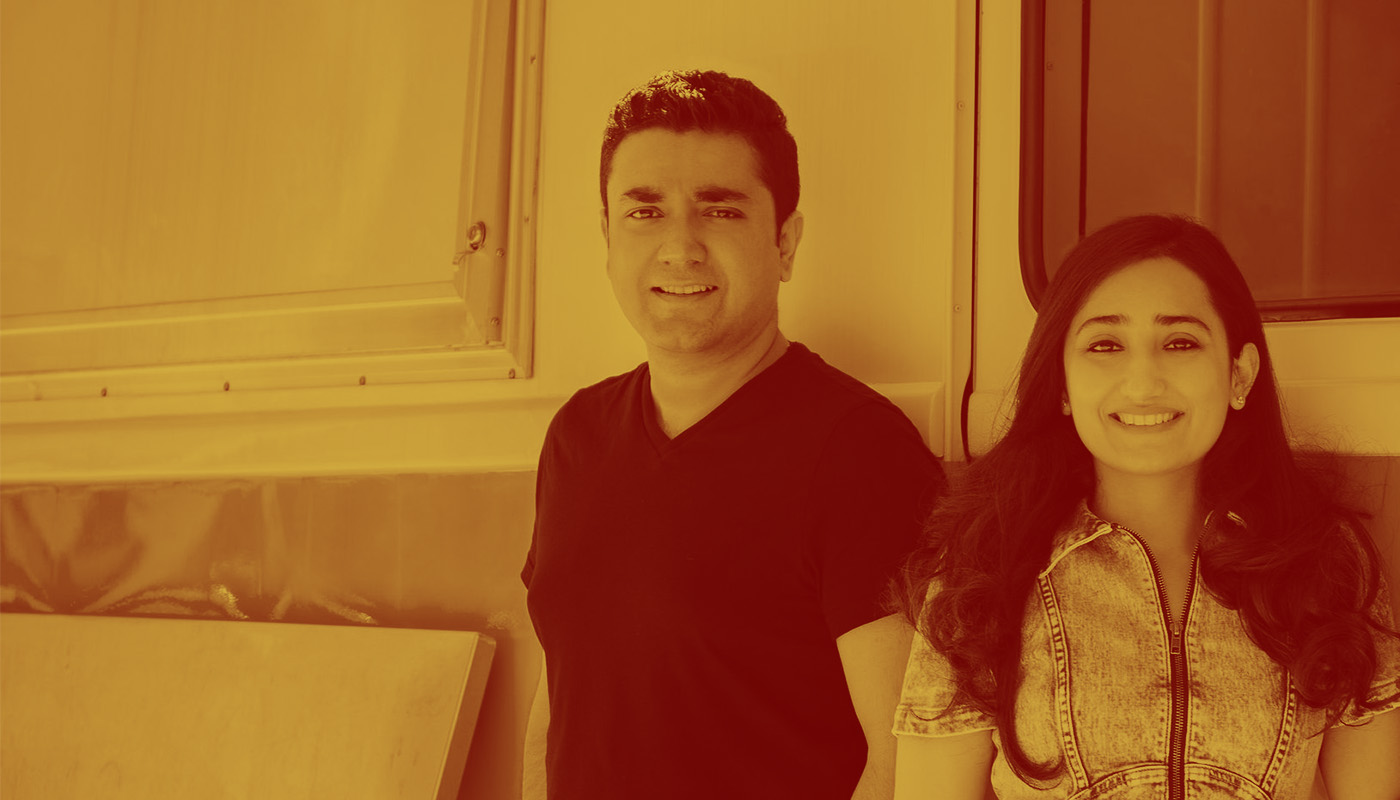 Entrepreneurship
My Big Idea: Compostable E-Commerce Packaging
Tishwish aims to make your online-shopping habit more sustainable
In our new series My Big Idea, we bring you interviews with BU alums and other members of the University community who have launched a business, built a new product, or solved problems big and small. We asked them how they got the idea, what were their biggest stumbling blocks, and what's next for their big idea.
If there's one thing people have been doing more of during the pandemic, it's online shopping. Americans alone purchased an estimated $768 billion worth of goods from e-retailers in 2021, with that number expected to exceed $1.3 trillion by 2025.
But with shoppers clicking-and-paying in record numbers comes an earth-shattering (literally) inevitability: tons of single-use plastic packaging that ends up in landfills.
That's where Tishwish comes in.
Husband-and-wife team Arsh Kakar (CAS'15) and Jannat Kakar (COM'22), struck by how much waste all that online shopping was generating, started the compostable-packaging company during the pandemic. 
"We didn't want to do recyclable packaging because that relies on virgin plastic in the first place, and the recycling process only utilizes a small percentage of material," says Arsh Kakar, who's spent the last six years working in retail packaging. Plus, since consumers don't always have the best recycling habits—"a lot of people toss everything in one bin, which is disastrous!" he says—they decided compostable was the way to go.
Not only are Tishwish's products compostable, they're customizable. Thanks to vegetable-based inks and other sustainable technologies, Tishwish can print anything a customer wants on its product line, which includes its signature CORNpostable™ mailers as well as goodies like tissue paper and stickers.
Now, a year-and-a-half after launch, Tishwish has customers in 39 countries, from the United States and Canada to the Maldives. Its customer base includes businesses large and small: your next Etsy order is just as likely to come in one of Tishwish's compostable mailers as your new Beats headphones are. And for every order Tishwish receives, the company plants a tree seed as part of its reforestation project.
Recently, Arsh Kakar spoke with Bostonia about turning corn into mailers and how he got one of his best business ideas from a pizza shop.
Bostonia:
What exactly is Tishwish and who is it for?
Arsh Kakar: Tishwish is a sustainable-packaging company that primarily focuses on small businesses and new e-commerce businesses. When we started Tishwish in June of 2020, e-commerce was growing [because of the pandemic], but businesses were going through a rough patch, too. We wanted to make sustainable packaging more accessible. I have a background in packaging and my wife has a background in design, so we knew that if a new business wanted custom sustainable packaging—not just sustainable packaging—they'd have to place an order for a minimum of 5,000-to-10,000 mailers, for example. That costs a lot, and new businesses don't necessarily have that kind of cash flow. The idea was to get custom compostable packaging to businesses at smaller minimum [orders]. We started with 100. Later this year, it's going to go down to 50. Eventually, we hope to get down to a single completely customized unit as an order.

For products, we offer regular mailers and bubble mailers in both custom and stock options. In addition to those, we have stickers in a variety of shapes and sizes. There's also tissue paper, organic cotton drawstring bags, paper cards, and a grosgrain ribbon made from GRS-certified recycled polyester that we can print on with high-density ink to customize. All our paper products are FSC-certified, and for every order we get, we plant a tree seed through our Timber Re-Leaf Project.

A lot of the people who buy from us are sellers on marketplaces like Etsy. They're what are known as "solopreneurs," or individuals trying their hand at DIY-entrepreneurship. As they grow, they find us a reliable partner because we ship pretty much everywhere. We've also been fortunate enough to attract customers like Beats by Dre, Netflix, and Barry's Bootcamp, so we're able to handle all levels of businesses. But the lion's share of our business comes from small businesses, and that's who our main focus was from the get-go.
Bostonia:
How does the tech work?
Arsh Kakar: Our CORNpostable™ mailers are made from [a film-like material] that's itself made from a corn-based biopolymer. But this isn't farmers market corn; what happens is, distributors collect unsold corn or corn that didn't make it to market and process it down. They add a chemical additive that increases the elasticity of the starchy corn, and from there, we're able to produce a film that we convert into a mailer and [do things like] add fun colors to it. If the science works out, we're hoping to start making bags from cassava and sugarcane, too.

The corn-to-film technology already existed—think about compostable produce bags at the grocery store—but it's our team that actually figured out how to convert it into a mailer to use for shipping purposes. And when you touch them, our compostable mailers feel significantly different from traditional plastic mailers; there's more of a silky feel to them.
Bostonia:
How did you build out the business?
Arsh Kakar: It was just the two of us: I have a manufacturing ops background and Jannat has a digital marketing and design background. She put our shop together—a website that's hosted on Shopify—in four to five days and we put it up. We hadn't made a single product then; we just had digital mock-ups of what we wanted everything to look like, which at the time was just mailers. It's not like we purchased inventory and blocked out our savings ahead of time. But I was confident that we would be able to execute it.

The first day, we got no orders, and that was okay. The second day, we had one, and then two. Somewhere around day 10 is when we felt we had enough demand to start production. Waiting definitely helped the business gain momentum, and eventually we started to think about what else would complement an e-commerce unboxing experience and added things like tissues and stickers.

One of the other interesting things that happened in the first six months is that we sold a lot of sample kits, which was really crucial for us. That's something that I believe in strongly: when some people try something new, samples are important. It's very easy for businesses to choose traditional plastic packaging, because it's more economical. But with our sample kits, you get to feel the products and see what they're like. And, we include a $10 coupon in our kits—they're priced at $9.99—so if you decide to place an order, it wipes out the cost of the kit.

I got the idea from a pizza shop. Jannat and I went to grab a pizza one time, and they had breadstick samples out. Had I not had that sample, I never would have ordered the breadsticks—I would have just had my pizza and gone on my way.
Bostonia:
Do you have any more advice for would-be entrepreneurs, pizza-related or not?
Arsh Kakar: I don't think I'm wise enough to give out advice. But from this short time that we've been involved in our little entrepreneurial journey, I would say two things: first, start with something that you know about. But more important, prioritize something that you care about. I feel like it's easy to lose interest in something if you don't care—because if you care about it, it'll keep bothering you, right? That's what happened with us and Tishwish: the accumulation of waste has been happening our entire lives, and it's always been annoying. It's just that this was the moment we really took notice, and were like, okay, something's gotta be done about this.

And then something that's been said over and over again that I completely agree with: don't keep thinking about it, do it. An idea is meaningless if you don't execute it.
This Series
Also in
April 11, 2023

February 14, 2023