My Big Idea: Modest Fashion Gets a Refresh
Ameera Hammouda (Questrom'18) has launched a clothing brand that redefines modesty as vibrant and chic
Fashion
Modest Fashion Gets a Refresh
Ameera Hammouda (Questrom'18) has launched a clothing brand that redefines modesty as vibrant and chic
In our series My Big Idea, we bring you interviews with BU alums and other members of the University community who have launched a business, built a new product, or solved problems big and small. We ask them how they got the idea, what were their biggest stumbling blocks, and what's next for their big idea.
If you think modest clothing has to be drab and forgettable, you haven't met Ameera Hammouda. The 26-year-old's designs—a fuchsia silk chiffon cape that cascades to the floor, a polka-dot satin dress trimmed in black ostrich feathers—are as dramatic as any runway ensemble.
For Hammouda (Questrom'18), an Egyptian-American Muslim woman, modest clothing doesn't have to be shapeless and dull—she prefers to wear long sleeves and loose fits bursting with color and detail. Her clothing brand reflects that philosophy: Ameera is devoted to redefining modesty as chic, lively, and youthful.
Its offerings—which include dresses, skirts, and a cape—satisfy the sartorial needs of many Muslim women who, like her, honor their faith by covering exposed skin. But modest fashion lines like Ameera are appealing to a growing number of women in general. Last year, as established brands and start-ups alike began offering fashionable-yet-modest duds, the modest fashion industry was valued at $277 billion and is expected to reach $311 billion in the next two years, according to the 2020/21 State of the Global Islamic Economy Report.
With its candy-colored hues and luxury fabrics, Ameera takes a bold stance. Hammouda, who's had a lifelong interest in fashion design and did a stint in BU's Fashion and Retail Association, was 25 when she founded her clothing brand in 2021, with the help of crowdfunding and her own savings. Now, Ameera has outgrown its humble beginnings—in the past year and a half, the brand has attracted an international customer base and earned a stint at New York Fashion Week in September 2022. Some of her most eye-catching designs—like the Noha, a grape-colored shift dress with waterfall sleeves—have become bestsellers.
Hammouda recently spoke to Bostonia about the long road that led to Ameera's launch, what's next, and why she thinks modest fashion is (finally) having a moment.
Bostonia:
How did your sense of fashion develop?
Hammouda: I've definitely had a strong vision since childhood and have always been interested in fashion. I used to see high-end designer pieces in catalogs—that I would not be buying from as a nine-year-old—but I would rework them into my own pieces by cutting or BeDazzler-ing them. As I got older, I developed a style around clean lines, good colors, and high-quality fabrics, and that's definitely present throughout my line.
Bostonia:
Who is the Ameera girl?
Hammouda: Our girl is busy. She wants something easy; she doesn't want to have to layer items or wear something that's dry clean only. She just wants something that she could throw on. But that being said, she wants something that's still unique and timeless, because part of that ease is not necessarily needing to refresh your wardrobe every single season. She values things that are handmade, made in America, and she values modesty.
Bostonia:
What makes a modest garment exciting and fresh?
Hammouda: I think the impetus behind Ameera is that modest fashion was always geared toward older women. It's kind of drab. Boring shapes, boring colors, and bad fabrics went into the modesty bucket—and everything that was nice was not modest. I would question certain pieces of clothing, like, why can't this be made with a different neckline? It would still be just as stylish. I thought that we could bring those two things together: you can make nice, modest clothing. A maxi dress can be very stylish. It's just about the fabric you pick and the way it's cut and how it fits.
Bostonia:
What's your design process?
Hammouda: Designing modest fashion almost makes things easier, because you're always going to have certain restrictions, like how the final garment will look on the body. It's not going to cling. But then you have room to play with everything else: the fabrics, the colors, the shapes, the sleeves.

I start with the design. Either I get inspired randomly and I do a quick sketch, or I might see an old film and think that I'd love to see [a costume] in a modest silhouette. Design, silhouette, and fabric are the three most important parts of the final piece. Luckily, I found some amazing manufacturers who I trust.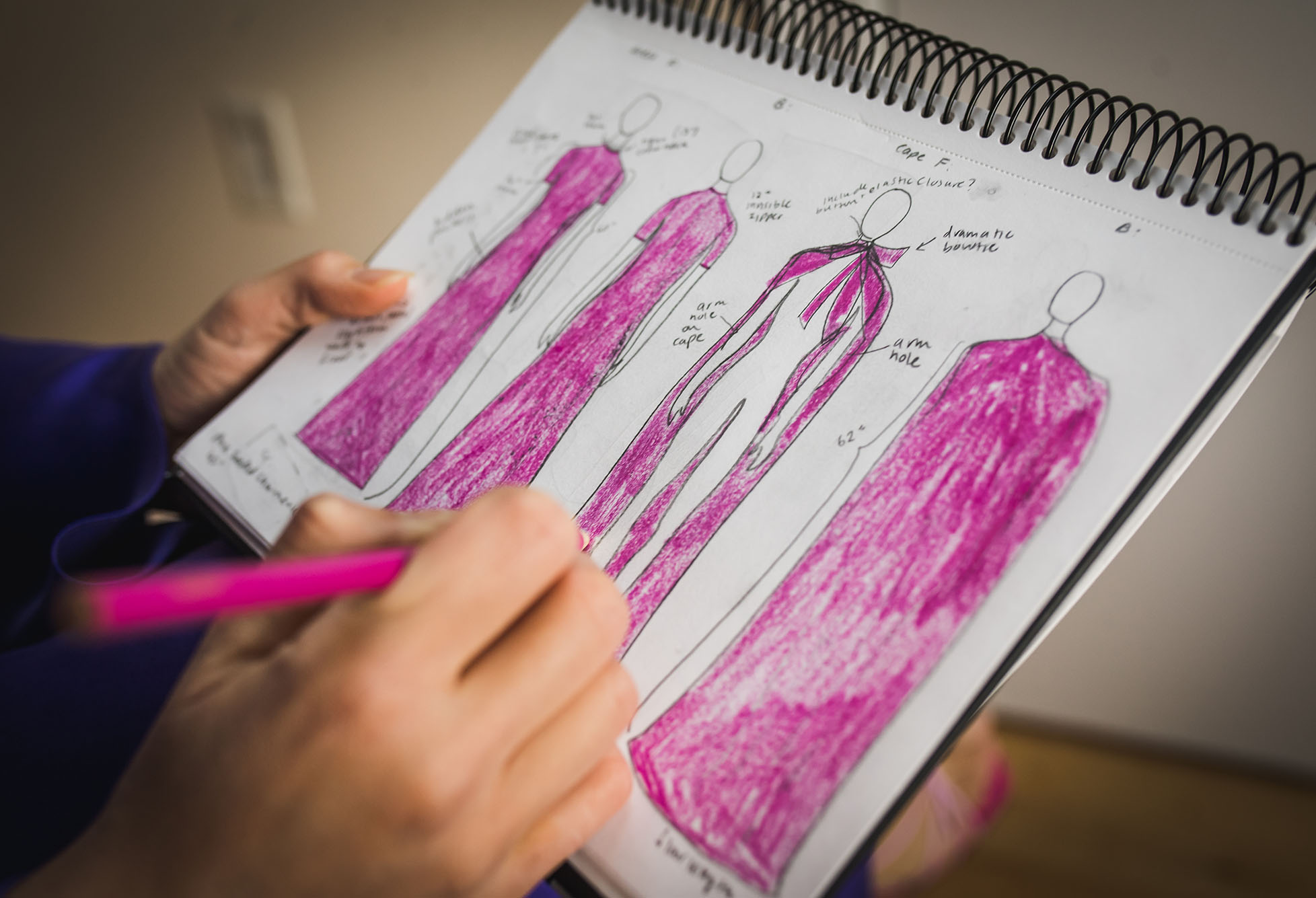 Bostonia:
Where does the brand's focus on sustainability come from?
The brand is heavily influenced by my faith, and I think caring for the earth and sustainability are huge pillars of Islam. It's definitely not one of the most highlighted ones, either in Islam or in mainstream media, but there's actually a saying from the Prophet that if the last thing you can do in your life is plant a tree, you should do it. These elements are all connected: modesty, sustainability, and philanthropy, and that's why we plant a tree for every purchase. I make sure that our garments and the process itself are as sustainable as possible by choosing sustainable fabrics and designing timeless pieces that won't be thrown away in a month. I make everything in New York, so I know I'm not going to have to fly overseas every time I need to make something.
Bostonia:
What's coming up next? Any special collections?
Ramadan is super special to me and it's obviously a big deal for Muslims all over the world, and this collection is definitely something I've dreamed of for a long time. I'm working with this very talented Muslim artist, and we're doing a little Ramadan toile de Jouy collection. The print itself is inspired by traditions of Ramadan, with dates and prayer beads incorporated in the print. When you go to the mosque, there's a tradition that you wear new clothes, or whatever makes you feel good and confident. Our main consumers are Muslim women, so I felt like it would be nice if these clothes could become heirlooms that these women can pull out every Ramadan and maybe one day pass down to their kids or their grandkids.
Bostonia:
Do you have any advice for budding fashion designers?
A lot of people have persistence, but when they're told "no" from someone with a lot of authority they might think, okay, that's it. But there's always a way of negotiating. I tried all four years of college to get a fashion internship, but got rejected. Now that I have a business, I have even more persistence. Don't give up and just don't take no for an answer. When you're told "no," think, is there another way to do this? Did I really give it my all? Did I ask every single person? Sometimes, if you look at things with a birds-eye view, you'll see there's another route to take.
Bostonia:
What has been the most rewarding part of launching Ameera?
I recently did a pop-up at New York Fashion Week, and we had this lovely young lady stop by who was very passionate about the brand—she used the word "obsessed"—and said that we're changing modest fashion, which I found so humbling. We're still in our growing-pains phase, where we're looking for awareness, so the fact that someone can, in one year, feel that connected to us was super rewarding. The fact that someone could feel that connected to the brand really made me feel like it's all been worth it.
This Series
Also in
December 13, 2022

September 20, 2022