Get Your HOOKS! into This Game. Beer Optional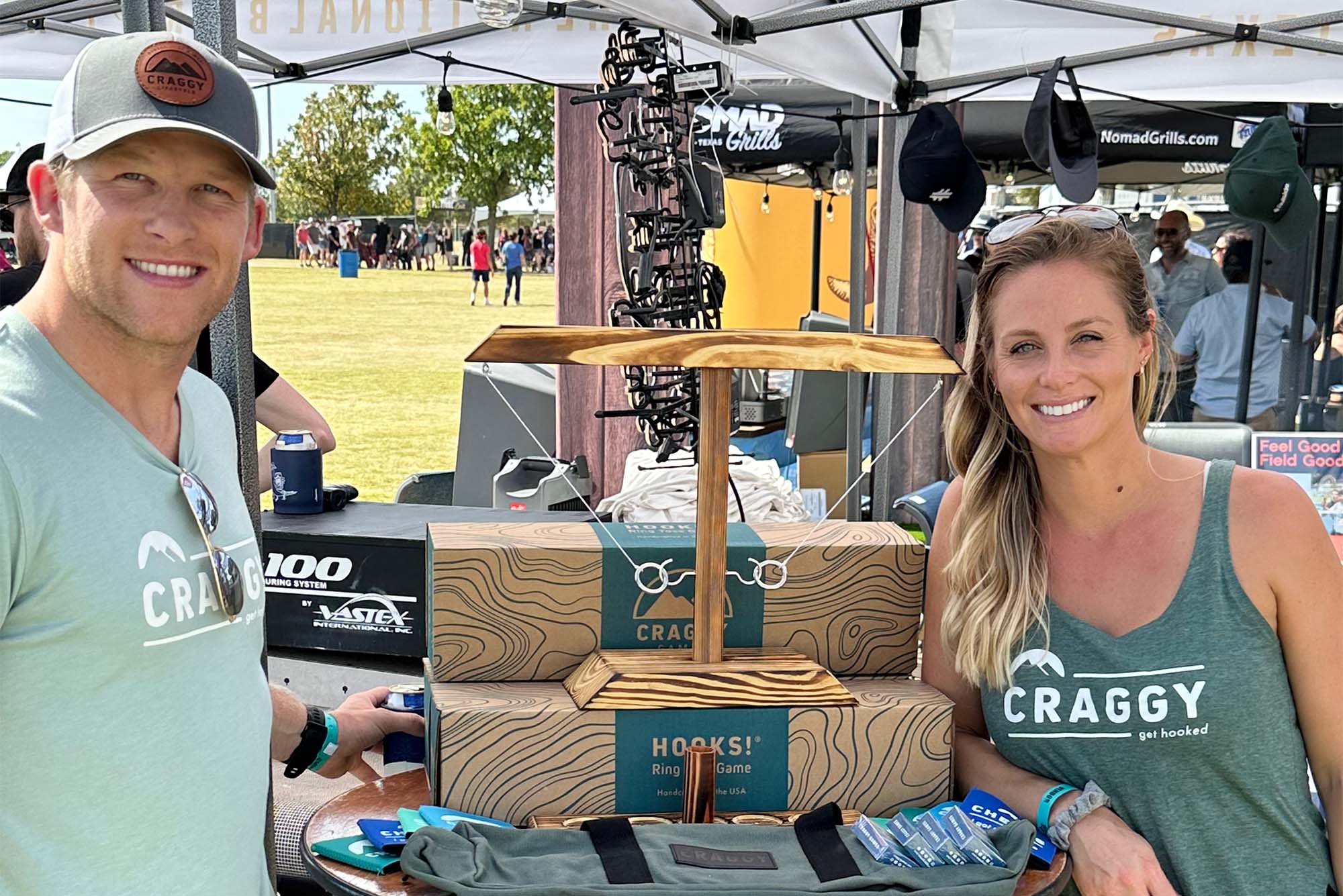 Entrepreneurship
Get Your HOOKS! into This Game. Beer Optional
BU alum scores big sales for his handcrafted game company
He started selling his handcrafted bar game on Etsy less than two years ago. Then it went viral, thanks to TikTok and ESPN. Kyle Czarnecki (CGS'11, Questrom'13) and the friends and family who helped him were caught off-guard when the demand for their handcrafted HOOKS! game blew up last year. It proved such a success that he started Craggy Games, the company that makes the game, to answer the demand.
What is HOOKS! exactly? Picture a cross between the old pub game ring toss, modern beer pong, and one of those little 1970s click-clack desk toys. There's a wooden stand with two hooks and two rings dangling on strings. Get your ring over your hook, and move the shot cup (provided) or other beverage container one space toward your opponent along the "shot ladder" on the base of the game.
If your opponent gets the ring over the hook, it moves back. Back and forth, back and forth, until the glass moves all the way to one end of the game board and someone can celebrate. For a lot of people, that also means the loser drinks, although everyone can create their own scoring system.
It's not complicated, but a lot of people seem to enjoy playing it at game nights, tailgates, and parties.
"We posted a video on TikTok in February 2021, and overnight, it was almost a half a million dollars in sales just from this one video," Czarnecki says, sounding a little dazed nearly two years later. "At the time I was just building them in my garage in Virginia Beach."
He had some work to do—and fast.
But let's start at the beginning. After graduating from BU, Czarnecki was working in telecom sales, but not on anything he was passionate about, nothing that provided the satisfaction he had felt as a varsity wrestler.
"I was working hard and being successful just by nature, but I didn't have something I was waking up for and excited about," he says. "Being in sports my whole life, that's really what I was searching for."
He and friends like Diego Garcia (CAS'13) fed their desire for competition and camaraderie with a variety of games, and he soon realized he had landed on an idea for a business he could be passionate about. Among the games they liked was an old English pub stalwart called Ring Toss, which, with a little adjustment—and perhaps some beer—could be turned into an outlet for their competitive urge.
"So we actually launched HOOKS! without the shot ladder on Etsy," he says. "Once we added that on there, that's when the sales came."
In the garage of the house he shares with his wife, Tabi Czarnecki (CFA'13), Craggy Games creative director, Czarnecki and his friend Kevin Alvarez created a nice-looking prototype, using yellow pine and wood-burning tools for a distinctive look, and posted HOOKS! on Etsy late in 2020. Pretty soon he had 200 orders for the $99 game, which now includes a canvas carrying case.
"I flew in my friends Kevin and Chris to help me build them," he says. "They stayed for the week, and we did 18-hour shifts in my one-car garage, in between going to Home Depot [for materials].
"It had to be exactly like what we had up as the picture. So shame on me, we were hand-staining it, we were hand-burning it so you can get that char. I wasn't gonna, you know, make anything other than what the picture is. I didn't want to just throw a bunch of junk out there and take the money and run. I wanted this to be the future. So we had really stringent goals on how it had to look, and it couldn't wobble.
"So we did that for about a week, and then we posted a video on TikTok, and it got like, 40 million views, so we put our hands up," he says. "All right, that's it, we can't keep building these—we're out of stock, Home Depot's out of stock, we can't get any more equipment or materials."
Deep breath. Time to pause sales and build a company. Alvarez was busy with grad school and a newborn during all this growth and decided to step back to focus on his family and career in financial operations once the company was up and running. Garcia has stepped in to help with media outreach.
"We did it as fast as we possibly could, finding suppliers and hiring friends and family to turn their garages into more fulfillment centers," Czarnecki says. "And for like three or four months we had back orders. We were trying to push customers away. That's not what they teach you [at Questrom], but we were just like, if we take on all this business, it's gonna leave a very sour taste in everyone's mouth and that's gonna kill the brand long-term. So we really slowed it down, we didn't advertise."
The games are not cookie-cutter products, he says. Thanks to the wood and the vagaries of the wood-burning process, "every game is going to be different."
And where does the Craggy Games name come from? "My wife and I had gone to New Zealand, and we went into Craggy Range, which was a beautiful winery, and it was just like an awesome experience, so that word stuck with me," he says. "It means like a rugged, jagged cliff. And then, if you look it up, a different form of it is ruggedly handsome, so it kind of fits with the game."
It took months to clear their back orders. Czarnecki eventually hired a small Texas company—"a local mom-and-pop shop"—to make the game while keeping the same hand-crafted quality. And meanwhile, he found demand pumped by a few celebrity mentions on social media and segments on cable, including ESPN. They helped arrange some of these, others were totally serendipitous.
"Elon Musk reshared some of our video posts, which was pretty crazy," he says. And orders followed? "Oh, yeah, 100 percent."
Of the cable segments, he says, "the best one is ESPN's SportsCenter. We've had three features on SportsCenter now. It's funny because it's a drinking game. I played sports! My joke is always, 'You never thought that I'd be on SportsCenter for a drinking game.'"
He also made a deal to create a special Lone Star Beer–branded edition of HOOKS! for a yearlong promotion, including the game turning up at Lone Star events.
"We've probably sold to 17,000 customers in a little over a year, and it's in 35-plus countries right now," Czarnecki says. "We've been steadily working with that partnership, and continually building that e-commerce platform, and bringing on other exciting new partnerships with some really big brands, which is really fun."
Next up for Craggy Games: a more travel-friendly version of the set and getting the game into retail stores. New to online commerce from the business side, Czarnecki has also learned some hard lessons fast.
"We didn't know about scammers, we didn't know about intellectual property and things like that—so, good times!" he says with a rueful chuckle. "Has it been cloned yet? Oh, my gosh. If you go on Amazon right now, you'll see like 100 different variations, either our exact photos or something that looks very, very similar. But the problem is, the product that they're shipping is nothing like what we have. So we face a constant battle."