Introducing the Class of 2026: Natalia Sawicka
CAS student dreams of being an ocean conservationist
STUDENT PROFILE
Introducing the Class of 2026: Natalia Sawicka
CAS student dreams of being an ocean conservationist
A quick snapshot of the Class of 2026, the highest achieving and most diverse class in BU history: of the 3,620 entering freshmen, 19.4 percent are first-generation students and 21.2 percent are from underrepresented groups. They hail from 47 states (with Mississippi, West Virginia, and North Dakota the exceptions) and 65 countries and regions (23 percent are international students). The class is 59 percent female, 41 percent male, and has an average GPA of 3.9 percent.

But those are just numbers. To give you a better sense of just how accomplished the Class of 2026 is, this week we introduce four students who share their inspiring stories.
The vast, eerie sounds of humpback whales are often compared to music, an analogy that speaks to artist Natalia Sawicka.
A singer who hopes to join a University a cappella group in the coming weeks and a talented illustrator, Sawicka (CAS'26) is also a budding marine biologist who is passionate about saving the gentle giants, an endangered species whose numbers are dwindling because of climate change, fishing gear entanglement, and vessel strikes.
Sawicka attended nearby Newton North High School, and as a graduating senior, had the opportunity to design a mural on one of the school's walls. Inspired by a feature in last year's special National Geographic Earth Day issue, which had a graphic translating a whale's clicks, whistles, and melodies into musical notes, she etched her own humpback whale encircled by sounds.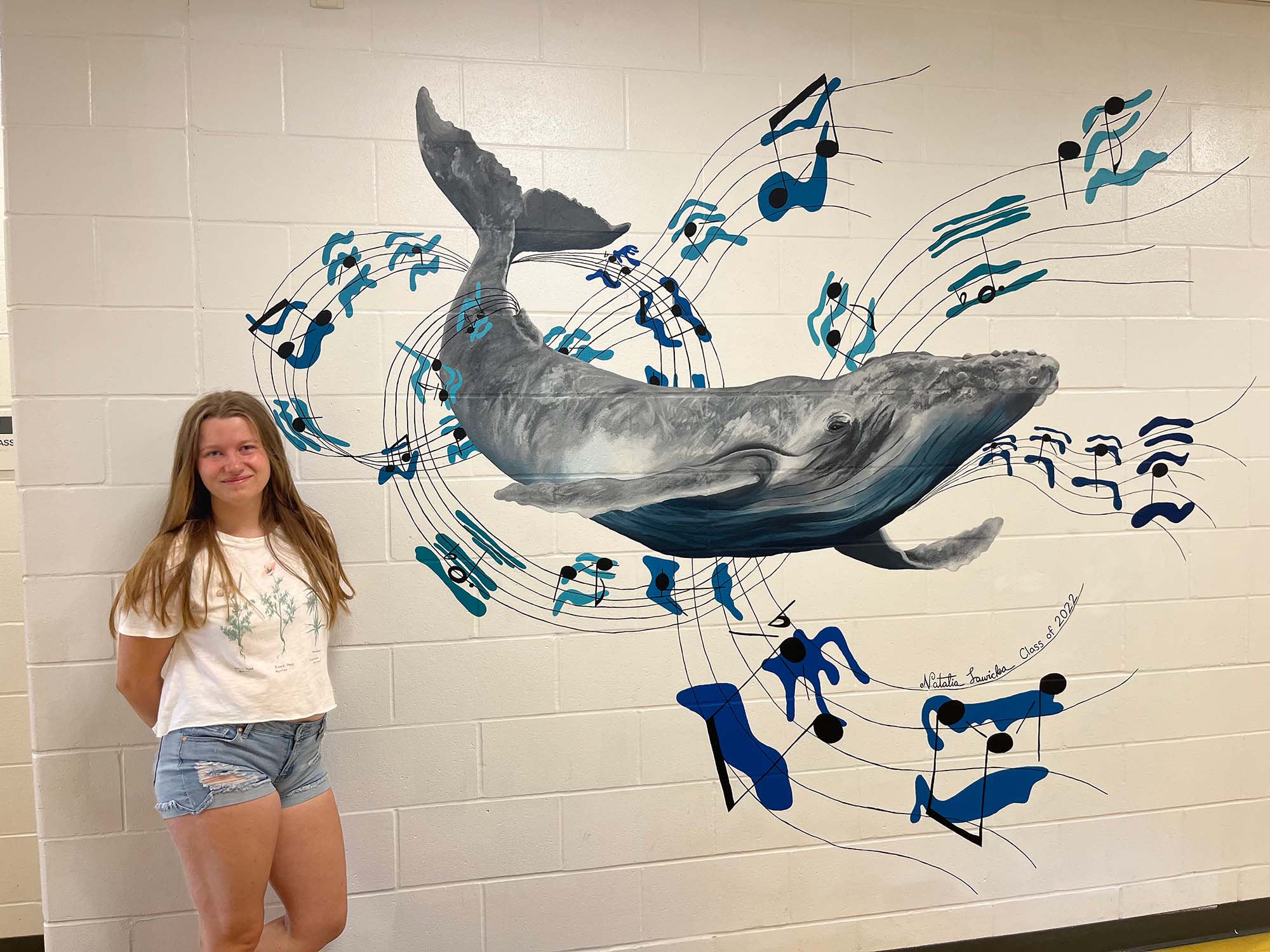 "One thing my mom said was that often you see whales entangled in fishing lines and instead, in my mural you see the whale surrounded by song," Sawicka says. "We should protect them and allow them to exist in their natural habitat in the way that was intended, instead of endangering them and causing them pain. That ties everything together for me."
Sawicka, a first-generation Polish-American, grew up vacationing on Cape Cod, where she spent a lot of time around beaches and boats. She loved going on whale watches with her family, and when she was 14, she had the opportunity to take a trip with SEA (Sea Education Association), a two-week expedition on the 134-foot-long tall ship SSV Corwith Cramer, where she worked on oceanographic research and learned about nautical science with other high schoolers, accompanied by researchers and crew members. Students were assigned various tasks, including helping deploy equipment and gathering and analyzing data.
While she had previously seen whales from the beach and on whale watches, Sawicka says seeing the animals up close from the tall ship gave her a deeper appreciation for them. The vessel sailed from Boston Harbor to Georges Bank and Schoodic Bay. "It was honestly nothing short of life-changing," Sawicka says. The whales swam near the boat, diving and swimming as the sun set.
"It was really cool to be there in their natural environment in a less obtrusive way than a whale watch, which has all these people and a really loud engine," she says. "We weren't seeking them out, we were just kind of there."
Inspired by that trip, Sawicka started illustrating sets of note cards, bookmarks, and stickers with her watercolor paintings and selling them to benefit nonprofits, like the Right Whale Conservation Program. She's raised close to $3,000 thus far. She also participated in the local public art initiative Newton Out Doors, where artists illustrated one of 25 recycled doors, which were then displayed around town. Her door depicted a whale and other sea creatures.
Sawicka says that she sees fusing art and science as a form of public communication, which "is a lot more accessible to people than, say, a dense research paper. Art is this thing that connects all of us. You don't need to speak a specific language or know certain terminology in order to understand it, and it creates this deep emotional connection."
Sawicka believes protecting the environment is one of the defining issues for her generation. "I think ocean conservation is a really important part of that, and a lot of people don't think about it too much," she says, but the ocean regulates our climate, produces about 50 to 80 percent of the oxygen we breathe, and supports local economies for those living on the coast. And yet, we've only explored five percent of it, "which is less than we've explored Mars," she says.
---

I think that protecting the environment is one of the defining issues of my generation's time.

---
"There are just so many different ecosystems that we are only just beginning to uncover, and sadly, we're ripping them apart and destroying them before we even understand how important they are," she says. "I think that if we don't take time to study it now and protect it while we still can, the [ocean] will collapse and we won't really be able to do anything about it."
Sawicka intends to major in marine science at BU, and is especially looking forward to the Boston University Marine Program (BUMP) Marine Semester. She says she would like to minor in art if possible, and study abroad in Italy. After graduation, she hopes to be a marine biologist, doing field research studying whales, specifically their behavior and communication.
"I think whales are just these incredible, majestic creatures that are really intelligent, have a deep emotional capacity, a sophisticated means of communication, and I think it'd be so cool to dive into their world," she says.