Introducing the Class of 2026: David Tamen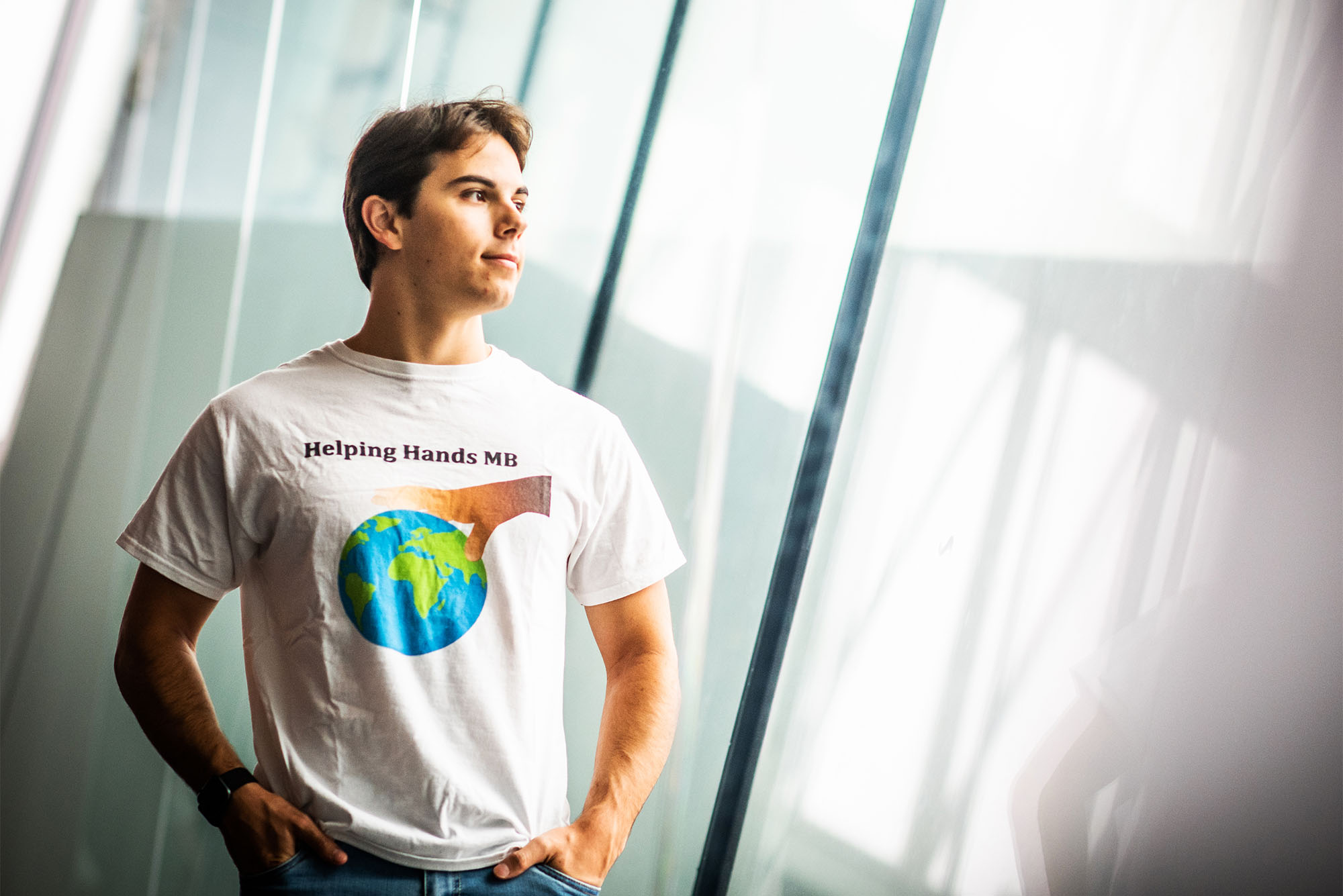 Student Profile
Introducing the Class of 2026: David Tamen
ENG student wants to use STEM to save the world
A quick snapshot of the Class of 2026, the highest achieving and most diverse class in BU history: of the 3,620 entering freshmen, 19.4 percent are first-generation students and 21.2 percent are from underrepresented groups. They hail from 47 states (with Mississippi, West Virginia, and North Dakota the exceptions) and 65 countries and regions (23 percent are international students). The class is 59 percent female, 41 percent male, and has an average GPA of 3.9 percent.

But those are just numbers. To give you a better sense of just how accomplished the Class of 2026 is, this week we introduce four students who share their inspiring stories.
David Tamen got his first 3D printer in middle school, after watching a science teacher demonstrate the machine. Struck by the technology, he was content at first with making "little toys and trinkets," he says, until a life event changed the way he viewed his hobby.
At age 13, he permanently lost all hearing in one ear.
"I was just sitting at the dinner table and the hearing on my left side kind of just stopped—there wasn't really any good reason for it," Tamen (ENG'26) says. "It opened my eyes about what it's like living with a limitation and how it affects how you interact with others."
The experience inspired him to do more with his printer—a Prusa i3—after he learned about e-NABLE, a website that provides open-source 3D printing guides for a variety of prosthetic hands. Volunteers with 3D printers can become certified in the designs and then be matched, through local e-NABLE chapters, with a person in need of a helping hand.
"I was like, okay, I have a 3D printer, and right now I'm not really doing anything productive with it," Tamen recalls. "It's just a hobby, but if I put this hobby to use, I can help people out."
---

I'm always trying to encourage people to get involved [in STEM] because maybe they'll find something that they really enjoy, and maybe it'll benefit humanity in the future.

---
He began producing, assembling, and delivering e-NABLE prosthetics during his first two years of high school. At the same time, he and his twin brother, Jonathan, embarked on an education outreach project to bring coding and robotics activities to underserved elementary and middle schools in their hometown of Miami Beach. The project was a huge success, raising over $22,000.
"There's a very diverse community in South Florida and getting more people involved in STEM is beneficial to everyone," Tamen says. "I'm always trying to encourage people to get involved because maybe they'll find something that they really enjoy, and maybe it'll benefit humanity in the future."
A year after they began mentoring young students, the brothers received a $3,000 Florida PTSA grant that helped them launch Miami Beach's first e-NABLE chapter—a 3D-printing club at their high school. Bolstered by that success, they then launched their own nonprofit, Helping Hands MB, encompassing their education projects and prosthetics building, as well as food and PPE (personal protective equipment) distribution. In the wake of the 2021 Haiti earthquake, they partnered with a local synagogue, Temple Beth Sholom, and the Christian nonprofit Food For The Poor to distribute food to the island's residents. They discovered that one of the Food For The Poor partners in Haiti was a health clinic that performed prosthetic leg fittings. Soon, Helping Hands MB was sending prosthetic hands to the children on the island.
"We thought it would be perfect—now they can fit children with prosthetic hands and arms as well," he says. "I think we've sent around eight or nine of them."
With his twin in charge of coordinating Helping Hands outreach, Tamen was free to do what he does best—search for additional ways to use his printer to help others. After reading online that other 3D printer operators were using their machines to create PPE during the height of the COVID-19 pandemic, Helping Hands MB quickly decided to do the same. With the assistance of the e-NABLE chapter 3D-printing club, the organization printed a couple of hundred face shields, which were distributed to local food drives, Miami's Jackson Memorial Hospital, their high school, and Haiti.
Tamen says that besides his own experience of living with a disability, the impetus behind Helping Hands MB comes from his years as a Boy Scout. Printing prosthetics became his Eagle Scout project, and he also taught 3D modeling and printing to fellow Scouts and to members of his high school's 3D printing club.
"There are a lot of morals and values in Scouts," he says. "3D printing is sort of a niche thing, but it's a good outlet to help people."
Now that Tamen and his brother have left Miami Beach (Jonathan is starting as a freshman at Clark University this fall), they've left the care of Helping Hands MB to a new president and vice president, who will continue the chapter's ongoing projects. But Tamen hopes two new chapters will be established in short order—one at BU and one at Clark.
But first thing's first: "I'll probably take a little bit of a break while I'm starting school, because it's such a big change," he says. "But once I'm more settled in, I can start to work with local kids and other people in the area."